All the way up to the early 2000s, a landlord could expect an advert in the local newspaper to deliver an appropriate tenant, but as their reach and readership declined, so too did their utility as a marketing channel for landlords. That leaves some new and established landlords with a lengthy learning curve to effectively market their rental property.
What is rental property marketing?
Rental property marketing is a combination of a number of skills and techniques, the main aim of which is to reduce the amount of time a rental property sits vacant by getting it in front of the right audience. This can include, but is not limited to:
Use of social media and paid social media advertising
Uploading the property to sites such as Zoopla
In order to know how and where to market the property, however, there are important steps you need to take which we'll tackle one by one.
Knowing your market
Understanding what tenants in the area want
Calculating your potential yield
Advertising your property
Knowing your market
The first step to successfully marketing a rental property is knowing your market – not just the general area or city, but the ins-and-outs of the location of your property. In order to sell any product or service, it's important to know as much as you can about it, and renting a property is no different. For that reason, you'll need to consider the following:
The local area – that means nearby schools, amenities, travel links and anything else about the location you could expect a tenant would want to know.
Local availability – this is the vacant housing stock in the area; you can check this out online over a couple of weeks to see both the number of vacant properties that appear and the time it takes for them to find a tenant.
The comparative finish of your property – although we always advise landlords to finish properties to a high standard, it is also advisable to know how your property compares to the competition as this should factor in to the rent you look to charge.
The economic status of the area – this includes the employment percentages (whether you'll be letting in an area with large populations of unemployed people or students should also factor in to your rental price) and general levels of income for the area.
Location specific costs – that includes things such as landlord insurance premiums, ground rent for leasehold properties, council tax and anything else either you or the tenant can expect to pay.
Your distance from the property (and how much you want to be involved) – while letting a property near to you is not always possible, being nearby is always easier if you want to be involved in the day-to-day needs of your tenants (in terms of repairs, servicing etc.)
Understanding what local tenants want
There are some commonalities with all people looking for accommodation and it's important to know how many of those boxes your rental property ticks. Consider the following:
Location – as previously, it's important to know what is in the local area. How far away is the nearest city centre? How close is the local university campus? Tenants will want to know they can reach their place of employment or their lectures in a reasonable time.
Cost – what are comparative properties charging in the area? Tenants will always want value for money, so knowing where your property sits on a local scale will help.
Parking – is there parking for one or multiple vehicles? Is it off-road? With around 50% of adults in the UK having a driving license (75% in the UK), parking is an important consideration.
Gardens and open spaces – especially following the pandemic, open spaces are a high priority for tenants and buyers alike, so even if you have a small space, ensure you're making the most of it.
Using gross yield to calculate rental value
This is a fairly simple calculation in theory, you divide the average rental value by your property value – and that's a useful indication of the gross yield you can expect for your property. You can also use the gross yield for an area to calculate a base rate for setting the rent for your property. There are plenty of places that have already done the calculations for you (we have most of the Wirral covered), but the raw data is also available from places like Home.co.uk and Zoopla.
While it's not an exact science, and you will need to consider your monthly mortgage repayments, insurance, fees, repairs and maintenance and other property costs to ensure the rent you set will cover your outgoings, this calculation will give you an idea of where your property sits in the local market and allow you to set a competitive rent to ensure the best rates of occupancy.
Advertising your property
This can be tricky for new landlords – there are costs and platforms that will need to be navigated. The largest property portals, like Rightmove and Zoopla for example, do not deal directly with individual landlords, so you'll need to pay for a third-party platform to add your property to one or both of them. Prices for these platforms cost between £30 and £150 and vary quite widely in what they offer in terms of the portals they deal with and the duration that an ad will be placed for.
Portals
In addition to deciding on which platform to use for this purpose, there are a few other things to consider:
Images: you'll want to include at least one photo of each room (including hallways/landings etc.) and the front and rear of the property and more if possible. If you don't want to use a professional photographer, then you should at least take every effort to make it look like you did. Get the lighting right and make sure the rooms are set up to show them off.
Description: like advertising any other project, your job is to sell the property with the description – so use your research of the local area, talk up the positive attributes of your property's location, finish and features, try to sell the life your tenant could live in the property.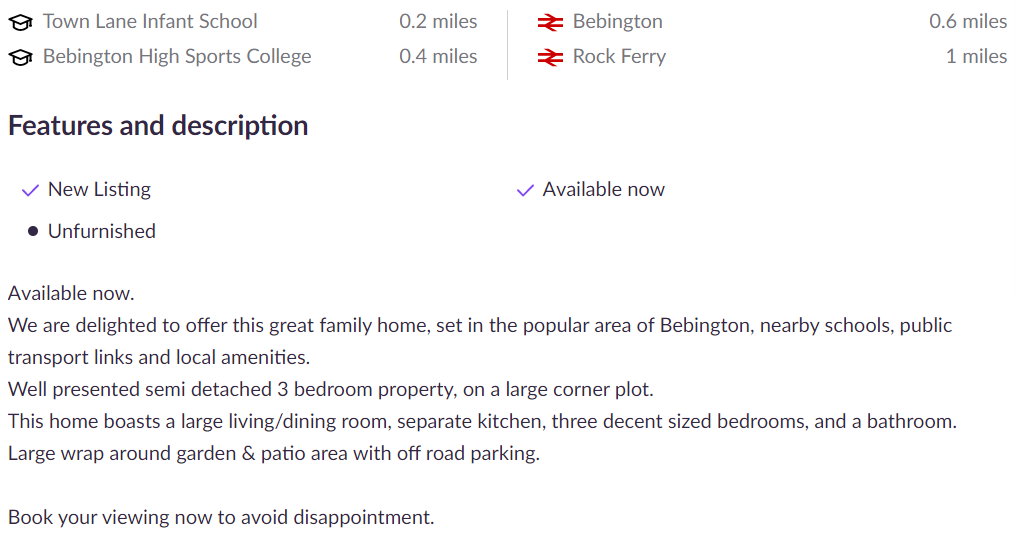 Social media
In addition to portals, there's social media – both organic and paid. For a lot of people, social media sites have replaced newspapers and news sites as the primary news source. That has the combined effect of making ads in local newspapers less expensive, but also of making social media an important channel for marketing rental properties.
Organic social media
While you might share your posts about your rental properties from your main profile, you'll want to set up a designated account from which to post information about your properties. Not only does this keep your business and personal life separate, it keeps a clear timeline which allows prospective tenants to see the properties quickly without scrolling through posts which might be irrelevant.
Paid social media
This could be a guide in itself, but the important things to consider here are budget and audience control – it's very easy to spend a lot of money on social media advertising without the proper targeting in place. The research you did on your local area will again come in handy here – you'll know the demographic of the local area.
Most social platforms will allow you to target demographics specifically – based on age, interests and many other criteria. In addition, you should look to geofence the area in which your ad will appear – this means adding a 'miles from postcode' element to your ad targeting to prevent the ad being shown to irrelevant audiences nationally or further afield which will quickly eat through your budget.
Final thoughts
Although we've tried to offer enough information to get you going, marketing your own property can be a tough ask, so we'd encourage anyone looking to do so to look to one of the many landlord message boards for advice before making the commitment (and don't wait until you have a vacant property to start thinking about it!).
Needing (or wanting) to market your property will often mean that you've decided to take the project on in full – so think about the other aspects you might have overlooked, like reference checks, contracts, deposit schemes, epc, gas safe and other certifications you need to legally let a property. Marketing is one of the trickier aspects of letting a property, but it's far from the only one, so don't open yourself up to legal problems by neglecting the rest.
Need a little help marketing your property, or looking for someone to ease the pressure of managing your property portfolio? Contact Us to see how we can help you take the stress out of letting your properties.