With the average let time for a property remaining at around a fortnight on average, the demand for properties has remained stable despite annual increases hitting almost 16% in London and just over 9% excluding the capital.
What the report says
Overall, the Q1 report provides no great surprises for anyone that has read previous reports – but after a couple of overly exciting years for a lot of sectors, predictable ongoing trends feel like a relief. The report does touch upon the historic levels of inflation, but mostly in relation to rental growth – so it has to be pointed out that affordability is used here only as the report itself uses it (as a proportion of average income).
The report covers the predicted return of rental value in city centres, but also touches upon the trend of tenants extending their stay at rental properties as a way to combat inflating rental prices elsewhere – with landlords saving on void periods and tenants benefiting from stable rental prices. The report states that the 'average time between rental listings coming to the market has risen by 5 months, from around 1 year in 2017 to 75 weeks in March 2022.'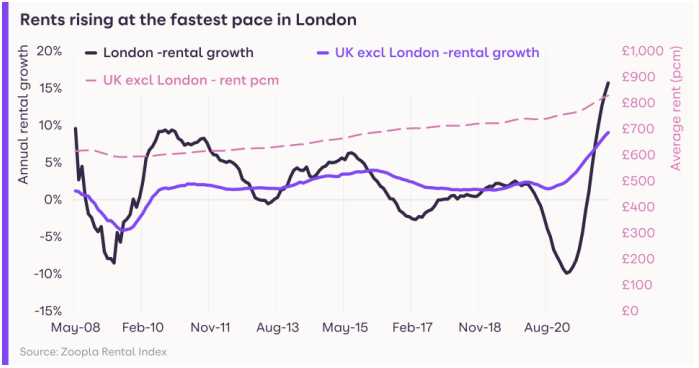 The outlook, the report states, is that the pent-up demand and threats to affordability from national economic conditions will likely begin to slow rental growth through Q2 and Q3 – but points out that there are structural issues in the private rental sector that will continue to exacerbate problems with rental growth, as demand is hugely outstripping demand, while new investment has fallen following tax changes introduced in 2016.
Gráinne Gilmore, Head of Research at Zoopla states that '[high] levels of demand amid constrained supply is still putting upward pressure on rents, but affordability pressures will mean an easing in rental price growth through the rest of 2022.'
Key takeaways
Rental growth for new lets hit 11% in Q1 2022
Rents have recovered from last year's 1% fall
Until Q1 2022, earnings and/or inflation have outpaced rental growth since 2016
Rental demand is worse in city centres due to returning students, office workers and international demand
Rents now average at 37% of gross income for a single earner, and 18.5% for sharers
Tenancy lengths are rising, possibly due to 'rolling over' contracts with lower rent rises
Rental growth will slow in H2 as 'bounce-back' eases and economic challenges take effect
What this means for Wirral landlords
As things stand, though we're in the middle of general economic turmoil, the private rental sector is performing relatively well – and with Wirral rental prices generally lower than other areas of the country, remaining below 30% of the average monthly income, and Rightmove reporting continuing capital appreciation despite inflation, there are reasons for landlords to remain cautiously optimistic that the sector may avoid at least the early effects of the country's economic difficulties.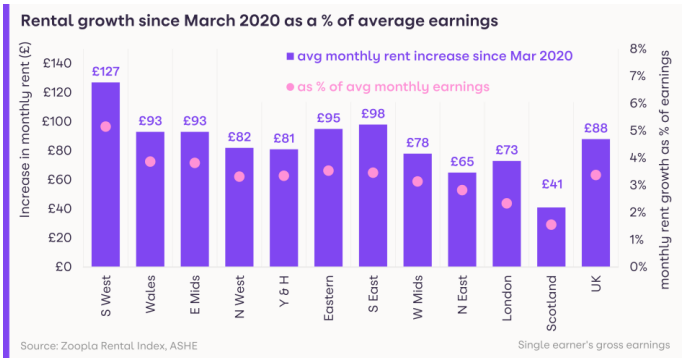 The year ahead holds a number of challenges for landlords – there are multiple regulatory and legislative changes covering everything from environmental concerns to tax, and there are unpredictable economic conditions arising from geopolitical issues, but for the moment it seems as though Wirral landlords, and tenants, should be able to ride out the worst of it with some careful planning.
Need a little help keeping up to date with industry trends? Contact Us and speak to one of our experts to see what we can do for you.