Chronic shortages in supply of rental properties have boosted rental prices, while the ending of various COVID measures has increased activity in city centres, but Zoopla's latest report predicts slower rental growth in the second half of the year.
What the report says
The report, as a whole, tracks with the trends we've covered here over the last year – and also details the first signs of the slow-down in rental growth we predicted back in January. As anticipated, the report shows a return to pre-pandemic levels of rental value in city centre locations, while growth remains high in all other areas.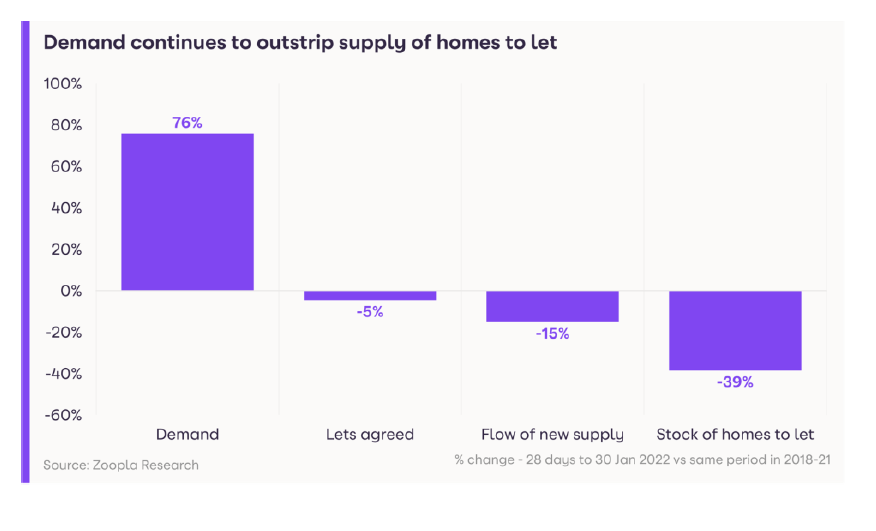 While rental growth has been seemingly supercharged, it has largely kept pace with earnings – this means that affordability remains at around a third of the average income in the area. Head of Research at Zoopla, Gráinne Gilmore, is quoted in the report as saying:
Key takeaways:
Rental growth reached +8.3% in Q4 of 2021 with demand growing and a chronic shortage of supply
Rent as a proportion of a single earner income (37%) is broadly in line with the 10-year average (36%)
London rents are up +10.3% year-on-year, recovering to just £18 a month more than March 2020
Rental demand is up 76% January compared to January of 2018-2021
Cumulative growth is 12%, marginally below increases in average earnings over five years
As demand falls in coming months, this will put the brakes on rental growth
One thing this report doesn't cover, as the data just isn't available yet, is whether landlords have been exiting the sector as has been the predicted outcome of recent legislative changes from some agencies and industry commentators. Any drop in available rental stock caused by landlords leaving the sector is unlikely to be replaced by the burgeoning build-to-let industry, which is likely to again put upward pressure on rental prices.
This is likely to be a determining factor if not this year, then certainly in the not-too-distant future. Unless various political promises on social housing are kept, the increase in rental demand and a shrinking pool of rental properties could have extreme consequences on a societal level – making it all the more important that calls for assistance meeting tougher energy efficiency targets are heard and acted upon.
However, as things stand – without more information – Zoopla makes the following statement in the report:
Provided the level of rental properties remains relatively stable, it's safe to assume that this will be the case.
What this means for Wirral Landlords
For the moment, Wirral landlords can remain fairly optimistic as yields remain high and the minor adjustments to interest rates seem unlikely to return mortgage rates to those of the 80s and 90s. Instead, with landlords able to reassess rental values in between contracts, there should be a focus on diverting additional rental income toward raising energy efficiency standards, ensuring that they remain within the guidelines (set to change, advice pending) on smoke and carbon monoxide alarms in order to avoid large bills further down the road.
Want a little help keeping up to date with trends in the industry? Contact Us and speak to one of our experts to see what we can do for you.