The Guardian, among other news outlets, carried reports today which highlight the 2020 boom in property prices as a direct consequence of the global pandemic.
Covid-19 sparked a "race for space" among householders fleeing cities and searching out bigger homes. A tentative recovery in the market after lockdown ended morphed into a raging boom after the chancellor cut stamp duty in England and Northern Ireland until 31 March 2021. Wales and Scotland followed suit, although the cuts were not as generous. In England and Northern Ireland, buyers have been able to save £10,000 on a £400,000 property and £15,000 on one costing £500,000.

Patrick Collinson – The Guardian, 20th December 2020
This shift in how we feel about our homes – which has led many to prioritise space over convenience – is also, likely, linked to the rise in work from home, with employees able to risk leaving the big city for larger properties elsewhere. This has also led to a massive increase in sales and rises above the 7.6% average in commuter towns.
Getting away from the hustle and bustle has proven so popular in fact, that 'detached', 'rural' and 'secluded' have risen to become the fourth, fifth and sixth most searched for terms.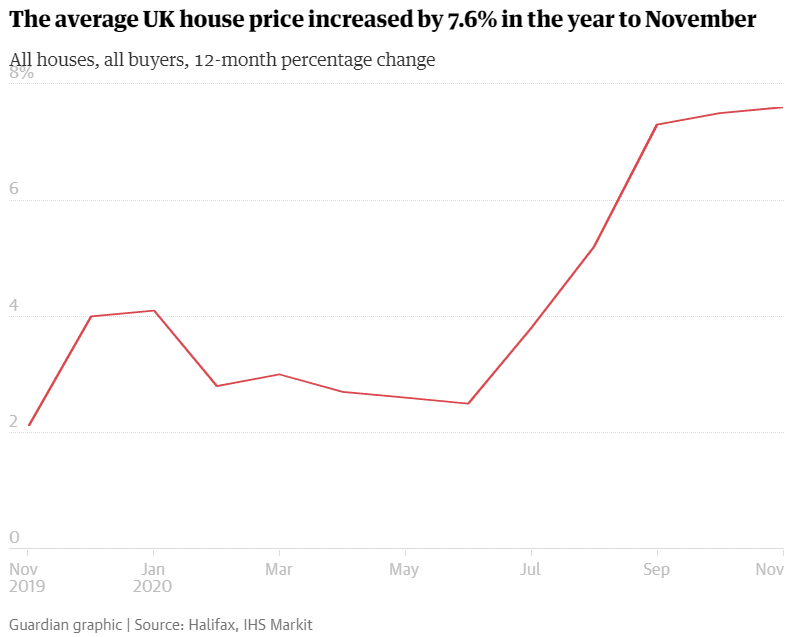 Also adding to these trends has been a similar boom in buy-to-let sales. According to a separate report carried by The Guardian on the 14th of December, landlords made up 15% of all property sales in November – no doubt as a result of the soon to end stamp duty holiday.
With the stamp duty holiday set to end on the 31st March 2021, however, there may be more in the pipeline – though missing the March deadline could see landlords paying an additional thousand pounds if their sales are delayed past the cut off.
With plenty of people still listing their properties for sale despite the Christmas holiday, there are still bargains to be had and prizes to be won for savvy investors, however, provided they are able to get their deals completed quickly!
Find out how 2020 may have impacted your property portfolio – and what you need to do to maximise its potential. Contact Us today!