Zoopla terms the dropping city rental prices 'The City Halo Effect' as commuter towns make up for lost central revenue. One offered example given in the report was Birmingham which saw a 3.4% drop while surrounding Bromsgrove, Sandwell and Wolverhampton rose by an average of 5.3%.
As we've pointed out in our trends piece and previous coverage of recent housing market reports, there are both pandemic and more general factors underlying the changes taking place in the rental market. While rental demand has increased outside of London, the general rental stock has diminished – leading to shorter periods between lets.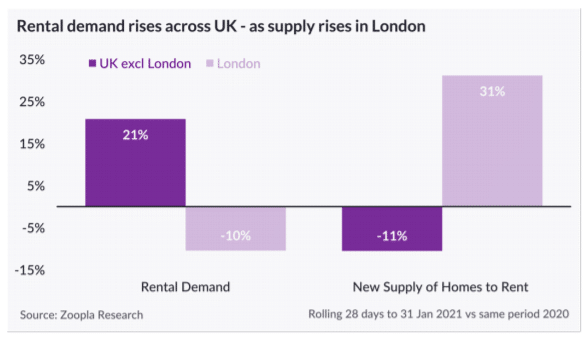 While this is clearly troubling news for landlords in the nation's capital, landlords in the rural and commuter towns of the Wirral will be pleased to note that there are falling periods between lets, a rise in demand for property and a resultant increase in rental value as renters compete for the available property.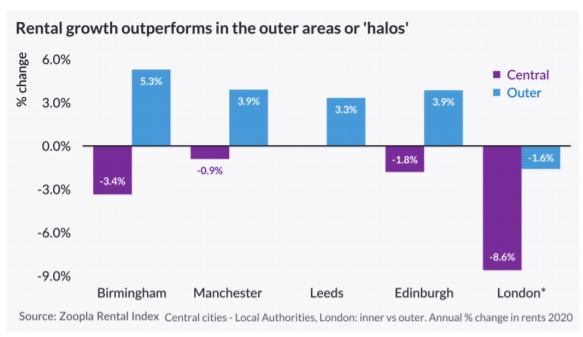 What consensus seems to have been reached, both in this and several other reports commissioned over the last 12 months, is that tenants are looking to increase the amount of space they have at their disposal both in and out of doors and houses with additional rooms for home working and with gardens have seen a huge spike in interest – above and beyond even the general growth in these 'halo' areas.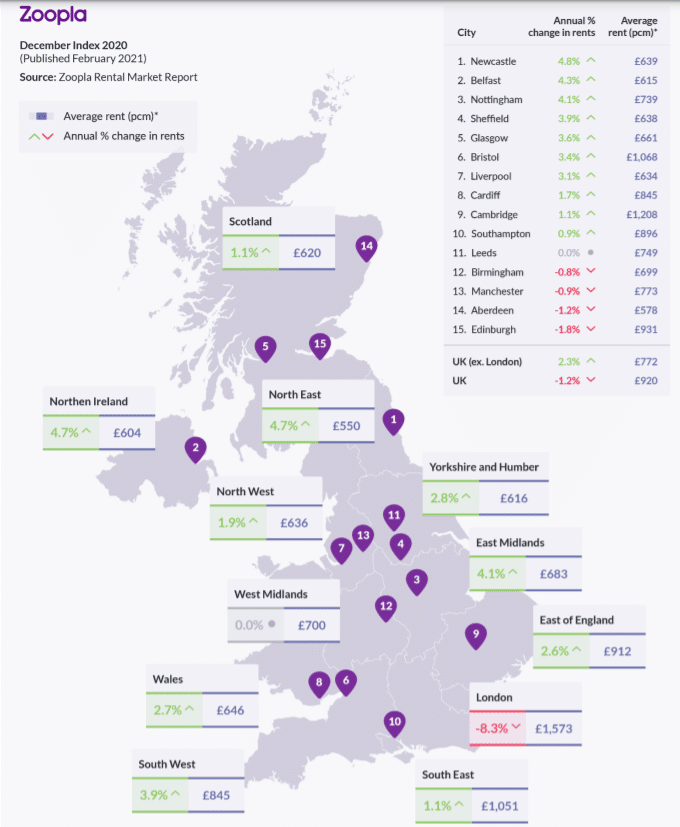 Another facet of the increased rental demand mentioned in the Zoopla report is the withdrawal of many high-risk and first-time-buyer mortgages available on the market which will likely result in a boost to the rental market until some of these products return – though with the economic outlook for the UK still uncertain for at least the remainder of 2021, it is likely to be a slow process.
What this Means for Wirral Landlords
In short, the latest Zoopla report is an optimistic one for landlords with property portfolios with a large rural or commuter town element – the shift that many industries have made to more flexible work and work from home has meant that property in the Wirral is worth more and in greater demand from tenants.
However, while there is competition for properties, there is also a weight of expectation coming from the populations moving out from their city centre apartments and houses. The reasons they're looking for properties in places like the Wirral, rather than in Liverpool, Manchester and Chester is that they want a well presented and spacious garden, they want rooms which can be easily adapted into a home office, and they want to know what their commute will be on those occasions when they need to head in to the office.
For that reason, landlords should be ensuring that their gardens are in prime condition ready for their close-up, and that the descriptions that accompany their properties on listing sites are written with the requirements of a new breed of renter in mind while still catering to the existing local market. You'll also need to be on top of the local transport connections, as renters new to the area from nearby cities are likely to have a lot of questions!
Whether you're new to the business of letting property, or have been involved in letting for years, the last eighteen months will have thrown up some unique problems and opportunities. Why not Contact Us today to see how our experts can help you adapt to a rapidly changing landscape.