Although it's been a tough couple of years for landlords – with coverage in the media largely negative, and the regulatory landscape seeming to visibly shift under foot, the report is generally positive, reinforcing the part that the private rental sector plays in access to housing.
What the report says
With the private rental sector under the magnifying glass a lot over the last few years, the report examines the current state of industry and uses historical data to predict possible trends. In addition to this, the report seeks to make suggestions on policy to encourage an equitable progression.
It's a dense piece of analysis, split into several sections. While we may cover other chapters in coming weeks, we'll be focusing today on chapter two, which is titled: Is Private Renting So Bad?
In accordance of Betteridge's law of headlines, the report concludes that no, it isn't really as bad as we've perhaps been led to believe by widespread coverage of 'rogue landlords' and unliveable conditions. The report itself, in the executive summary, states:
The chapter essentially concludes that it is not actually their properties or landlords that leave renters dissatisfied, but the state of being a renter. Even then, across all demographics, the level of dissatisfaction is relatively low.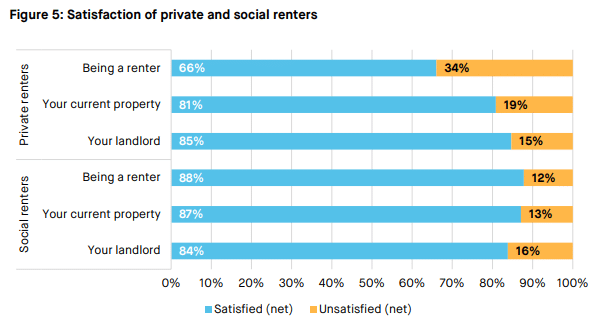 Levels of satisfaction
As you may expect, older private renters are the most content demographic – with 74% of those 55 and over reporting that they are satisfied with being a renter. Early-middle-aged private renters (those between the age of 35 and 54) are the least satisfied group – with 58% expressing satisfaction. What may come as a surprise is that parents report a similar level of satisfaction as those without children (58% and 56% respectively).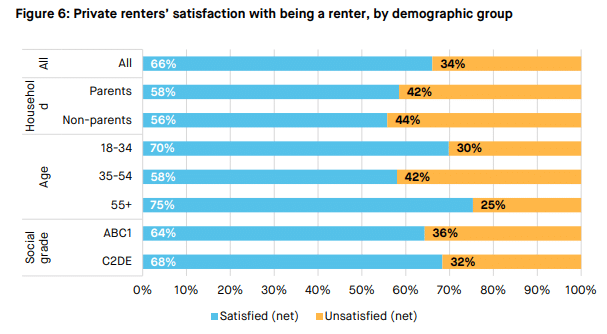 This remains relatively consistent across regions, too – though there are significant deviations in Scotland, the South West of England and Northern Ireland (though the latter is from a very small sample size). The North West sits pretty much on the average, with 64% of respondents expressing satisfaction with being a renter.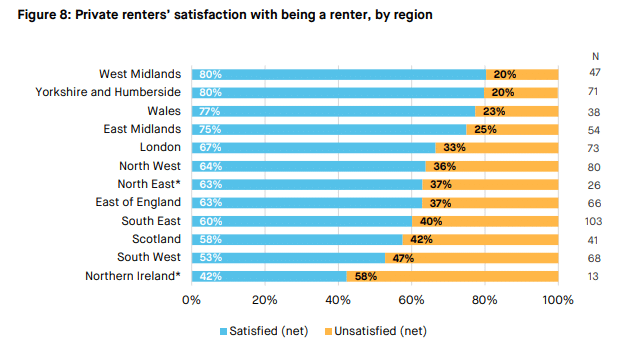 Impact of the pandemic
When tackling the pandemic, the report echoes many of the articles we've written over the last year or so – people's priorities have changed, they prioritise outdoor space, dedicated working spaces and are more likely to consider living in rural areas (provided the broadband is up to scratch!). None of this is too surprising – what is interesting, however, is that it has also confirmed that renters are feeling less secure since the pandemic, despite the coming end of no-fault evictions and other measures to improve housing security.
What this means for Wirral landlords
In essence, the report confirms some 'common sense' assumptions about the sector, and the North West ranks sixth out of the twelve listed regions, suggesting that Wirral landlords are performing at least as well as average. What should provoke some thought is the final point – tenants feel less secure (specifically with fixed term contracts). It may serve landlords well (at least those looking to keep their properties for the long-term) to begin looking at longer term or rolling contracts for good tenants to help improve their feelings of security.
Want some help keeping up with the latest research, on top of the latest legislation – or just want to take the stress out of managing your property portfolio? Contact Us today.