House prices increased 0.9% month-on-month over April in tenth consecutive month of growth according to building society Nationwide, despite growing economic uncertainty and ongoing cost-of-living crisis.
As we've reported over the last few months, the slowing growth was to be expected as the year progressed, though an expected increase in interest rates from the Bank of England is likely to bring the most significant drop in growth.
However, Nationwide's figures suggest that May was the tenth successive month of growth, meaning that the annual growth of house prices has remained in double digits overall.
Nationwide also commissioned a report to add context to these figures, about which Chief Economist, Robert Gardner said the following:
"May saw a slight slowing in the rate of annual house price growth to 11.2%, from 12.1% in April. Prices rose by 0.9% month-on-month, after taking account of seasonal effects – the tenth successive monthly increase, which kept annual price growth in double digits.
"Despite growing headwinds from the squeeze on household budgets due to high inflation and a steady increase in borrowing costs, the housing market has retained a surprising amount of momentum. Demand is being supported by strong labour market conditions, where the unemployment rate has fallen towards 50-year lows, and with the number of job vacancies at a record high. At the same time, the stock of homes on the market has remained low, keeping upward pressure on house prices.
"We continue to expect the housing market to slow as the year progresses. Household finances are likely to remain under pressure with inflation set to reach double digits in the coming quarters if global energy prices remain high. Measures of consumer confidence have already fallen towards record lows. Moreover, the Bank of England is widely expected to raise interest rates further, which will also exert a cooling impact on the market if this feeds through to mortgage rates."
What the report says
Conducted by Censuswide on behalf of Nationwide, the report aimed to add some context to the housing price growth year on year, but also to the slow down. While the report found little surprising around various economic pressures, it did discover that, rather than sell up, 54% of respondents were looking to make improvements to their properties, with more than a third looking to add more space, but almost a third looking for energy efficiency improvements.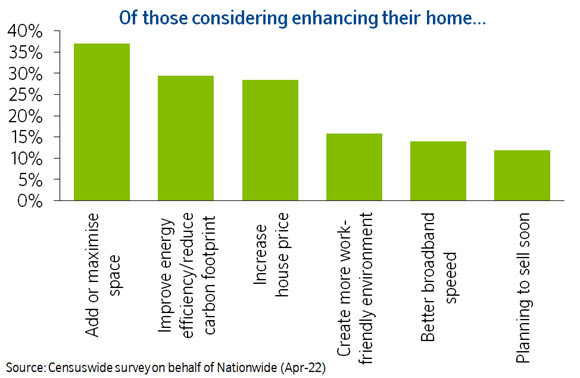 What this means for Wirral landlords
As we stated at the beginning of the boom in property prices, Wirral landlords are in a strong position based on capital appreciation versus the cost of investment. Wirral has consistently outperformed the market average for property price growth over the course of the last three years, while rental yield has remained high versus investment.
With rental demand still high, this leaves Wirral landlords in a unique position – as one of the few places in the country where vital modernisation and efficiency work required on aging housing stock could well be paid for by refinancing existing portfolios to take advantage of capital appreciation.
However, the time to do this is running out – with interest rates set to rise multiple times in the coming year, the aim for anyone wishing to take advantage of capital appreciation to meet changing efficiency regulation should do so quickly to lock in lower interest rates, a move which could see them better prepared to ride out any potential economic that arrives with the coming recession.
Need some help to keep on top of changing regulations or to make the best choices for your portfolio? Why not Contact Us to see how we can help?