While the buyer demand has moderated slightly, Zoopla's latest insights report finds, it is still elevated from what could be considered a 'normal' year, and Zoopla data suggests that this is likely driven by behavioural trends seen throughout the pandemic.
It's been a strange couple of years – and that's reflected in huge shifts not just in our day-to-day lives, but also in the way we view our surroundings. We've spoken about this multiple times over the last six months – how changes to the way we work and where we work have driven changes, but the most recent Zoopla report seems to confirm these predictions.
What the report shows
Zoopla's latest report features an executive summary with six main takeaways:
Buyer demand has moderated as stamp duty holiday ends but remains elevated compared to 'normal' market conditions
'Search for space' among homebuyers, as well as increased numbers of first-time buyers and those making lifestyle changes, will continue to support activity through H2
Total stock of homes for sale remains constrained, down 24% in the year to mid-June compared to the average in 2020
Annual house price growth is at 4.7%, up from 2.2% a year ago
Price growth hits 10-year high in Wales (+7.1%), Yorkshire & the Humber (+6.2%) and the North East (+5%)
Price growth over the last year lifts 1.8 million homes into a higher stamp duty bracket
The phasing out rather than immediate cessation of the stamp duty holidays may account for a proportion of the elevated activity, but – as the report goes on to assert – the search for space and the changing attitudes that the last 18 months have had on our wants and needs for a home are likely responsible for the rest.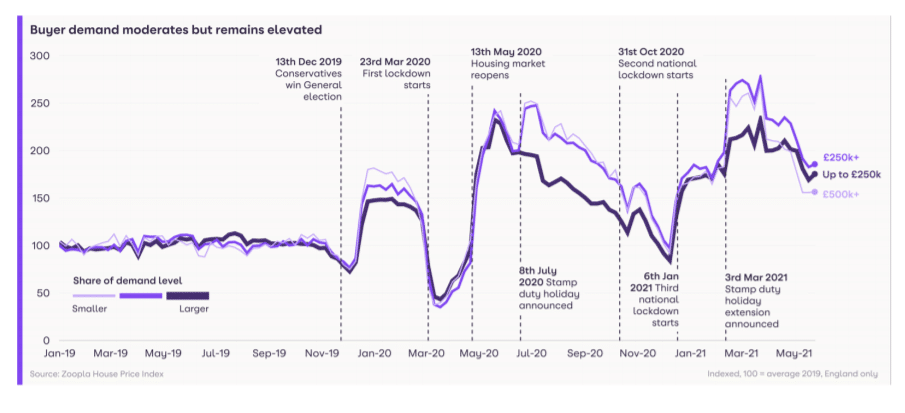 However, while the demand has stabilised (albeit at an elevated level), the available housing stock has failed to keep pace. This means that price growth is being driven by both the elevated number of buyers, but also by the shortfall in available properties.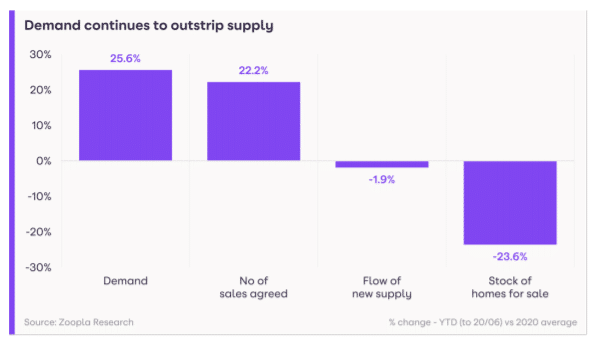 What this means for Wirral landlords
At Wirral Homes, we have noticed similar levels of disparity in supply and demand in the rental market which reflects the trends Zoopla points out. While it is often more difficult for tenants to move, the contract durations that may have kept them in a property have ceased to be an issue as the situation has progressed throughout 2020 and into 2021, and there has been a significant shift in what tenants want from a property.
Requests for outdoor space have grown while location specific requests have fallen, and this opens up opportunities for landlords with vacant properties to look beyond their standard demographics and marketing channels to ensure that their properties remain profitable. For this reason, we would suggest that landlords begin to take stock of how their properties fit with what the market is currently demanding and look to market them accordingly.
Landlords need to begin to advertise the lifestyle benefits of their properties – the schools that they provide access to, the life they can provide, not just how close they are to the office. The demand is there, it may just need a change of approach.
What this means for tenants
While we wait for the Zoopla rental market report, there are a few things we can infer from the data we have so far. Fundamentally for renters, the main concern should be that – while furlough has allowed many people to work from home the last eighteen months – the end of furlough will see increased competition for central properties as those that are no longer allowed to work from home look to return to or move closer to their places of employment.
This means that city centre and immediate surroundings will see some level of reversal of the downward trend we have seen in rental prices in these areas over the last year. Similarly, the upward pressure on prices outside of these areas should reduce, causing prices in more rural areas to stabilise – though we wouldn't expect a reversal here for the short to mid-term.
The main takeaway for tenants, therefore, is that they should begin to think carefully about timescales – those thinking of a move to the centre may benefit from a quicker move than planned, while those moving further out can take more time if they need it.
At Wirral Homes, we always try to ensure that we're keeping up to date with the latest trends – for both the landlords we work with and the tenants we help to find a home. Want to find out what we can do for you? Contact Us today.