Confirmed projects are set to be joined by several others in a bid to transform the town, the area is set to become a very different place to live and work. 2040 Framework, which boasts of an intention to offer residents the 'connectivity of city living in harmony with nature' is now welcoming contributions for an initial 8-week consultation period set to end on the 19th of May 2021, with the option to add comments on an interactive map.
Things are heating up with plenty of regeneration projects across Wirral, but there are few as ambitious as the transformation planned for Birkenhead – which council leader Janette Williamson states will be "the most transformational proposals for the town since the 1947 Town Plan". With the Eureka! Mersey, Science and Discovery Centre set to open in 2022, the removal of the town centre flyovers set to begin, and development underway at Wirral Waters, fears that the regeneration could face further delays should be allayed for now.
The 2040 Framework itself is a hugely impressive document with ambitious plans to create a low carbon, nature filled town and a host of new infrastructure, commercial and residential areas.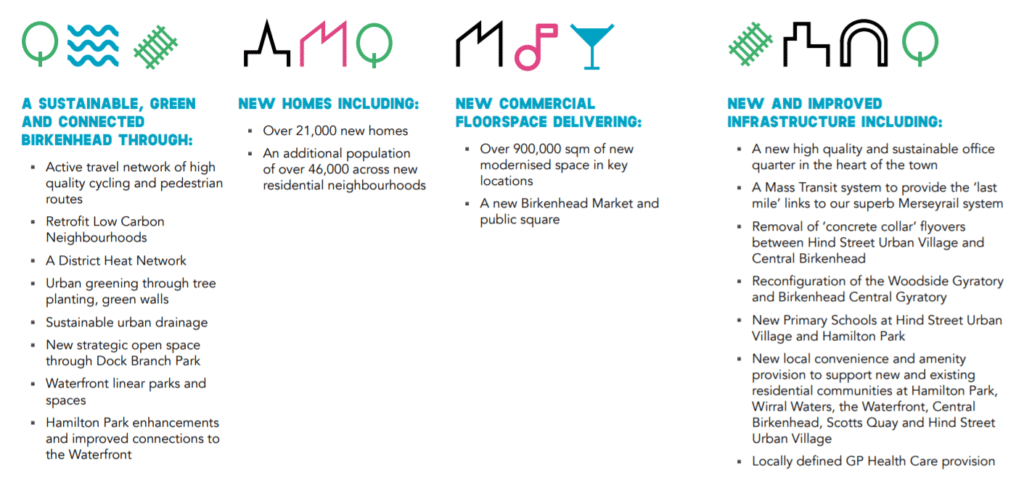 The vision for the Birkenhead of 2040 is laid out in three statements:
Birkenhead has grown into a thriving urban community on the left bank of the river Mersey.
Chosen as home by families and entrepreneurs alike, drawn by the unique and historic waterfront environment and iconic design. A place of creativity, innovation and fun, a place to put down roots.
Birkenhead has the connectivity of city-living but in harmony with nature. A place with room to breathe and space to grow.
With such wide-ranging changes necessary to bring this vision to life – including work on transport links and huge changes to the town to turn it into the low carbon town of the future, it will please a lot of people that have been disappointed by previous plans that a section of the document is dedicated to learning from 'challenges [which have] hampered previous regeneration efforts.' These include:
A new delivery model which the document claims is 'a game-changer for delivery – a dedicated, bespoke approach which can adopt the necessary 20-year time horizon, and assemble the skills required for truly transformational change.'
High quality early delivery which intends to use the developments already in progress to drive further change.
A strong partnership approach to place-making which has seen various partnerships established with Homes England and Liverpool City Region Combined Authority to prepare joint business cases and secure funding.
Investment in low-carbon infrastructure including a district heating system that will benefit old and new residential and commercial areas and a commitment to 'attractive walking and cycling routes throughout the town'.
With residents now free to make comments on the interactive map, there is now the option to bring the community's ideas to the attention of the council by highlighting one of three things:
Asset – somewhere in Birkenhead that I think is beautiful.
Opportunity – somewhere in Birkenhead which we should make more of.
Change – somewhere in Birkenhead that needs to change.
While engagement with the consultation has been sparse, so far, hopefully the people of Birkenhead and Wirral in general will be inspired by the ambitious plans to put forward their ideas and help return Birkenhead to the iconic status it held in the past.
The online home of the consultation can be found here – and we hope that landlords and tenants alike, both of whom will benefit hugely from such plans to restore and improve the beauty and industry of Birkenhead for all.
At Wirral Homes, we like to keep our fingers on the pulse of the local property market – and you can be sure that extend the same commitment to our landlords and tenants. Contact Us today to see whether we can help you to find a home or let one.