Property Portfolio Management Guide
By carefully managing a property portfolio, or contracting the services of a property portfolio management company to do so for you, a landlord can improve profitability. This is achieved not only through portfolio expansion, but also by improving rental yields, increasing capital growth, minimising vacancy time and overheads.
What is property portfolio management?
Property portfolio management, as you would imagine, is more than a single thing – it's a set of tasks which, if performed regularly and well, can improve the profitability of any property portfolio. These tasks include, but are not limited to:
Expansion
Whether it's via a landlord injecting money into his portfolio, or through leveraging the equity of existing properties to land a bargain, expansion is a key method of improving profitability for owners of property portfolios. By spreading investment either across a range of property markets, locations or classes, a diversification of the portfolio through expansion can help to minimise risks and improve overall performance.
Review and Optimisation
Regular review of property portfolios can help landlords take advantage of cost-saving options, identify areas of maintenance, refurbishment or improvement that could improve desirability, add value and improve rental yields. While time consuming, such regular reviews – at least at the end of every tenancy – can help ensure that each property is performing as well as it can while identifying and tackling any problems leaving a property performing less well than it should.
Property Management
In addition to the big picture view, there is also the everyday maintenance and management of individual properties such as:
Emergency support for tenants
Health and safety obligations
Marketing the property
Monthly financial statements
Refurbishment and improvement
Rent collection and debt collection
Tenant referencing
Obviously, the difficulty of these tasks grows exponentially as your property portfolio grows and can quickly outstrip the capacity of a single person to manage them.
How to manage a property portfolio
As the number of tasks grows quickly with each additional property, there has been a boom in the availability of portfolio management software. For a landlord wanting to manage their portfolio themselves, the best option may be to invest in one of these digital applications. With prices ranging from free to around £400 per year, it's well worth considering the implications of trusting software with sensitive data and due diligence should be undertaken to ensure that any software used is safe.
Most software will tend to offer help with:
Accounting and property expense management
Contact & Supplier Management
Expenses recording (including repeat expenses)
Income tax liability reporting
Legal Document storage
Mortgage & loan management
Online document storage
Property details storage
Tax reports
Tenant & rent management
Tenant details storage
What you will no doubt notice here is that much of the assistance offered by such programs is organisational, so don't expect miracles if you've decided to undertake your own portfolio management – however, in most cases, it will beat the numerous spreadsheets you'll need to achieve the same organisation boost otherwise.
You can find an introduction to some of the more popular management platforms here.
Should you manage your own property portfolio?
This will depend upon how much time you have to devote to management. As stated, despite misconceptions to the contrary, a properly managed property portfolio is far from passive income. You will need to conduct regular reviews, negotiations, marketing tasks and more – even if your properties require no work and the perfect tenants happen to knock on your door, there are plenty of legal obligations and certificates which will expire and need to be renewed.
That's not to say that a personally managed portfolio is an impossibility – it is perfectly achievable for a portfolio of one or two rental properties to be managed part time or in addition to a full-time job, but once a portfolio grows too far beyond this, landlords will need to face up to a decision between taking on the management full time, or enlisting the services of a letting agent.
If you'd like to discuss your options with one of our experts, or have reached the point at which a letting agent is likely your best choice to maximise profitability in the long-term, Contact Us today.
Zoopla's Latest UK Rental Market Report Digested
Zoopla terms the dropping city rental prices 'The City Halo Effect' as commuter towns make up for lost central revenue. One offered example given in the report was Birmingham which saw a 3.4% drop while surrounding Bromsgrove, Sandwell and Wolverhampton rose by an average of 5.3%.
As we've pointed out in our trends piece and previous coverage of recent housing market reports, there are both pandemic and more general factors underlying the changes taking place in the rental market. While rental demand has increased outside of London, the general rental stock has diminished – leading to shorter periods between lets.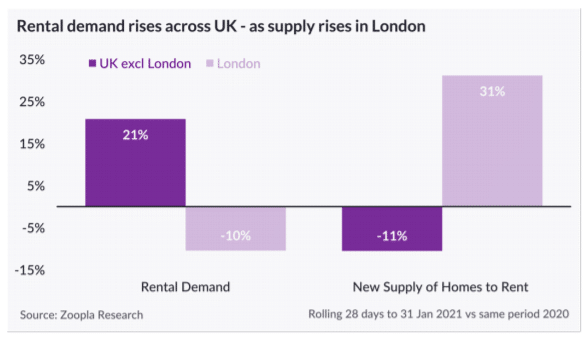 While this is clearly troubling news for landlords in the nation's capital, landlords in the rural and commuter towns of the Wirral will be pleased to note that there are falling periods between lets, a rise in demand for property and a resultant increase in rental value as renters compete for the available property.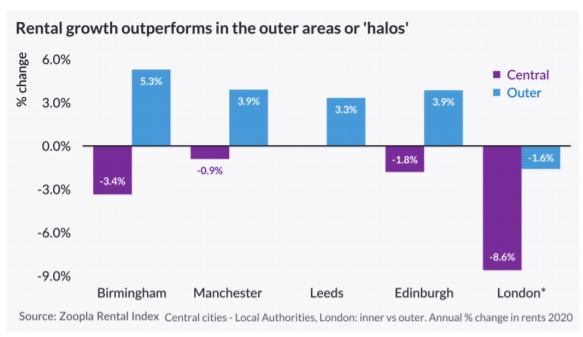 What consensus seems to have been reached, both in this and several other reports commissioned over the last 12 months, is that tenants are looking to increase the amount of space they have at their disposal both in and out of doors and houses with additional rooms for home working and with gardens have seen a huge spike in interest – above and beyond even the general growth in these 'halo' areas.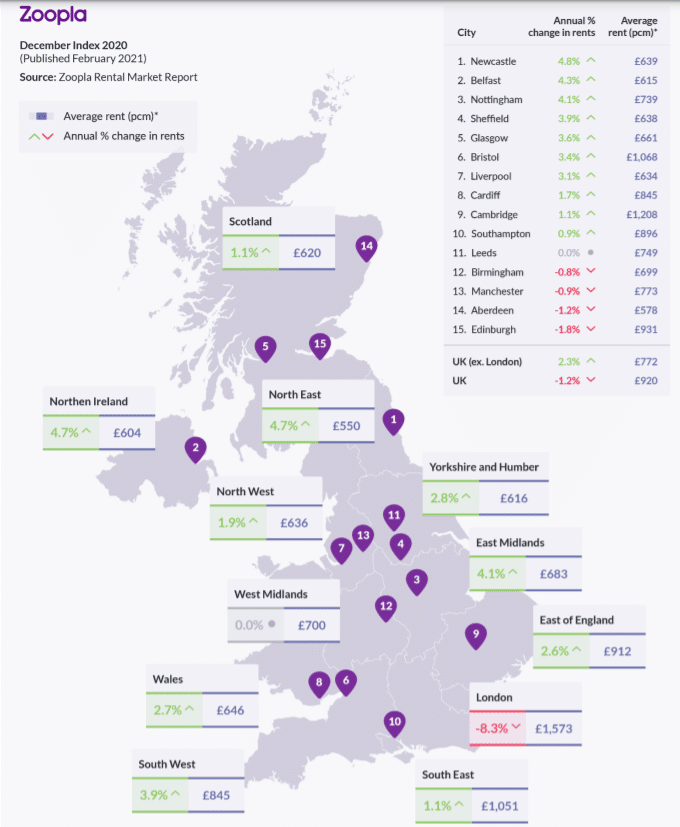 Another facet of the increased rental demand mentioned in the Zoopla report is the withdrawal of many high-risk and first-time-buyer mortgages available on the market which will likely result in a boost to the rental market until some of these products return – though with the economic outlook for the UK still uncertain for at least the remainder of 2021, it is likely to be a slow process.
What this Means for Wirral Landlords
In short, the latest Zoopla report is an optimistic one for landlords with property portfolios with a large rural or commuter town element – the shift that many industries have made to more flexible work and work from home has meant that property in the Wirral is worth more and in greater demand from tenants.
However, while there is competition for properties, there is also a weight of expectation coming from the populations moving out from their city centre apartments and houses. The reasons they're looking for properties in places like the Wirral, rather than in Liverpool, Manchester and Chester is that they want a well presented and spacious garden, they want rooms which can be easily adapted into a home office, and they want to know what their commute will be on those occasions when they need to head in to the office.
For that reason, landlords should be ensuring that their gardens are in prime condition ready for their close-up, and that the descriptions that accompany their properties on listing sites are written with the requirements of a new breed of renter in mind while still catering to the existing local market. You'll also need to be on top of the local transport connections, as renters new to the area from nearby cities are likely to have a lot of questions!
Whether you're new to the business of letting property, or have been involved in letting for years, the last eighteen months will have thrown up some unique problems and opportunities. Why not Contact Us today to see how our experts can help you adapt to a rapidly changing landscape.
February 2021 Market Reports Digested
In order to ensure that we're offering the best advice and the most up-to-date information to both tenants and landlords, we stay up to date – but in the interest of transparency, we're going to try and make sure you can be too.
Headline changes for the North West
The main figures of import for landlords and tenants are, no doubt, those of most interest to our audience, so we'll deal with those first.
Annual change in house prices
Rightmove – 7% (3.3% UK Average)
Zoopla – 5.4% increase (4.3% UK average)
Annual change in rental prices
Rightmove – none given
Zoopla – 1.8% (-0.5% UK average)
In essence, this is reflective of a host of trends – some of which we pointed out in our 2021 trends post – including the race to beat the return of stamp duty and the increased popularity of commuter towns and villages as working from home, home schooling and other Covid-19 changes have altered people's priorities around housing.

However, with the end to the stamp duty holiday approaching quickly and economic instability looming on the horizon, it remains to be seen what the government will do to prevent a housing crash – with some experts predicting an extension to the holiday will be announced in an effort to stave of such an event while the country deals with the economic uncertainty surrounding Brexit.
So, while it's likely we could see a shift in the desirability of the sub-£250,000 market if the holiday is ended, we may see a slow-down and overall price fall until either an announcement is made or the holiday ends. Either way, this is unlikely to impact rental values which have been pushed up by other forces and may have a more prolonged upward trajectory until the rental market settles post-vaccine roll-out.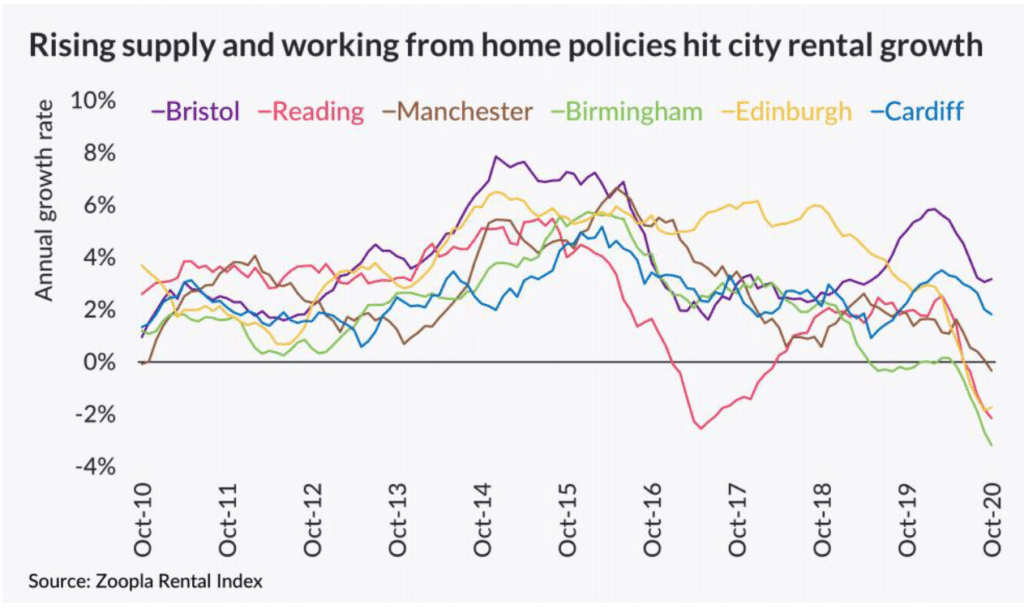 Interesting statistics
A northern surge?
According to Zoopla, there was a surge of more than 6% across areas of the north which they suspect is, at least in part, due to the perceived affordability of property in the north combined with the decentralisation of some types of employment.
A city slump?
However, despite the increasing value of property in the north, the cities of the north are still seeing drops in rental value as the same circumstances that are driving the house prices up make city centre living – and the connected lack of space – less desirable.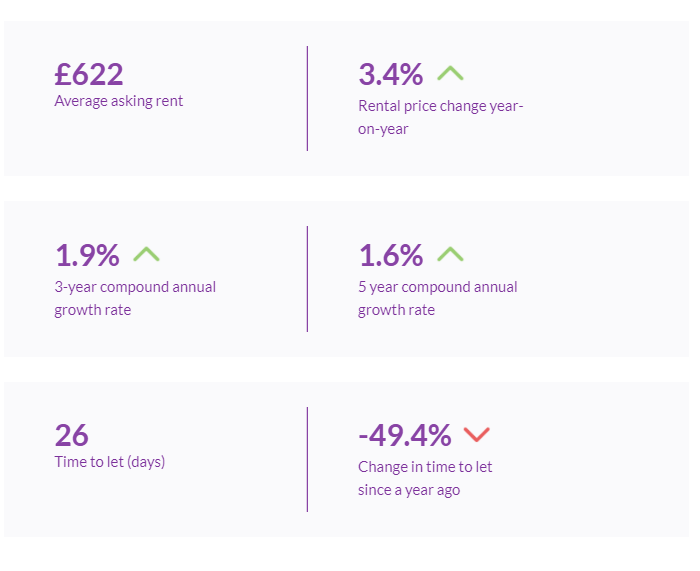 There is a full treatment of the rental market expected soon from Zoopla, so we'll have a closer look then if we can, but the message from both the Zoopla and Rightmove data seems to be one of cautious optimism. With a debate on extending the stamp duty holiday ending in a deferral to the chancellor's spring budget (not a definitive dismissal), there is a potential for the present housing boom to continue into the summer.
Unfortunately, as with so much this year, we won't have answers to many of our questions until the summer (or March 3rd in the case of the stamp duty holiday). As such, the approach of Zoopla and Rightmove to defer to cautious optimism appears to be the sensible one.
Need your property valued, potential rental value estimated or want to discuss the state of the property market with one of our experts? Why not Contact Us today?
Landlords Using new 'Model Tenancy Agreement' Will No Longer be Able to Blanket Ban Tenant Pet Ownership
While the present rules won't end pet-free letting, Andrew Rosindell MP is determined to see the rules become law – so landlords will need to familiarise themselves with the new rules as soon as possible, or that they are working with agents that are.
It has been almost standard practice for decades for landlords to place a blanket ban on pets – in fact, government research found that only 7% of private landlords advertise properties as pet friendly, leading housing minister Christopher Pincher to state that:
"It can't be right that only a tiny fraction of landlords advertise pet friendly properties and in some cases people have had to give up their beloved pets in order to find somewhere to live."
What does this mean for landlords?
While there is no rule that completely forbids landlords from keeping their properties pet free, the new guidance does mean that landlords must supply a valid reason for refusing pets within 28 days of a written request from a tenant. The guidance in the updated 'Model Tenancy Agreement' is as follows:
"Clause C3.5 prohibits a landlord from exercising a blanket ban on pets. A responsible pet owner will be aware of their responsibilities in making best efforts to ensure their pet does not cause a nuisance to neighbouring households or undue damage to the Property. A landlord should take steps to accommodate written requests from responsible tenants with pets. They should only turn down a request in writing within a 28 day period if there is good reason to do so, such as large pets in smaller properties or flats, or otherwise properties where having a pet could be impractical. Landlord consent is therefore the default position unless otherwise specified in writing by a landlord. If consent is given on the condition that additional deposit is paid by the tenant, the total deposit must not breach the deposit cap introduced under the Tenant Fees Act 2019 and must be protected in an authorised tenancy deposit scheme."
As can be seen in the above section, there are provisions for landlords to ensure that their investment is taken care of through increased deposit amounts (within the standard deposit cap), as well as grounds for reasonable objection – in cases where they believe the pet would cause undue nuisance for neighbours, or is too large for the property, for example. However, the sentence to be aware of here is that 'consent is therefore the default position unless otherwise specified in writing by a landlord'. This means that landlords wishing to maintain a property as a pet free let will need to ensure that they have a good reason and are prompt with their responses.
This does not prevent a landlord seeking to hold tenants financially accountable for damage caused by their tenant's pets – and it may, therefore, be in the interests of landlords to stipulate that tenants with pets will face deductions to cover the cost of deep cleaning a property to ensure that it can still be let if the next tenant were to have pet allergies.
While there have been no changes to the underlying legislation – meaning that, should you draft your own legal documents, you can still ban tenants from owning pets, this does look like a first rather than final step in the process, so it may be that landlords will need to consider how they would respond to a legal change and begin to act as though the law has changed instead of having to react later on.
Are you currently using the Mode Tenancy Agreement and want help to update the document going forward, or looking for other legal advice? Our team of experts can help. Contact Us today to see what we can do for you.
The Pros and Cons of Using a Letting Agent
From cutting down on wasted time to providing valuable connections with trusted third parties, a good letting agent is an asset, but are there more pros than cons for you? That's something only you can decide – but we hope we can help with that decision, too.
We'll get to the pros and cons in a moment, but before we do, we've put together a quick list to help you decide whether you should even be considering either self-management or a letting agent. We find that these five things are often enough to help landlords decide whether either option is viable for them to even consider researching further.
Should you consider a letting agent?
| | |
| --- | --- |
| You should consider managing your property if… | You should consider a letting agent if… |
| You have the time to deal with your tenant's queries, problems and disputes up to and including eviction. | You would prefer someone else is available to answer tenant queries and resolve problems up to and including eviction. |
| You have a register of professionals (electricians, plumbers, cleaners etc.) that can assist when required. | You need access to qualified and trusted professionals that can help resolve problems with your property. |
| You are up to date and can remain up-to-date on the latest rules and regulations that affect landlords. | You would rather somebody else was responsible for keeping up-to-date and keeping your property up-to-date with regulations. |
| You have been a landlord previously and are aware of the various pressures and responsibilities it involves. | You are new to being a landlord and require professional assistance while you get up to speed with requirements. |
| You are letting property near where you live, allowing you to conduct viewings and inspections. | You are letting property a distance from your own that would make in person attendance inconvenient. |
The next thing for a landlord to do if they have decided that a letting agent may be an option for them is to ask the following four questions of a few different letting agents to ensure that they would be working from the best possible list of options.
The next thing for a landlord to do if they have decided that a letting agent may be an option for them is to ask the following four questions of a few different letting agents to ensure that they would be working from the best possible list of options.
Four important questions to ask your letting agent
Do they have access to an appropriate client money protection scheme?
How do they find their tenants, and what does their referencing process entail?
How would your property be maintained, and by which companies?
Can they provide a clear list of all of their services and charges on a single page?
The pros and cons of using a letting agent
| | |
| --- | --- |
| Pros | Cons |
| The vetting that agents are able to undertake is often more thorough than a landlord acting alone, and referencing procedures attract reliable tenants. | Letting agents – and the pros opposite – come at a price. While managing your own properties is free, there will typically be a percentage charged by letting agents to manage your property for you. |
| Administration of the secure deposit protection scheme is taken care of without you having to worry. | If there are problems with your property – from legal filings to evicting a tenant from a property, it will mean extra administration, paperwork and possibly cost for the landlord. |
| Agents are able to deal with the paperwork generated by your property and ensure records are kept properly and up to date. | Many letting agents, if they arrange repair work on your behalf, may charge an arranging fee on top of the actual repair costs – while this is often nominal, it is something that should be considered. |
| Rent for your property is collected (and chased for) on your behalf. | Some letting agents may apply additional charges to third party services – this can include things like organising Energy Performance Certificates, Gas Safety Certificates and legal documentation. While this is not always the case, it can be worth asking whether these charges will be made and how much they will be. |
| Letting agents will deal with day-to-day management and maintenance issues – often without the landlord needing to be involved. | |
| As experts in both their field and their local areas, letting agents can often achieve a higher rent. | |
| Letting agents have to be up-to-date with current legislation affecting landlords and can ensure your properties operate in accordance with them. | |
| In case of disputes and complaints, you have an objective, impartial mediator between you and your tenants. | |
| Letting agents are experienced in mediation and can often prevent drawn out and expensive disputes. | |
| In the event that eviction is required, letting agents know the correct legal procedures. | |
| Letting agents can reduce workload and stress of letting a property. | |
| Some letting agents can offer legal, insurance and tax advisory services. | |
The long and short of much of the decision-making process in this area is going to be the value you place on your time. If you are looking at becoming a full-time landlord, or are sufficiently well connected to minimise the impact that being a landlord will have on your time, then a letting agency may not be required. If, however, you will be letting a property as a secondary endeavour and hoping for passive income, then you will definitely need to consider an agent.
The average letting agent will earn the money they cost, the best letting agents are an asset to your property, and will deliver value in the rental price they can achieve, the savings they can make in maintenance and repair and in the time and stress reduction they will provide you. Want to know more about engaging a letting agent, or to ask us some questions? Contact Us today!
7 Things to Be on The Look Out for in 2021
There are a number of things to be on the lookout for in the coming year – some we can't do anything about, such as the pandemic and Brexit, but there are some we can, and that's where we need to keep on top of things.
Stamp Duty Holiday
While there may be additional measures put in place to counter economic issues, the present stamp duty holiday is set to end, meaning that all landlords hoping to take advantage of the current 3% flat rate (in England, on purchases up to £500,000) need to ensure that their purchases are completed prior to the March 31st cut off.
End to Mortgage Holidays
If the latest lockdown – which increasingly looks set to last until at least March – is likely to cause issues with your payments, or those of your tenants, then you have until March 31st to apply for a mortgage holiday:
Those that haven't taken a payment holiday can apply for deferrals of up to six months.
Those that have a first deferral in place, or that resumed payments after one deferral, can apply for another which will take them to the six-month limit.
Those that have already had six months of deferrals are not eligible for further payment holidays.
Deposit Protection Schemes
There will be new rules for deposit protection from April 2021. With possible fines up to £30,000 for landlords and agents failing to join one of the six approved schemes which hold funds in accounts registered with the Financial Conduct Authority, landlords will need to ensure they take this particular change extremely seriously.
End of 'no reason' eviction
While consultation began on section 21 notices back in 2019, there is likely to be an outcome one way or the other on the ability for landlords to end 'rolling tenancies' with no reason required and a two month notice period. Although the Renters' Reform Bill has been held up indefinitely by the pandemic, the vaccine rollout could see the bill make some progress in 2021 – the bill also includes the possibility of a moveable 'lifetime deposit' which would follow tenants from one property to the next in place of security deposits and the opening up of the rogue landlord database to the public.
Overseas Surcharge
An additional 2% surcharge will need to be paid on purchases by overseas investors from April of 2021 (in addition to the regular by-to-let surcharge). Any non-UK residents – those who have spent fewer than 183 days resident in the UK in the year prior or in the after the purchase – will be required to pay this additional charge on all purchases.
Right to Rent Uncertainty
Current rules on the requirements for landlords regarding the 'right to rent' are set to expire on the 30th of June 2021 with no clear guidance as to what will replace them. While we can hope that the new requirements will be made clear soon, the only thing landlords can do in the meantime is continue to check that tenants have the right to live in the UK using valid passports and ID cards until that happens.
Electrical Safety Rules
From the 1st of April existing tenancies will also be subject to the new guidance on electrical safety – with all properties needing their electrical installations inspected at least every five years and tenants provided with a copy of the report within 28 days of completion. While new tenancies have been subject to the terms since July 2020, landlords will need to ensure that all of their existing tenancies are in line with the rules by the end of March.
2021 is still shrouded somewhat by the joint uncertainties of Covid-19 and Brexit, but there are definite hurdles that landlords will need to be aware of throughout the year – and if you'd like some help navigating them, then you can Contact Us for expert advice.
Landlord Legal Requirements – What You Need To Know
With the rental market booming, there are a lot of new landlords taking their first steps in the business – so we've put together a beginner's guide to help out.
Gas Safety Certificate
A valid Gas Safety Certificate must be obtained for all rented residential accommodation. A copy of the Gas Safety Certificate (CP12) must be provided to the tenants at the outset of the tenancy. Failure to do so may prohibit service of the prescribed Section 21 notice should it be required. If no certificate is provided, a County Court may argue that a landlord cannot file a Section 21 notice while the tenancy continues to exist. In addition to the initial certificate, annual check ups must be performed, and tenants must receive the replacement certificate within 28 days. Wirral Homes can arrange a Gas Safety Certificate on a landlord's behalf if requested.
Electrical Installation Condition Report (EICR)
Landlords hoping to rent out a property in England are required to have an electrical inspection conducted prior to the commencement of a tenancy. This report on the condition of the property is known as an EICR and must be performed by a qualified person. Pre-existing tenancies will need to have an EICR performed before the 1st of April 2021 and, from that point on, ECIRs need to be issued to a tenant prior to their moving in. We recommend that landlords obtain a new ECIR at the beginning of each tenancy (although visual inspections may suffice) and Wirral Homes can organise an EICR or visual inspection on your behalf.
Energy Performance Certificate (EPC)
Any property which is to be let requires a valid EPC. These certificates are valid for a period of 10 years, and the property needs to be reassessed for a new certificate. We recommend that, if you have made any energy efficiency improvements to the property, a new EPC should be sought to reflect the new standard of performance. In addition to this, landlords of properties with an EPC rating of F or G may not be able to let their properties. If you require an EPC but aren't sure where to start, let us handle it for you.
Smoke Alarms & Carbon Monoxide Detectors
There is a legal requirement for smoke alarms to be provided on every floor of a rental property, and a carbon monoxide alarm in every room with a solid fuel source.
Documentation: Tenant's Deposit with Deposit Protection Scheme
The tenant's deposit must be protected under one of the three approved tenancy deposit schemes. The prescribed documentation regarding this deposit must be given to the tenant within 30 days of a landlord receiving the funds. Security deposits are also limited to the equivalent to 5 weeks of rental value – something we can manage through our partner scheme.
Landlord License (if required)
In order to rent your property, you may need a landlord license from the local authorities. This is dependent on the property's location. You can contact your local council for more information and, if you need help or advice you can rely on our inhouse legal department.
ICO Registered: Data Protection Compliance
Landlords must comply with General Data Protection Regulations by registering with the ICO. A privacy notice must be provided to tenants which outlines why the landlord is entitled to use the personal information provided by tenants, guarantors, referees, etc.
Legionella Assessment
Health and safety legislation requires that risk assessments for the legionella bacteria which can cause Legionnaires disease are taken. The assessments must identify and assess potential sources of exposure, and steps taken to prevent/control any risk that is identified – and for landlord's that need help, Wirral Homes works with trusted professionals that can carry out the required inspections.
Right to Rent Guide
Upon starting a new tenancy, tenants must be provided an up to date copy of How to rent: the checklist for renting in England. Failure to do so will result in not being able to serve a valid Section 21 notice in England. Under the 'Right to rent' legislation landlords must ensure their tenants are not illegal immigrants and are consequently permitted to rent in this country. More details on this subject can be found on the governments website.
Furniture Fire Resistance Compliance
All furniture provided by the landlord must be fire resistant. The furniture must meet the fire resistance requirements laid out for furniture and furnishings in the Fire Safety Regulations Act of 1988.
Electrical Appliances
There is no requirement for annual checks (as with gas appliances) but the Electrical Equipment Safety Regulations state that landlords must ensure that all electrical equipment and systems are safe, and maintained in a safe condition during the tenancy.
Coronavirus Government Measures
Landlords are required to adhere to the updated government guidelines regarding the Covid-19 outbreak. These measures cover a whole range of requirements from minimising health risks to assessing financial support.
Duty of Care
Rental properties must be fit for human habitation and in a good state of repair. Landlords have a duty of care to their tenants and failure to adhere to this obligation can lead to punishments.
While we've tried to be as thorough as possible, it bears noting that this blog is for information purposes only, and is not an exhaustive list. As we are not intending this guide to constitute legal or advice, or to be a legally binding document, we recommend you seek legal or professional advice before entering into any kind of tenancy agreement – and if you need help with this, you can Contact Us and our in-house legal team will do everything they can.
Wirral.co.uk is Live – Home of Your Experts on the Wirral
Our challenge? To create a website that would serve both landlords and prospective tenants – enabling both to learn all they may need about the Wirral and to pair them with their perfect match to help make for happy, long-term tenancies. We think we may have done it!
Built from the knowledge we've accrued throughout our years of experience in the lettings industry, Wirral.co.uk is a hub not only for the promotion of the property we have available, but also of our industry and local knowledge, with a breakdown of property prices and possible yields, a comprehensive list of and description of our many services and in-depth location guides to help tenant and landlord alike discover the Wirral.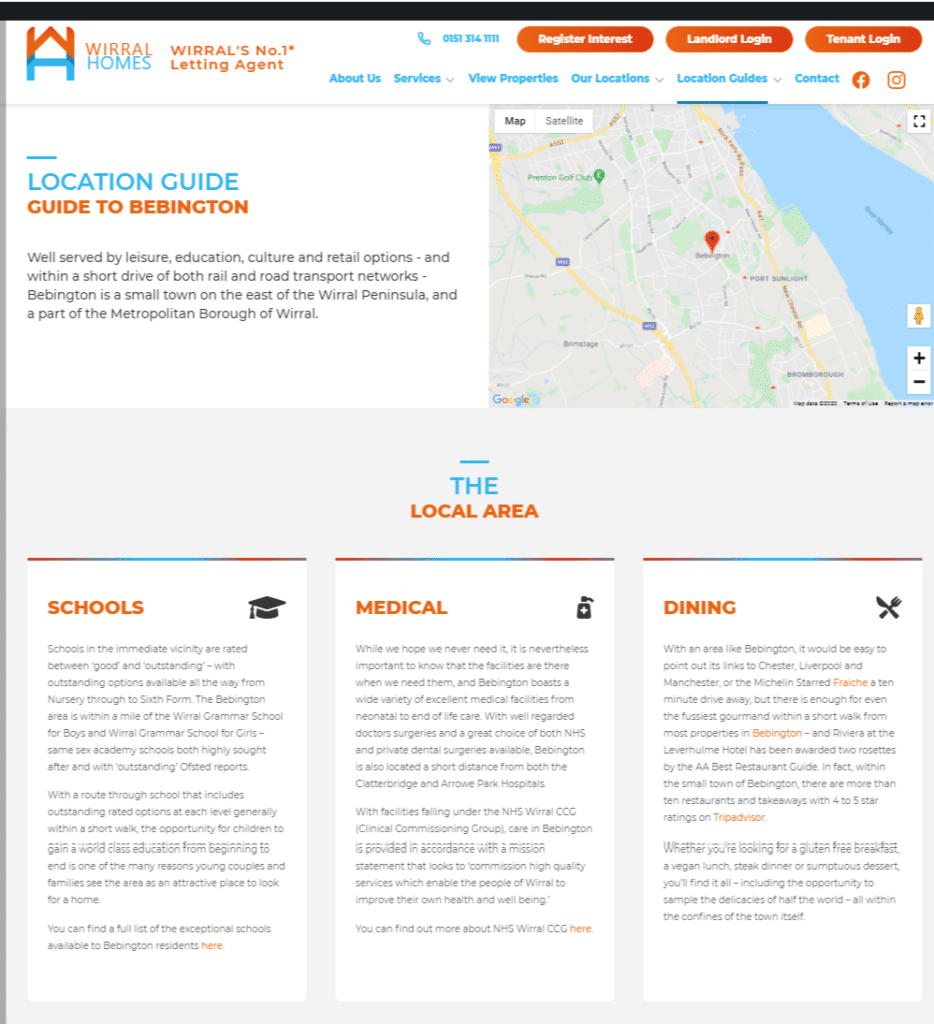 We have attempted to include a little of everything – while Zoopla is a fantastic outlet for us, especially with our premium package allowing for increased exposure, it primarily acts as a search engine for those people who know what they want. While there is an art in ensuring that your property captures their attention, prospective tenants that aren't sure need that little bit more help – and that's why we've put together more than 40'000 words of in-depth local knowledge on the main areas of the Wirral. We know we can sell your property to a tenant, but now we can sell the Wirral, too.
As we enter a new year, we're expecting big things from 2021 – and we hope you'll sign up for our newsletter to keep up to date on what it brings.
We're really proud of how we've managed to distil our years of experience into the new site – but we're not done! We want to hear from you if you think we've missed something that you desperately need. Whether you want to offer some feedback, or would like to harness our expert knowledge, Contact Us today!
House Prices in the UK Up by More Than £13000
The Guardian, among other news outlets, carried reports today which highlight the 2020 boom in property prices as a direct consequence of the global pandemic.
Covid-19 sparked a "race for space" among householders fleeing cities and searching out bigger homes. A tentative recovery in the market after lockdown ended morphed into a raging boom after the chancellor cut stamp duty in England and Northern Ireland until 31 March 2021. Wales and Scotland followed suit, although the cuts were not as generous. In England and Northern Ireland, buyers have been able to save £10,000 on a £400,000 property and £15,000 on one costing £500,000.

Patrick Collinson – The Guardian, 20th December 2020
This shift in how we feel about our homes – which has led many to prioritise space over convenience – is also, likely, linked to the rise in work from home, with employees able to risk leaving the big city for larger properties elsewhere. This has also led to a massive increase in sales and rises above the 7.6% average in commuter towns.
Getting away from the hustle and bustle has proven so popular in fact, that 'detached', 'rural' and 'secluded' have risen to become the fourth, fifth and sixth most searched for terms.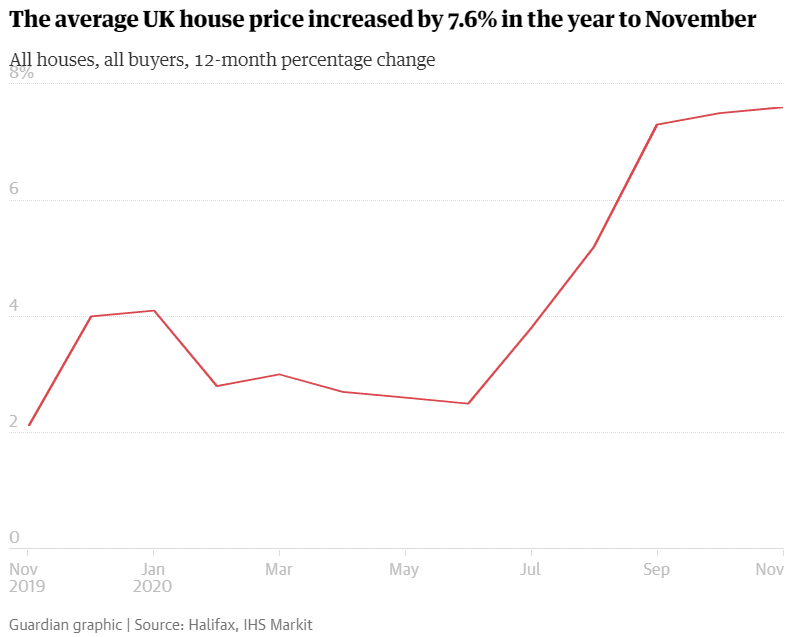 Also adding to these trends has been a similar boom in buy-to-let sales. According to a separate report carried by The Guardian on the 14th of December, landlords made up 15% of all property sales in November – no doubt as a result of the soon to end stamp duty holiday.
With the stamp duty holiday set to end on the 31st March 2021, however, there may be more in the pipeline – though missing the March deadline could see landlords paying an additional thousand pounds if their sales are delayed past the cut off.
With plenty of people still listing their properties for sale despite the Christmas holiday, there are still bargains to be had and prizes to be won for savvy investors, however, provided they are able to get their deals completed quickly!
Find out how 2020 may have impacted your property portfolio – and what you need to do to maximise its potential. Contact Us today!
Wirral Letting Agents by Social Media Following
It may not be the most important part of a tenant's discovery process when looking for a new place to call home, but traditional letting agencies are behind the times if they don't understand that social media needs to be taken seriously.
When it comes to finding a property, tenants begin their search online – and that means letting agents need to be as visible as possible both on search engine results pages and on social media. That's why Wirral Homes has spent its time building an audience that can help you find your property's next tenant.
One of the things our experienced team has worked on since Wirral Homes was created is building our following on Facebook – a visual platform that we have found works well for property. The results are as follows:
| Rank | Letting Agent | Facebook Followers |
| --- | --- | --- |
| 1 | Wirral Homes | 1888 |
| 2 | Hunters | 1375 |
| 3 | Move Residential | 1179 |
| 4 | Hewitt Adams | 1194 |
| 5 | Jones and Chapman | 902 |
| 6 | BFL | 694 |
| 7 | Clive Watkin | 614 |
| 8 | Martin & Co | 318 |
| 9 | Northwood Wirral | 260 |
| 10 | Market Street Homes | 204 |
While we are not naïve enough to believe that a letting agents work is done when they top a table of social media followers, we use this to illustrate the change of approach to social media that Wirral Homes represents. Our lives are increasingly lived online – especially throughout the last year – and the lettings industry has remained, in large parts, restrained by a traditional approach.
While a board outside the house and an advert on sites like Zoopla are incredibly important, there is huge untapped potential in social media for letting agents – and that is potential we intend to tap. How many times have you seen something interesting online and tagged a friend? Who would be the first to know if you were moving and what you were looking for in a new property? A social media following does not end with the number given, it's a network of the friends of each follower – each a potential recommendation for one of the properties we're letting at the time.
By focusing on building a social media presence while we built this website, we were not seeking to replace traditional approaches, but looking to supplement them. In ensuring we achieve maximum exposure of the property portfolios we manage, we also minimise the time properties spend vacant – and that, in the end, is one of the letting agent's most important jobs.
For more information on how we're approaching letting, or to speak to us about the services we offer, Contact Us today!