VAT Cut on Solar Panels and Heat Pumps Welcome, But Not Enough
With rising prices of energy and essentials set to see the majority of the UK tightening their belts, and the Office of Budgetary Responsibility (OBR) predicting the largest fall in living standards for more than seventy years, landlords face increased EPC requirements with little help coming from the spring budget.
With the country seemingly at the centre of several converging financial crises, there was a lot of expectation for Sunak's spring statement to provide help for the nation to get through the latest in an ever-lengthening line of turbulent moments in global finance. As energy bills climb, and potential grain shortages caused by the war in Ukraine look likely to increase prices and exacerbate shortages caused by Brexit, the country really could have used a budget that alleviated some of the pressure. Sadly, it didn't get it.
Cuts to VAT on green products, for example, will help a little; but, as landlords across the UK look to improve the energy efficiency of millions of properties to reach increased EPC requirements, there are still likely to be financial constraints on the ability of landlords to make those improvements – and further issues caused by availability.
The Director of Energy Efficiency Consultants Murton & Co, Jonathan Murton, for example, has stated that the rise in energy prices had already increased demand for products and added:
In addition, many landlords that have already seen tenants accruing rent arrears (partially as a result of the pandemic and central government's inaction when asked to provide grants to help with resulting financial problems – like many countries have done), are also facing a year and possibly multiple years where their tenants will face spiralling financial difficulties.
In this regard, the Chief Executive of the National Residential Landlords Association, Ben Beadle, stated:
In what should be an eye-opening moment for the Chancellor, Generation Rent and the NRLA appear to be on the same side of this issue, as Baroness Alicia Kennedy, Director of Generation Rent, commented:
Responding to this week's Spring Statement, Baroness Alicia Kennedy – director of Generation Rent – says:
What this means for Wirral landlords
Unfortunately, there seems to be a growing demand for private landlords to solve the problems of central government. While they are asking for homes for Ukrainian families, which many landlords would love to offer, they are continuing to neglect the social housing sector, or the legislation impacting landlords making such a choice, meaning that landlords face the problem of choosing between struggling families from the UK and Ukraine while both are being failed by the state.
As things stand, there are positives for landlords, but there is a growing raft of issues that could cause problems – which landlords will need to address with their MPs before they become intractable.
Need help navigating a rapidly changing legislative environment – someone to take the stress out of managing your property portfolio? Contact Us and speak to one of our experts.
New Paperwork Required for All Evictions from October 1st 2021
Updates to assured tenancy forms aimed at returning to a pre-pandemic 'normal' were made to the central government website on the 1st, with landlords needing to pay special attention to forms 3 and 6a which relate to section 8 and section 21 evictions respectively.
While there are still doubts around the future of the section 21 eviction (otherwise known as the 'no fault eviction'), landlords are still able to issue a section 21 notice, and the notice period is once again two months. Section 8 evictions reverted to a two week notice period on the same date.
Form 3
The new 'form 3' is notice to a tenant that a landlord is seeking to retake possession of a property let on an assured tenancy occupancy. The form should be only be used by landlords when possession is sought on one of the grounds in Schedule 2 to the Housing Act 1988 (section 8).
Landlords should not use this form if:
Your tenant is an assured shorthold tenant and possession is sought on the basis of Section 21 of the Housing Act 1988.
Possession is sought on grounds of rent arrears against a tenant who is a debtor whose arrears are subject to 'breathing space' (unless a court has granted you permission to do so).
Form 6a
The new 'form 6a' is only to be used when possession of accommodation let under an assured shorthold tenancy is sought for 'no fault' – under section 21 of the Housing Act 1988.
Landlords should not use this form if:
the tenancy is less than 4 months old
the property is in multiple occupation, or requires a licence under Part 2 of the Housing Act 2004, Section 55
the tenancy was granted on or after 6 April 2007 and the landlord has not complied with tenant deposit legislation
the local authority has served an emergency remedial or improvement notice in relation to hazards at the property in the last 6 months
prohibited payments or a holding deposit were taken from the tenant that have not been repaid.
You can find further guidance on the new forms on the central government website.
What this means for Wirral landlords
The end of the section 21 evictions has been the source of persistent rumour for some time now, but they are still an option for the moment. However, they are seldom the best first action for a landlord looking to retake possession of a property on 'no fault' grounds. Instead, the better option is generally a negotiated termination with the tenant, allowing for the contract to end with sufficient notice and without either party feeling poorly treated.
However, for landlords that have taken unsuccessful steps to resolve such a situation amicably, a section 21 eviction is still possible provided the appropriate paperwork is served – and it's important that steps are taken to ensure that the paperwork is the latest version, or possession may not be permitted.
Some landlords have voiced concerns about a perceived lack of options should section 21 evictions end, but eviction of tenants in breach of contract will still be possible using a section 8 notice. This means that landlords will still have the ability to retake possession of their property from problem tenants, while tenants that abide by contractual terms and pay their rent on time will be granted the security they deserve.
The last two years has emphasised the importance of several conversations that have been happening in the private letting sector for many years. As a result, there has been an increase in the visibility of contract disputes, increases in coverage of problem landlords and a shift in power that some landlords have seen as too far in the tenant's favour.
However, this just emphasises the need for landlords to properly vet new tenants and the importance of building professional relationships with tenants throughout the contract. While this can be time consuming, a properly managed tenancy generally improves outcomes for all involved.
If you would like a little help managing your property portfolio, or to discuss what your options might be regarding an eviction, you can Contact Us to see what we can do for you.
Landlords Hoping for Capital Appreciation Should Focus on Eco-Credentials
As environmental concerns creep up the priority list of tenants and buyers alike, the latest report from Hive and Rightmove is just the latest to show the long-term benefits of offering eco-friendly properties as a landlord both in the short and long term.
While there will be some landlords quick to dismiss news of eco-consciousness as post-Greta propaganda, there are robust studies (including this study of Australian renters) dating back to 2015 which indicate a growing environmental concern in tenants, followed by research in 2018 from Your Move which showed that 42% of tenants expressed that environmental issues influenced their property decisions, and further research from Centrica in July 2021 which found that upwards of 90% of 2000 surveyed in Scotland believed that carbon neutrality was important to them.
What this means for Wirral landlords
Environmental concerns are likely to grow in importance over time – especially as various Paris Climate Accord deadlines approach and global awareness is raised. However, while competition between landlords to offer the most environmentally friendly properties may be some way off, there is a more immediate benefit in being able to offer a property with a higher-than-average level of energy efficiency.
While current governmental legislation has required a minimum band-E EPC rating since April of 2020, there are clear benefits to the tenant from a better rated property – and with the relaunch of the UK government's 'Green Deal', there are methods of making improvements to the property which are tied to the improvement itself rather than the landlord.

There are also reasons to believe that the minimum requirement for the EPC will increase to band-C from 2025 (for new tenancies and from 2028 for existing tenancies). As such, landlords may be faced with needing to improve from E to C with little notice, making it necessary for landlords to make large investments in their properties. As such, it will benefit landlords to begin the process now in order to take full advantage of the intervening 4 years.
While there are also calls for the government to introduce a replacement to the previous LESA (landlord energy savings allowance), there have been no indications that this will happen in the short term – though these things tend to have some limited allowance for backdating, so may well retroactively cover improvements made in the coming years.
The possible options for property owners go further than new insulation or heating systems, however, and there are and increasing number of ways that property owners can go above and beyond when it comes to making a difference. For example, a spokesperson from British Gas – parent company of Hive – had this to say:
With the ban on new petrol and diesel vehicles on the horizon, many people are considering how to make the switch to electric. And as we head towards net zero, it's likely that smart charging as part of a wider home energy eco-system, will increasingly become the norm, as people look to make homes more sustainable.
What should Wirral landlords do?
There is no legal requirement for landlords to act immediately, nor is there any firm data on the impact of environmental friendliness on void-time or rental expectations. However, legal requirements for rental properties are certain to become more stringent over the next five years and early indicators suggest that environmental considerations are of growing importance to tenants.
For this reason, we would suggest that it is better to begin the process of improving your portfolio's EPC ratings sooner rather than later to avoid being faced with a large one-time outlay or the possibility of what, according to the consultation document which outlines the 2025 deadline (amongst other things), could be a £30,000 fine for non-compliance.
Landlords, like the rest of the population, are familiar with the dangers of climate change – but have historically had to make business decisions on various improvements – however, as the regulation becomes stricter and the options more widespread and less expensive (and with the previously mentioned Green Deal and other incentives such as the Domestic Renewable Heat Incentive available), landlords can be increasingly confident that their business and environmental concerns are aligning.
Need help sourcing an EPC or finding the right partners for improvements? Contact Us today to talk to one of our expert team and see how we can help you to get ahead and stay ahead of regulations – environmental or otherwise – and help to take the pain out of portfolio management.
Tenant Fees Act Hits the News – Are You Operating Within the Law?
The pandemic has raised plenty of issues between landlords and tenants – many of which have come as a result of unscrupulous private landlords and tenants alike – have seen an increase in press coverage for stories such as a recent claim against a landlord over a death from pneumonia but, in truth, the vast majority of landlords should have little to worry about.
What is the Tennant Fees Act?
Introduced in 2019 and coming into effect in June of 2020, the Tenant Fees Act serves to ban letting fees and to cap the deposits paid by those tenants renting from private landlords in England. Aiming to reduce the cost that tenants can face both at the outset and during the course of a tenancy, the act serves to allow tenants to see, at a glance, what a property will cost.
Who does the ban on fees apply to?
The ban as represented by the act applies to all assured shorthold tenancies, tenancies for student accommodation and to licences to occupy housing in the private rental sector in England.
What fees can be charged?
The fees that can still be charged as of June 2020 are, simply, those essential for the proper letting of a property – and are as follows:
Rent – a regular, agreed upon amount at agreed upon intervals. It is prohibited to charge a larger amount for the first month's rent in order to cover any costs. The whole cost of the agreed period should be evenly split across the duration of the tenancy.
A refundable tenancy deposit – this is a deposit which will be placed with a Government Custodial scheme DPS (Deposit Protection Scheme) which is capped at no more than 5 weeks' rent (or 6 weeks rent if the annual rent is greater than £50,000).
A refundable holding deposit (to reserve a property) – capped at 1 week's rent
Payments associated with early termination of the tenancy – if requested by the tenant,
£50 (or reasonably incurred costs, if higher) can be charged.
Payment of utilities, communication services, TV licence and Council Tax
Early termination – if a tenant requests to leave before the end of their tenancy, an early termination fee can be levied – this cannot exceed the financial loss a landlord or agent has suffered in permitting the tenant to leave early.
What this means for Wirral landlords
As ever with this type of story, the news will grow as tenants begin to win cases against landlords that have breached the conditions outlined in the act. However, most landlords will have been acting in accordance with the standards set out in the act for longer than the two years since it was announced. Where it may be a concern for some landlords is in situations where legacy charges have been carried over during renewal for longer tenancies.
As the act rendered all additional charges 'prohibited payments' from the 1st of June 2020, there may be situations where prohibited payments may have been collected during the period since the beginning of the act's enforcement. In these situations, the payments taken in error should be returned to the tenant as soon as the error is discovered to prevent the possibility of court action and the penalty of a year's rent (in actual fact, there are possible financial penalties of up to £30,000) being applied.
If you're worried about the shorthold agreements currently in place with your tenants, or any other legal documentation, you can Contact Us to see what we can do to help you with this – or any of the many other legal queries that can arise in the course of successfully managing a property portfolio.
Zoopla's 2021 Q1 'UK Rental Market Report' Analysed
The Zoopla report carries variations on a theme, and is similar in many ways to the HomeLet report covered last week – however, in addition to data on rent as a percentage of average income (with the North East again mentioned as offering the most affordable rents), there is some useful information in there on the possible developments we might see over the coming year.
What the report shows
The executive summary gives six main takeaways from the report, they are:
Three distinct markets are emerging in UK rental market: the wider commuter zones and beyond, major city centres and London
Across the UK outside London, there is strong rental demand amid constrained supply and rents are up +3% on the year
Three English regions & Wales are recording the highest rental growth since March 2011
Rental demand is building in city centres as lockdown eases and offices start to reopen
In London, rental falls eased in Q1, with rents down -9.4% in the year to March, compared to -10% in the year to February
Rental demand in inner London boosted as monthly rents in several boroughs hit their lowest levels since the index began in 2011, dramatically increasing affordability
As with the HomeLet report, there's little that will come as a major surprise to Wirral landlords – there is upward pressure due to constrained supply in commuter zones which has led to increases across the region.
However, the data may come as a surprise – there was a 32% rise in rental demand over pre-pandemic levels, but a 5% reduction in supply over the same quarter in Q1. While the shortfall will be eased as some proportion of the population looks to move back to city centre property, there is still likely to be a significant gap between supply and demand.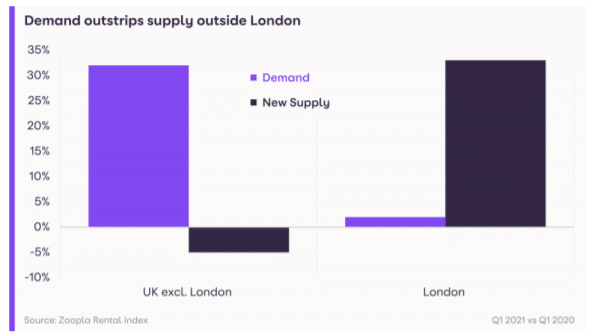 Caused by many of the same issues as the shortfall in properties available to purchase (the relocation for space, as mentioned in coverage of previous reports), the rental property gap is also contributed to by smaller and single property landlords exiting during the last year. With rental demand tending to peak in the mid-late summer, there is likely to be further upward pressure for rent.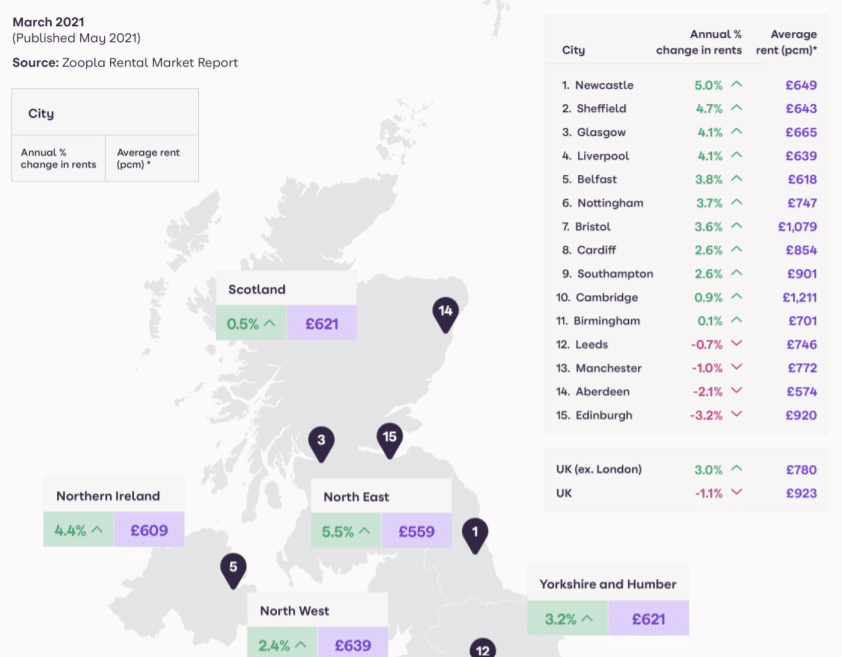 While the property market is a little uncertain (as all things are) as we begin to see the end of the pandemic on the horizon, there are reasons to be cautiously optimistic – especially for Wirral landlords that can expect to see a steadily high demand, low re-let times and with a host of potential regeneration projects adding value to the region.
With 2021 unbelievably nearing its halfway point, it is still difficult to say for definite what the second half of the year has in store, but there is growing evidence that there will be continued growth as the UK adapts to life post-pandemic. While there may be fewer sales after the stamp duty holiday ends, there will remain plenty of opportunities for investment and reason to expect a steady yield from properties in the region.
Need some help keeping up with the rapidly changing UK property market, or help managing or growing your portfolio? We believe that the role of a letting agent is to be up to date with the latest information to help best represent our landlords' interest. Contact Us today to see how we can help.