Deadline for Making Tax Digital (MTD) Set to be Extended by a Year
The digitalisation of income tax for landlords was set to be introduced from April 2023, but following feedback from stakeholders and businesses, the deadline has been pushed back to 2024 to provide more time for testing and preparation.
What is Making Tax Digital (MTD)?
Applying to a wide range of taxpayers, including most SMEs, self-employed people and landlords, the MTD initiative aims to move away from paper tax returns and, in conjunction with various accounting software platforms, move to a more efficient digital system.
The cut off for the shift was originally set to be April of 2023, but following feedback from various businesses, the date has been pushed back to allow more time for HMRC to test the implementation with various stakeholders and for businesses to prepare.
The announced extension
Published on the UK government central website on the 23rd of September, the announcement says: 'A later start for MTD for ITSA gives those required to join more time to prepare and for HMRC to deliver a robust service, with additional time for customer testing in the pilot.'
As such, the shift to MTD will be mandated for businesses and landlords earning income of more than £10,000 from tax year beginning in April of 2024. Lucy Frazer, Financial Secretary to the Treasury, commented:
What this means for Wirral landlords
The aim of the MTD for income tax, according to the government, is to reduce costs, reduce penalties and cut down on the number of errors made when filing Income Tax Self Assessment (ITSA) returns, but has suffered from problems with communication. These problems have led to surveys, such as from accounting software providers FreeAgent, finding that 84% of respondents (of 701 businesses polled) thought that there was insufficient information on the initiative.
While many landlords already use accounting software to simplify their returns, the extension means that there will be an additional year for those landlords who have either: not heard about the initiative; or have found it difficult to adapt to the new requirements to bring their business in-line with the new legislation.
While it has been common practice historically for landlords to use accountants to file ITSAs, new software can help to facilitate easier tax returns and save money and time for landlords. While the transition may prove more difficult for traditional letting agencies, Wirral Homes has had digital at the core of its business since its founding – and has found that there are savings to be made for landlords willing to commit to the switch.
Want to discuss how you can update the way you handle your tax filings to comply with MTD? Contact Us to see how our experts can help.
The Nine Wirral Projects Set to Share £25 Mn of Investment
With a combined £50 Mn secured from various sources, Wirral residents can look forward to a host of developments as projects begin to take shape on initiatives funded by up to half of the total investment budget.
The nine projects
Following public consultation, the following ten projects were selected as those likely to result in the largest improvement to the area:
The Transport Shed: – a transport-themed attraction to be run by National Museums Liverpool will be located within Dock Branch Park.
Education Engagement Project: – seven buildings are set to be improved and form what the council has termed a "hub and spoke network of service delivery bringing together education, advice, guidance, and specialist services," to be led by Wirral Metropolitan College.
Waterfront Animation and Creativity Project: – investment in Eureka! Science + Discovery, Woodside and Birkenhead Priory, including public realm improvements to Hamilton Square.
Sustainability Central: – focused on refurbishing and retrofitting a building within the Wirral Waters Enterprise Zone and surrounding outdoor area, the project will create a space to host events and workshops on sustainability.
EXPO Village: – acting as a "three-year 'laboratory' for testing homes of the future", according to the council, this project aims to highlight innovative ways to construct homes before becoming open market and affordable housing after that time.
Wellbeing and Opportunity Hub: – Charity Door will provide help and services to those in need of mental health and wellbeing support.
Future Yard Music Skills Venue: – the second and third phases of the live music venue project which opened its first phase in autumn 2019 will be funded – including a 6,800 sq ft music-specific project space and skills development infrastructure.
StartYard: – focusing on reusing a former industrial garage building owned by Microzine Creative this project aims to create a creative hub in Birkenhead's Cammell Laird waterfront area.
The Argyle Street Creative Hub: – dedicated to acquiring and redeveloping a vacant property, the project – operated by Make CIC – will turn it into a cultural and community creative space.
Councillor Tony Jones, the chair of Wirral Council's Economy, Regeneration & Development Committee commented:
While the exact allocation of funds will depend on the outcome of pitches to the Department for Levelling Up, Housing and Communities, Wirral residents will be pleased that work is either set to begin soon or is already in progress.
What this means for Wirral landlords
Part of what makes an area an excellent investment opportunity is the local amenities – including retail, transport and the like. While Wirral has a lot to offer residents, areas such as Birkenhead have been historically underfunded. Large developments of this nature are what has been needed to help overcome issues in the area and should help to improve the wellbeing of residents.
Not only do projects like this, if completed successfully, have a lasting impact on the environment of an area, they are also great for both property prices and attractiveness to potential tenants. While the construction of new homes has been a top priority, there has been a historic imbalance between supply and demand in the area and such projects are likely to fall short of satisfying the likely increase during their construction.
For that reason, Wirral landlords can expect to see property values continue to grow at above the national average over the coming 2-3 years, allowing landlords to potentially restructure debt and expand their investment.
Want to discuss your property portfolio with a local expert? Contact Us today to see what we can do for you.
Landlords and Politicians Back Calls for Change to Law to Help Make Renting Pet Friendly
While changes to the New Model Tenancy Agreement in January making pet friendly contracts the standard, and Andrew Rosindell MP expressing his intention to campaign for the changes to become law, the push for further changes is receiving wide-spread and cross-party support.
A reissue of a report from pet charity AdvoCATS titled 'Heads for Tails!' makes an argument for amendments to the Tenants Fees Act 2019 that would permit landlords to require pet insurance of tenants wishing to keep animals. The report states:
A thorough and well researched document, the report takes an even-handed look at the ways in which the rental market can be made more pet friendly without placing undue strain on the relationship between tenant and landlord.

With the demand for pet friendly homes having increased by 120% in only a year, and with issues around pet ownership often the source of emotive and potentially damaging argument, the report – which has been made available to ministerial officials – provides more than just a list of issues, it provides solutions which are likely to be welcomed by tenants and landlords alike.
In the foreword, written by Andrew Rosindell MP, the minister offers the following reasoning:
Pet ownership has long been established as a positive influence on physical and mental health outcomes, so the benefits to tenants are obvious. However, as past legislative changes have left some landlords feeling overlooked, this push – joined by Green Party Leader Caroline Lucas, Sir David Amess, Lib Dem Leader Ed Davies, Dame Meg Hillier as well as organisations advocating on behalf of both pets and landlords – represents the possibility of a mutually beneficial compromise.
What the report suggests
The key demand of the report is for the government to amend the Tenants Fees Act 2019 to allow landlords to require tenants to have pet insurance which covers property damage. AdvoCATS believes that by shifting the onus for protecting the property to the tenant will help to reassure landlords and overcome many objections that are stopping them offering their properties to tenants that already own or would like to own pets.
What this means for Wirral landlords
As things stand, nothing is required of landlords unless they use an unedited version of the New Model Tenancy, but the cross-party push should hopefully offer reluctant landlords some reassurance that, should pets become a right (as some activists are hoping), that there will be a way for them to protect their properties against damage.
Want to discuss the latest legislative changes impacting the rental sector, or looking for a way to reduce the stress of managing a property portfolio? Contact Us today to see how our experts can help.
Zoopla's July 2021 UK House Price Index Report
As available housing stock shrinks, another spike in house prices has seen a 6% increase in July this year versus 2.3% in July of 2020 (a month which was itself a part of historic growth) as houses sell almost twice as quickly as in 2016.
What the report says
Overall, the latest house price index report from Zoopla paints a reasonably rosy picture of the near future of the UK property market. While the flow if new supply is down 3%, demand is up 21% year on year which is in part responsible for the 6% growth in house prices versus the same period in 2020.
However, while the present trend can be expected to see out the year, Zoopla is predicting a slowdown prior to a return to normal levels of trading as 2022 progresses. Gráinne Gilmore, Zoopla's Head of Research stated:
The lower of 26 days, down from 49 days in 2019 supply of homes listed for sale may lead to a natural slowing in buyer interest, albeit from high levels. A return to more normal levels of market activity will result in a slow rebuilding of stock through H1 2022.
That being said, with a housing stock in an in-demand price-range, the North West market is seeing big gains in line with that demand and the falling levels of supply.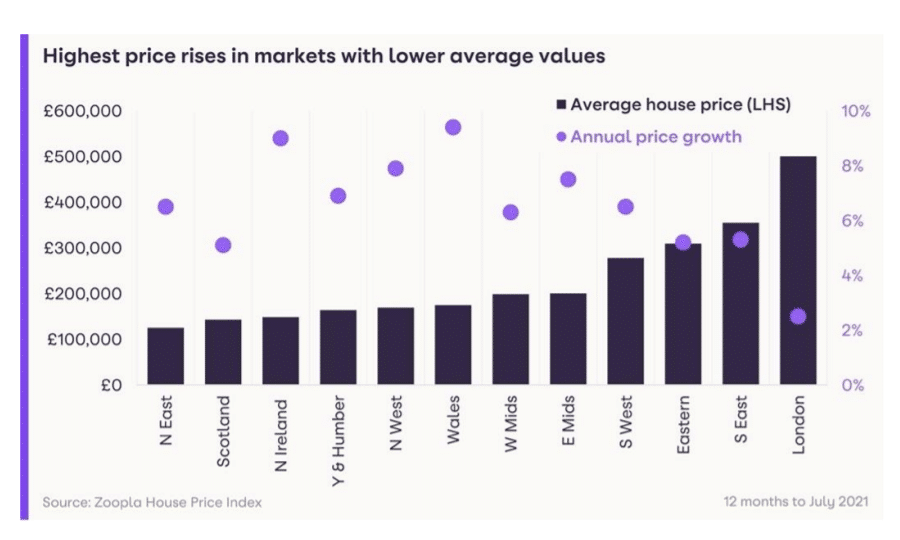 This, the report says, is likely to moderate through Q4 with the end of the tapering stamp duty holiday and withdrawal of pandemic stimulus packages. The report predicts the level of growth across the UK to average out at around 5% for the year.
The report also examines the impact of lender decisions to tighten criteria for first-time-buyers in 2020 which, in addition to continued stamp duty relief and continuation of trends we've discussed here throughout the last year (such as the 'reassessment of home') which are likely to prolong the tail-end of the frenetic pandemic year.
In addition – though there has been a lot of focus on landlords selling properties or unhappy with legislative and tax changes (stories we've covered here, too) – buy-to-let demand, according to the report, is some 21% higher than at the same point in 2020. While this is likely to wane slightly with the end of the stamp duty holiday, the huge shortfall in rental property compared to demand will again cushion any fall in demand as landlords seek to satisfy this.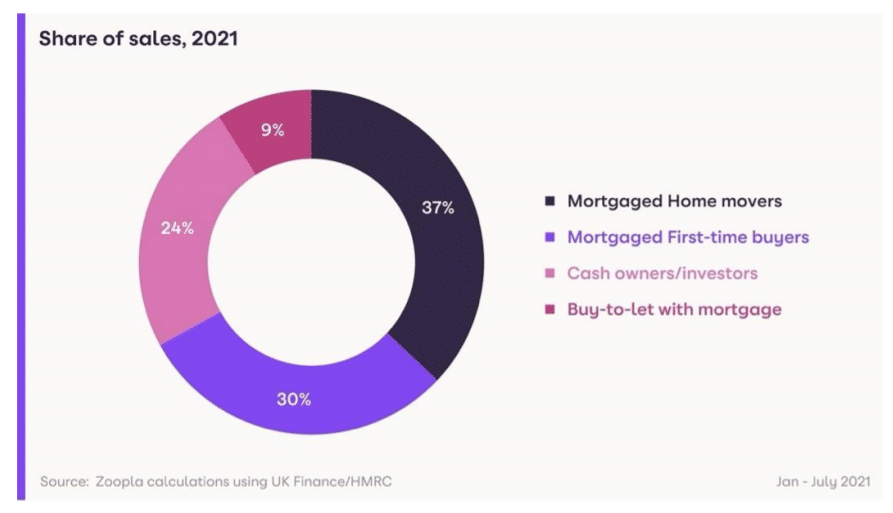 What this means for Wirral landlords
The main takeaways in this report cater to both ends of the spectrum:
For landlords looking to sell
Whether to reduce overall stock, or to fund reinvestment elsewhere, there is the news that the North West and particularly the Liverpool and Wirral areas are currently selling far quicker than the national average of 26 days (which is, itself, almost half the usual average for this time of the year), meaning that it is an ideal time to sell with property prices high and time to sell low.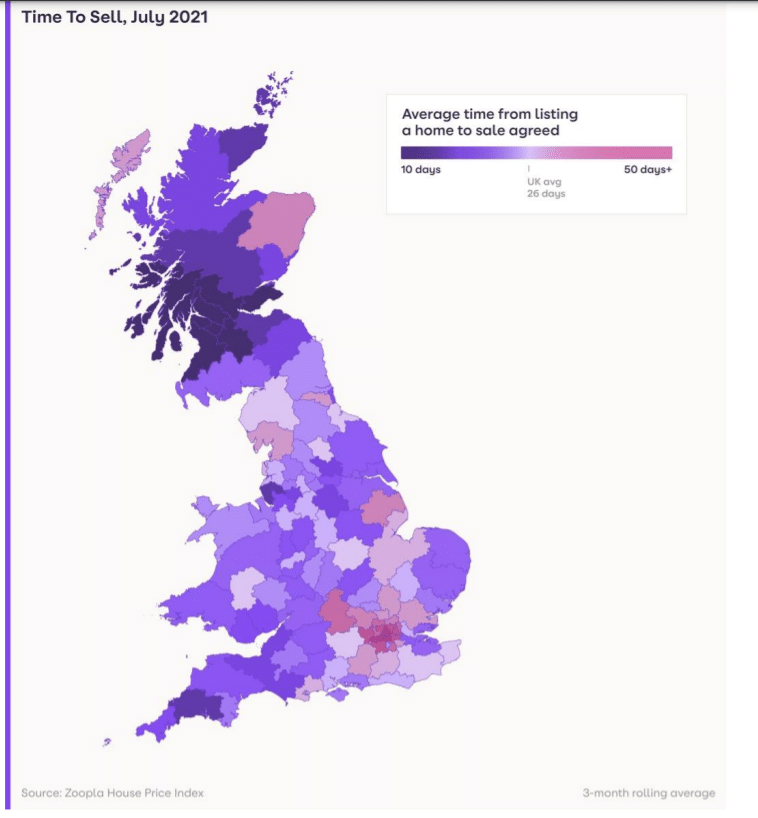 For landlords looking to buy
High prices wouldn't generally indicate a good time to buy as a landlord, but the report (as well as general media over the last year) does note that rental demand is far outstripping supply and, with property prices in the Wirral area still below the national average and rental yields high, there is ample reason for landlords looking to invest to do so in Wirral property and to do so now. With house prices still showing room for growth and still growing demand, there is still a good return to be made on both sides of any potential investment.
Want to discuss your property portfolio, or need help deciding which camp your particular circumstances lend themselves to best? Contact Us and one of our experts will be happy to talk through your options and what we can do to help you make the most of current trends.
Rental Demand Hits Five Year High as Northern Property Value Growth Exceeds South
Despite a less optimistic outlook in Central and Greater London which skews the overall numbers, 39% of landlords surveyed by the NRLA and research consultancy BVA/BDRC reported an increase in rental demand – an 8% improvement since their Q1 report.
While the full economic impact of the pandemic is yet to be discovered, the relaxation of lockdown rules has buoyed the economy and led to the highest rental demand, according to the research, since the first quarter of 2016.
While the data is partially skewed by negative outcomes in Central London, the NRLA report indicates that all other areas have seen real-terms increases in rental prices and in demand for rental property as the capital experienced a fall in both.
Despite this, the proportion of landlords indicating an intention to purchase a property has fallen from 19% in Q1 to 14% in Q2 while those aiming to sell has increased from 17% to 20% in the same time – likely due to landlords reacting to new and upcoming regulations that have been considered to unfairly target the private rental sector.
The NRLAs Policy Director, Chris Norris, said:
In addition to the increase in rental demand, Wirral landlords will also be pleased to note that homes in the region have continued to increase in value even as some of the driving forces behind increases throughout 2020 have reduced.
BTL properties values in the North West have increased by 15.2%, according to Sequre Property Investment, outperforming residential properties. SPIs Sales Director, Daniel Jackson, said of the results:
While some of the focus of investment has shifted to the North East, which is also able to provide excellent yields from investment in BTL properties, there is every indication that the North West, and specifically Wirral, are drawing investors north from the capital.
What this means for Wirral Landlords
There are plenty of reasons to be optimistic as a Wirral landlord – while there are doubts surrounding aspects of recent legislative changes, the rental sector seems to have been reasonably well insulated against the economic uncertainties of the pandemic so far – and contrary to fears, there has actually been a fall in the percentage of tenants with arrears during the pandemic.
With significant pressure building on central government to provide help for landlords looking to improve the energy efficiency of their properties, and Wirral an increasingly popular destination for new home workers leaving surrounding cities, the next year to eighteen months could see a continuing upward trend (though likely shallower) in the value of property as well as the demand for it. For that reason, though properties in the area are more expensive than prior to the pandemic, investment in the area still seems the wiser choice for the short term.
Need help navigating the expansion or leveraging of your portfolio, or any other aspect of managing your properties? Contact Us and speak to one of our experts to see what we can do to help.
Pressure Growing for Government to Aid Landlords in Reaching Efficiency Targets
With landlords expected to be letting properties at EPC grade C or better by 2030, the current 52.2% of properties missing the target should be cause for concern – however, while there are developments with grants for energy efficiency improvements, there is yet to be a reversal on rules classing them as improvements.
Over the last week, Business Secretary Kwasi Kwarteng, has spoken to numerous publishers and television programs stating that there was more to be done to help landlords and owners to meet targets, including that he was in the process of speaking to Chancellor Rishi Sunak about a possible replacement for the Green Homes Grant programme.
The Business Secretary believes that heat pumps – like those set to feature in Wirral regeneration efforts – could reduce in price while Chief Executive of the NRLA, Ben Beadle, has stated:
The Chancellor needs to develop a financial support package that works for landlords and tenants. This should especially be targeted at the hardest to treat properties where the cost of work will be prohibitive for landlords. In this way, he will also be doing the most to help the fuel poor.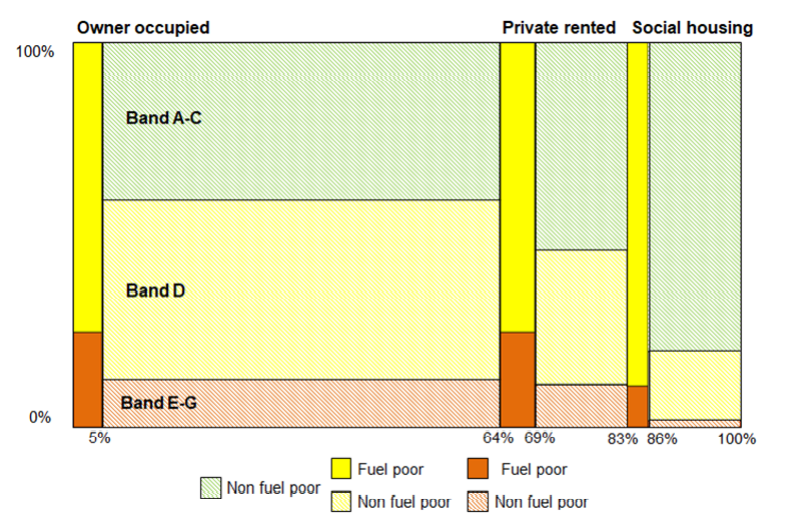 Given that the government's own research states the following, the concerns expressed by everyone from landlords up to and including the Business Secretary seem to be well founded:
With many already upset by a raft of legislative changes during the last decade, the appearance of shifting the cost of the government's emissions targets onto private landlords has caused understandable outrage.
In addition to issues with the previous Green Homes Grant, which folded with little warning in March, there are also concerns that replacing existing reliance on gas central heating could be a non-starter. Despite heat pumps providing a reliable and low energy alternative, there is a huge skill shortage where installation is concerned.
However, Managing Director of heat pump maker Stiebel Eltron UK, Mark McManus, is quoted by The Guardian as stating:
"If there's any problem in the industry, it's probably the skills gap […] There are a small number of well-trained installers in the UK. But once this skills gap closes there is likely to be better service and greater competition, which could cause costs to fall further."
With landlords and tenants, in line with UK opinion, in favour of action to tackle climate change, there is plenty of willingness to affect change within the private rental sector – what is needed now is action by central government to offer the right kind of incentives to make changes affordable for landlords.
What this means for Wirral Landlords
While landlords wanting to start making enquiries about possible grants can start with Wirral Council, it looks likely that, with sustained pressure, there could be another government U-turn on the options offered to landlords to assist bringing properties up to the C rating. The next few years are likely to be vital to even approaching the targets set by the Paris Climate Accord, so there are plenty of reasons to believe that rumoured grant programmes and legislative changes will arrive in the next 12 to 18 months that will at least soften the blow of bringing properties up to the standard expected for 2030.
Need help with this, or any other aspect of managing a property portfolio? Why not Contact Us and speak to one of our experts to see what we can do to help?
Rental Prices on the Rise as Return to the Office Looms
While city centres are approaching pre-pandemic levels, the North West remains 4.1% up on 2020, but still lower as compared to the national average than it was the previous year, meaning that Wirral renters are still getting a great deal on rental properties compared to their city and southern England counterparts.
What the report says
The report provides further evidence of a real north-south divide in the rental market, with UK averages skewed by rental values in the south east. However, it also demonstrates that there is a consistent trend throughout the UK for rent to equate to between 25% and 30% in England and Wales (dropping to below 25% in Scotland and hitting 35%+ in Greater London).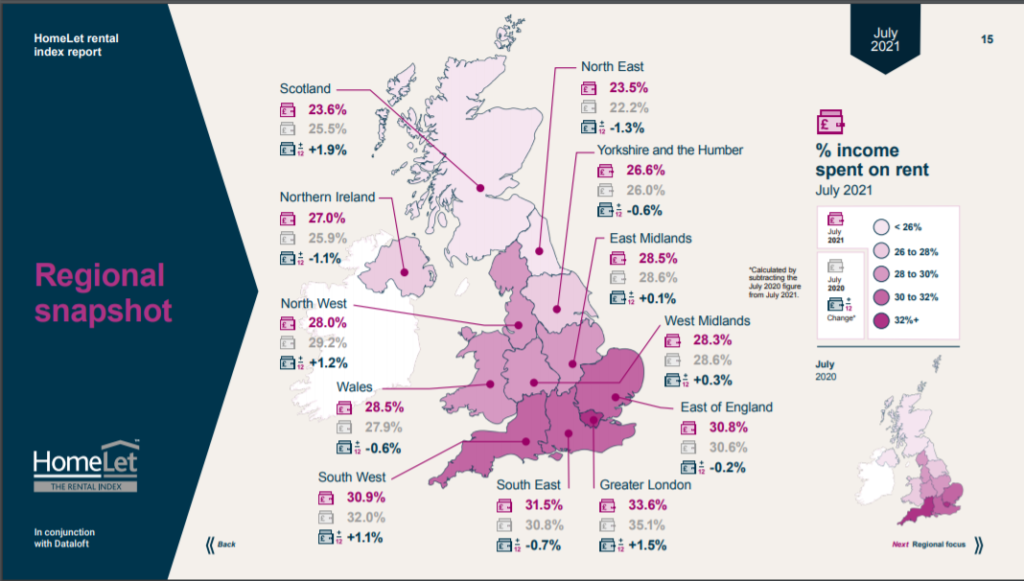 It is interesting to note that the North West, which has seen considerable growth throughout the last two years, has actually seen rent fall as a percentage of income.
The preface of the report raises an important consideration here, however, in that the end of furlough and growing rental arrears could result in job losses and real issues in many regions of England. With Scotland and Wales both having rent relief measures in place, it may be left to tenants and landlords in England to bear the brunt of the economic pressures resulting from the pandemic.
It remains to be seen whether the Number 10 will follow the lead of the devolved governments, but a failure to do so could lead to a crisis in some areas of England.
The report also offers a regional breakdown for the North West which offers the following insight into the average renter in the region:
Average age: – while no doubt skewed by the region's wealth of universities, the average age of renter in the North West, according to HomeLet data, is between 20 and 29.
Median income: – excluding those incomes likely to skew the data (below £10k and above £500k) the median income of tenants in the region is £23,782 versus the national median of £27,666.
Predominant rental band: – the rental stock in the region, in line with the national average, falls in a band between £500 and £750 per month.
Average percent of tenant income spent on rent: – while rents have increased in some areas, and decreased in others, the average percentage of wages spent has dropped slightly and now comes in at 28% of income – almost 2% lower than the national average.
There is also a rundown of the properties let in the last 12 months. This showed that the most popular flats (at 23% of total) are those with 2 bedrooms, while the most popular houses are those with 3 or more.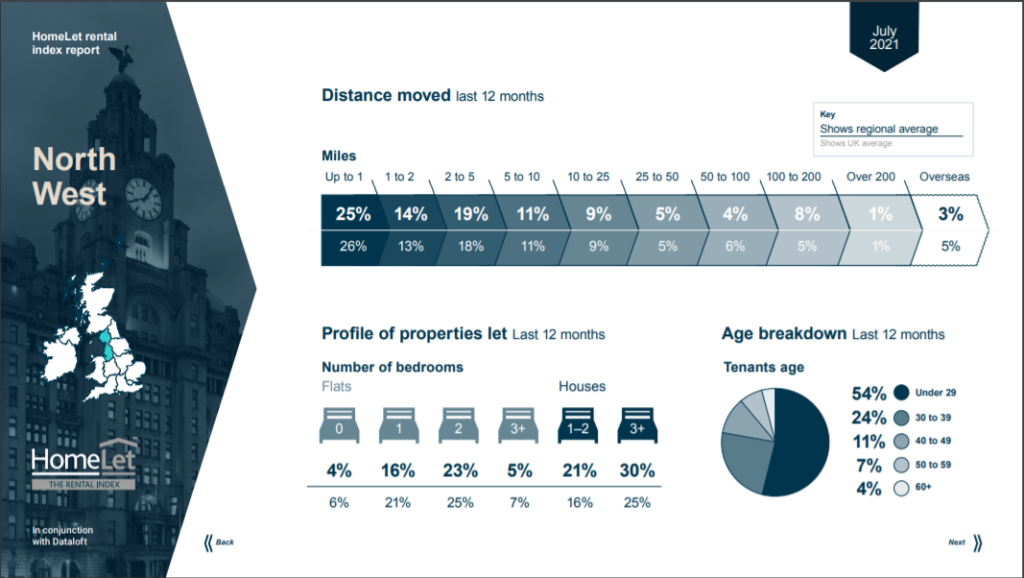 What this means for Wirral landlords
Though it's difficult to apply the findings of a region to a constituent part – skewed as the data would be by the larger cities and towns of the region, it is possible to state with reasonable certainty that, though the rent tends to be slightly above the regional average, the median wage has historically been higher and, therefore, the percentage of tenant income spent on rent should be around the same as the region as a whole.
In turn, this suggests that rental yields in the region, which are already above average for the UK as a whole, remain viable for the foreseeable future – with buy-to-let mortgages covered well enough to provide an income above and beyond the necessary buffer required for expenses and regular outgoings. As such, the report seems to reinforce our generally held belief that Wirral properties are likely to remain an excellent option for investment.
What this means for Wirral tenants
The main takeaway for Wirral's renters is that the real-terms cost of renting in the region and, likely, the Wirral too, has fallen over the last 12 months versus the average wages in the area. Added to the increased ability for some workers to do so from home, this makes the area a fantastic place for tenants to live while saving to take their first step onto the property ladder.
We subscribe to all of the latest reports to ensure that we're in possession of the latest facts and figures, and able to help our landlords and tenants make the right decisions for them. Want some help with your portfolio, or your next move? Contact Us today.
Overwhelming Majority of Tenants Want Long-Term Contracts
Build-to-rent firm Ascend Properties conducted the research which also found that tenants saw longer contracts as an opportunity to plan for the future, as a way to feel at home in rental properties and as an opportunity for security (18%, 22% and 32% of respondents respectively).
Although longer tenancies can be agreed between tenant and landlord, the government reported (in 2018) that 81% of rental contracts were assured short-hold tenancies with a minimum fixed term of between 6 and 12 months. However, with the result of a 2018 consultation failing to reach any definitive result, things have been at a legislative standstill.
The issue has not gone away, however, and it is likely that there will be further consultations introduced and legislative changes in line with a commitment to provide more secure and stable conditions to both landlords and tenants.
The Managing Director of Ascend Properties had this to say on the survey's outcome:
What this means for Wirral landlords
As stated, there is no legal requirement for landlords to offer lengthier contracts to tenants, but what is interesting is that this study has seen a further shift from the 80% positive response to a similar question posed by the government in 2018. With proper contract support, it should therefore be possible for most landlords to improve their levels of income security by working with tenants to negotiate contract lengths that suit both parties.
The government response to the initial consultation – which was given in 2019 – suggested that a 6-month break clause added to lengthier contracts would provide an excellent opportunity for landlords and tenants to come to their own conclusions on their relationships while landlords could be assured that, despite the end to no fault evictions, they could still take possession of their property for non-payment of rent and other egregious behaviour.
As things stand, we've yet to see the full impact socially and economically of the pandemic – and there have been a host of changes in the rental markets across the UK. What we can hope for is that it may be possible to create a more equitable industry for both landlords and tenants, with added security for both parties.
What this means for tenants
With the Ascend and government surveys both finding that tenants want longer and more secure tenancies, what is left is for tenants to actively seek to negotiate such agreements with their landlords. At Wirral Homes, we find that the majority of landlord/tenant relationships remain positive throughout the tenancy and it makes sense for those tenants happy in a home to remain there and provide secure income for the landlord in turn.
However, with some reluctance on the part of landlords to offer longer contracts, it will require the tenant to take the lead for now – and so we'd recommend that tenants who are happy with their agreement actively seek to discus extending contract terms with the landlord so that agreements can be reached which benefit both parties, improve security and decrease stress for everyone involved.
If you'd like to discuss what can be done to help improve security for you and your tenants, Contact Us today to see how our experts can help to make managing your portfolio that little bit easier.
'Reassessment of Home' Set to Continue Driving Behavioural Changes
While the buyer demand has moderated slightly, Zoopla's latest insights report finds, it is still elevated from what could be considered a 'normal' year, and Zoopla data suggests that this is likely driven by behavioural trends seen throughout the pandemic.
It's been a strange couple of years – and that's reflected in huge shifts not just in our day-to-day lives, but also in the way we view our surroundings. We've spoken about this multiple times over the last six months – how changes to the way we work and where we work have driven changes, but the most recent Zoopla report seems to confirm these predictions.
What the report shows
Zoopla's latest report features an executive summary with six main takeaways:
Buyer demand has moderated as stamp duty holiday ends but remains elevated compared to 'normal' market conditions
'Search for space' among homebuyers, as well as increased numbers of first-time buyers and those making lifestyle changes, will continue to support activity through H2
Total stock of homes for sale remains constrained, down 24% in the year to mid-June compared to the average in 2020
Annual house price growth is at 4.7%, up from 2.2% a year ago
Price growth hits 10-year high in Wales (+7.1%), Yorkshire & the Humber (+6.2%) and the North East (+5%)
Price growth over the last year lifts 1.8 million homes into a higher stamp duty bracket
The phasing out rather than immediate cessation of the stamp duty holidays may account for a proportion of the elevated activity, but – as the report goes on to assert – the search for space and the changing attitudes that the last 18 months have had on our wants and needs for a home are likely responsible for the rest.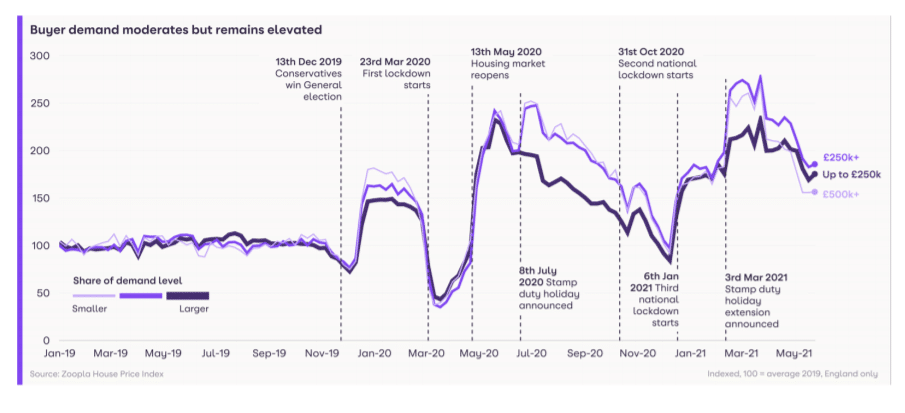 However, while the demand has stabilised (albeit at an elevated level), the available housing stock has failed to keep pace. This means that price growth is being driven by both the elevated number of buyers, but also by the shortfall in available properties.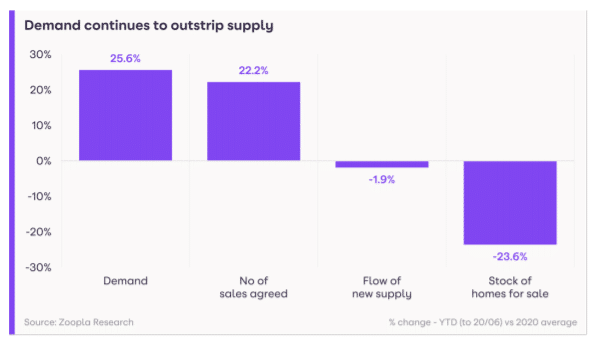 What this means for Wirral landlords
At Wirral Homes, we have noticed similar levels of disparity in supply and demand in the rental market which reflects the trends Zoopla points out. While it is often more difficult for tenants to move, the contract durations that may have kept them in a property have ceased to be an issue as the situation has progressed throughout 2020 and into 2021, and there has been a significant shift in what tenants want from a property.
Requests for outdoor space have grown while location specific requests have fallen, and this opens up opportunities for landlords with vacant properties to look beyond their standard demographics and marketing channels to ensure that their properties remain profitable. For this reason, we would suggest that landlords begin to take stock of how their properties fit with what the market is currently demanding and look to market them accordingly.
Landlords need to begin to advertise the lifestyle benefits of their properties – the schools that they provide access to, the life they can provide, not just how close they are to the office. The demand is there, it may just need a change of approach.
What this means for tenants
While we wait for the Zoopla rental market report, there are a few things we can infer from the data we have so far. Fundamentally for renters, the main concern should be that – while furlough has allowed many people to work from home the last eighteen months – the end of furlough will see increased competition for central properties as those that are no longer allowed to work from home look to return to or move closer to their places of employment.
This means that city centre and immediate surroundings will see some level of reversal of the downward trend we have seen in rental prices in these areas over the last year. Similarly, the upward pressure on prices outside of these areas should reduce, causing prices in more rural areas to stabilise – though we wouldn't expect a reversal here for the short to mid-term.
The main takeaway for tenants, therefore, is that they should begin to think carefully about timescales – those thinking of a move to the centre may benefit from a quicker move than planned, while those moving further out can take more time if they need it.
At Wirral Homes, we always try to ensure that we're keeping up to date with the latest trends – for both the landlords we work with and the tenants we help to find a home. Want to find out what we can do for you? Contact Us today.
Wales Joins Scotland in Extending Help to Tenants with Rental Arrears
With curbs on section 21 eviction, changes to the model tenancy agreement and more leading to many landlords questioning the impact of recent legislation on their businesses, the announcement of £10 Mn in grants to tenants with Covid-19 related arrears has been met with enthusiasm.
Back in February, the BBC reported that around 750,000 UK families had fallen behind on housing costs – an increase of 450,000 since January 2020, leading to the BBC predicting a 'rent-arrears crisis'. While the devolved governments have implemented eviction bans to ensure tenants avoiding losing their accommodation during the pandemic, there have been – unlike in many developed nations – no relief payments made to the public during the crisis and no effort to reverse the course of the possible crisis.
That changed in June when Scotland announced £10 Mn in grant money to support tenants in rental arrears as a direct result of the pandemic. Following this example, Wales has announced their own £10 Mn in grants – something seen as a positive step by the National Residential Landlords Association, a spokesperson from which stated:
What this means for Wirral landlords
As things stand, there has been no support announced by the Chancellor  of England for tenants with rental arrears, as such there is not much that Wirral tenants or landlords can do at present if they find themselves in that position. However, as the Scottish and Welsh devolved parliaments have made funds available, there should be mounting pressure on the English parliament to follow suit – and you can find your MP here to let them know that you think this relief is as necessary here as it is in England's neighbouring countries.
While large businesses have been able to claim relief during the pandemic, the government has been less forthcoming for small business owners and sole traders – but pressure from constituents combined with the moves made by Wales and Scotland could well be enough to generate a response.
However, as some Wirral landlords do have property in neighbouring Wales, it's worth stating that the grants will be administered by local authorities and are open to tenants that are not receiving housing-related benefits. The grants will replace the 'Tenancy Saver Loan' introduced in December 2020 and anyone that received a Tenancy Saver Loan will have that loan converted to a grant.
Eligible people are able to register their interest with their local authority immediately, while grants will be processed from around the middle of July.
If you're struggling with tenant/landlord relations, are worried about legal requirements or any other part of managing a property portfolio, you can Contact Us to speak to one of our experts and to see what we can do to help.
What Happens After the Boom? The Future of Wirral House Prices
We've mentioned in previous pieces that the economic outlook becomes increasingly uncertain toward the end of 2021 and in to 2022 and Nationwide are similarly cautious despite some of the headlines their commentary has provoked.
What Nationwide had to say
While many of the headlines based on the announcement from Nationwide that there were 'fears of a negative equity crisis if…' the announcement made was reasonably unsensational and set out a number of required criteria for that to happen – including a worst-case-scenario number of lay-offs once the governmental assistance some businesses have been receiving ends.
While there may be a larger than average number of buyers left with negative equity should house-prices collapse post-pandemic and stamp-duty holiday, which would see a surfeit of property hit the market and a drop in the number of buyers, it is unlikely to cause the problems that led to a multi-year stagnation post-financial crisis.
In fact, Nationwide has been one of the few lenders providing 90% mortgages for almost the entirety of the stamp duty holiday – and have not yet, at the time of writing, withdrawn the products. As such, we'd be willing to bet that the worst-case-scenario is not the expected outcome for their underwriters.
Do Wirral buyers and landlords need to worry?
While the increase in Wirral property prices has been substantial over the last 12-18 months, the rise is neither unprecedented over the last decade, nor in excess of what the market is capable of sustaining. Even the final uplift in property prices on the peninsula has only brought the average property price in-line with the national average of £250,000.
In fact, since the recovery from the 2008 financial crisis began around 2010, there have only been 3 years where the average Wirral property price has dropped (2012, 2013 and 2018) and those losses have been quickly recouped and exceeded in the year or two that followed. Indeed, the rise between 2015 and 2016 was actually greater as a percentage of total value than the increase between 2020 and 2021.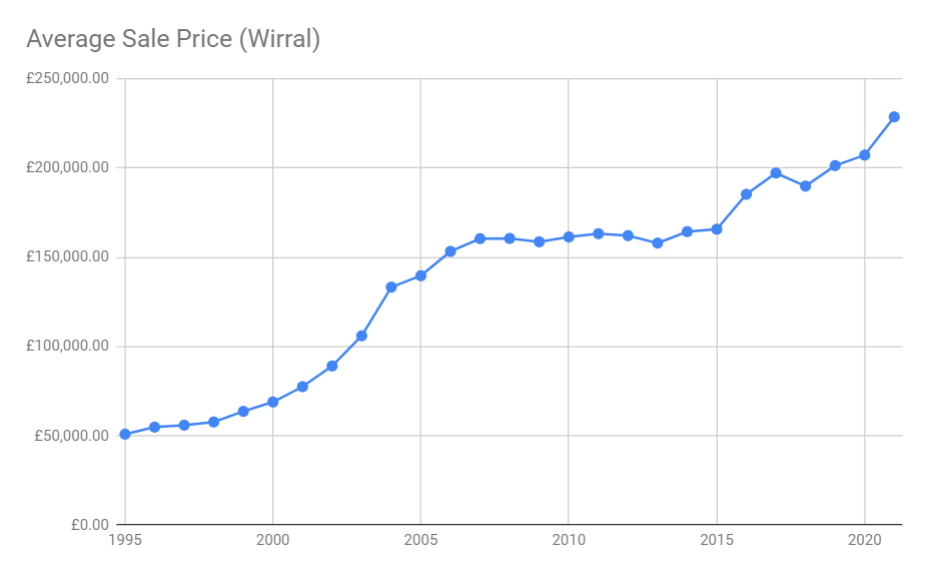 While there are, of course, reasons to be cautious as we approach the end of various packages of assistance that have helped to keep the property market growing over the last two years, Wirral is likely to be insulated from many of the main problems – with a generally wealthier population, homeowners on the peninsula are more likely to have worked from home during the pandemic and within industries which are likely to have been less harshly impacted by and more likely to recover from the pandemic.
For that reason, and with property demand still massively outstripping availability, there are unlikely to be a glut of unsold and unsellable properties hitting the market that could cause the drops likely to initiate the 'crisis of negative equity' that could occur elsewhere. In truth, it's difficult to be certain how the end of the pandemic will impact buyer behaviour, its unprecedented nature makes the gloomy headlines less certain than many would have you believe.
What lies ahead for Wirral property prices?
Wirral will remain a fantastic place to invest over the coming year. With property prices hitting the national average, there is still room for growth in what has become a hugely popular area for buyers moving out of cities, for families and retirees. The factors that have made the peninsula hugely popular throughout the pandemic will not change regardless of governmental assistance – it is well connected, vibrant and developing, with hugely ambitious projects set to come to fruition in the next 5-10 years.
Though we would predict a lower rate of property value growth over the next year, growth should still be expected – and it's still likely to exceed the national average (as it has done throughout the pandemic). While a higher-than-average growth may not see high single- or double-digit increases, owning a Wirral property will remain an excellent investment for all types of buyers – but especially for landlords with a long-term view of their portfolio.
Worried about your investment, or looking to discuss investing in the Wirral property market? Contact Us today to talk to one of our experts and see what we can do to help you grow your business.
Zoopla Research Predicts Busiest Year Since 2008 Financial Crisis
The latest House Price Index Report from Zoopla looks at the state of the property market up to the end of April 2021 and carries a wide variety of information that should be of interest to tenants and landlords alike.
What the report says
While uncertainty has been the watchword of the last few years economically, as we've discussed in previous articles – the property market has had some extraordinary circumstances provoke some unpredictable changes. With changes to what buyers have been looking for, to the way we view property and expect it to offer, buyers and renters have been moving, not just to increase the number of rooms as they start their families, or decrease them as that family grows up, but because property has taken on new meaning through the course of 2021 – and that is reflected in £461 Bn in property sales.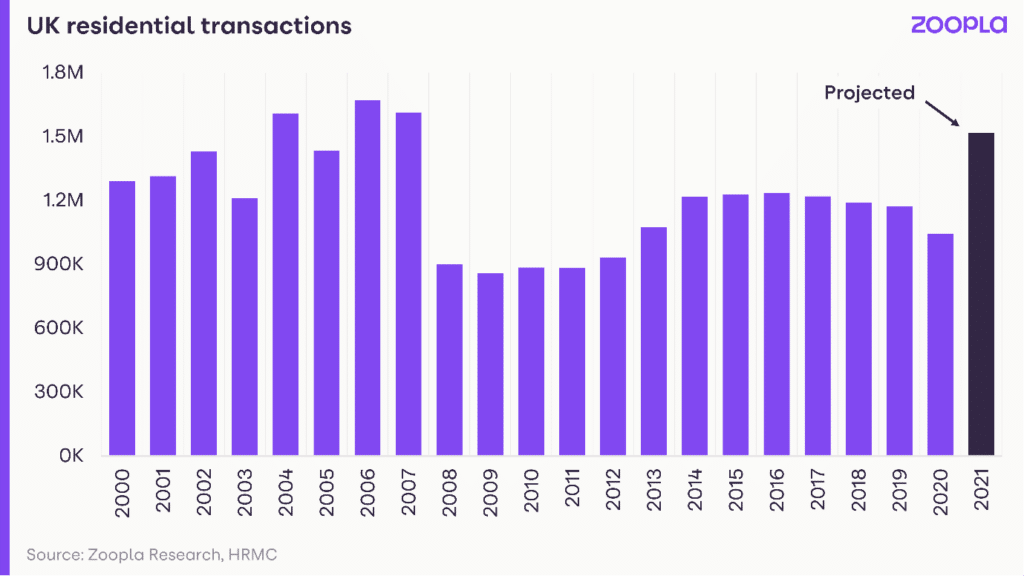 Head of research at Zoopla, Gráinne Gilmore, said:
The report's executive summary lays out the following key talking points:
Sales completions forecast to reach 1.5 million this year, up from 1.04 million last year and the highest level since 2007
The value of sales in 2021 is forecast to be £461 billion, up 68% from 2019 amid a rise in higher value homes exchanging
Total stock of homes for sale remains constrained, down 20.8% in the year to mid-May compared to the average last year
Annual house price growth is at 4.1%, up from 2.3% a year ago
On a regional basis, the largest price growth is in Wales, at 6.3% and Yorkshire & the Humber at 5.4%
Price growth in London is at 1.9%, the lowest level since March last year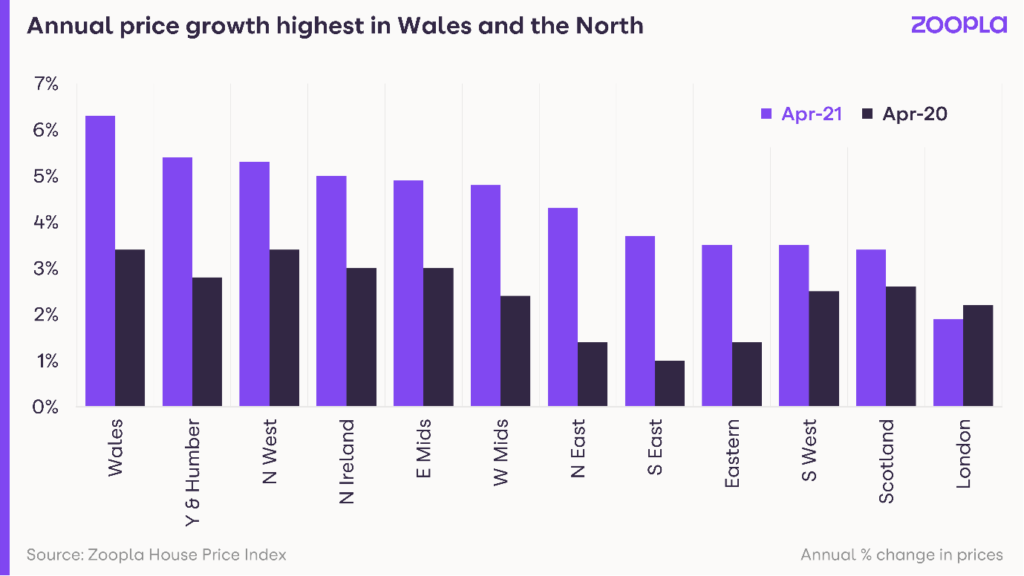 While general CPI inflation remains at around 1%, house price inflation is at around 4% YoY – though this is just shy of 5% in the North West, just over 6% in Wales and in the Liverpool city region the increase is almost 7% (the highest of any UK city). This means that property value is rising at a rate much faster than general levels of inflation, making property more valuable in real terms.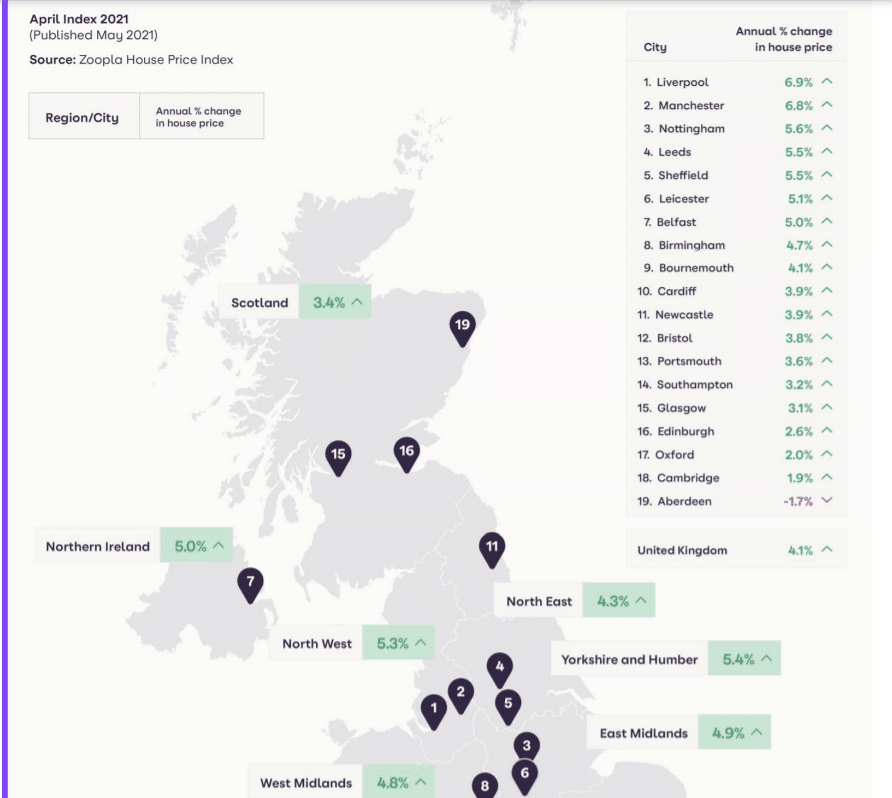 What this report means for Wirral landlords
We've stated in previous articles that there are a number of ways landlords tend to treat real-terms (above inflation) property price increases – there are those that will look to exit the letting industry and cash in on one or more properties (this tends to be only popular among landlords owning one or two properties), there are those that will sell one or more properties and reinvest the profits into expanding, diversifying or improving their portfolio, and there are those that will look to reorganise their lending to free up capital to invest in their portfolio.
In truth, any of these options are perfectly rational for Wirral landlords – though it depends on how you see the future of the local market. At Wirral Homes, we believe that the number of projects currently in progress and the increasing investment in the area (as decentralisation of business, and remote working become an expectation rather than an option in some sectors) mean that property prices in the region are likely to remain on an upward trajectory in excess of the national average for at least the mid-term, making investment the recommended advice for our landlords.
What this report means for Wirral tenants
Affordability of rent is an issue throughout the UK and while the North West has some of the lowest rental costs as a percentage of income, there is still hope to be found for renters in the region in the projected flattening of rental prices which will come as a result of increased demand for city centre property. As we reach (hopefully) the end of lockdown measures, demand for city centre property has seen an increase – this will reduce upward pressure on rents in the more rural Wirral region, and therefore a stabilising of rent as demand and supply begin to reach more manageable levels.
Whether you're new to the property sector or an old hand, it can be difficult to keep up to date with the constantly changing sector – but if you'd like a little help staying on top of things and reducing the stress of managing a property portfolio, you can Contact Us to see what we can do for you.
New CGI Images from Wirral Waters and Great News for Eco Friendly Landlords
With the promised launch of the first homes to take place at Wirral Waters in the summer, and with Wirral Council pushing for the peninsula to become one of the greenest places in the UK, there are a couple of stories that are likely to be of interest to those invested in the local property market.
Wirral Waters
The press was given a tour of the Peel L&P and Urban Splash East Float development about ten days ago, with fresh CGI depictions of the development's potential look accompanying a tour around the newly laid foundations of what is looking like a fantastic mix of housing options (with the initial collaboration set to deliver 347 homes).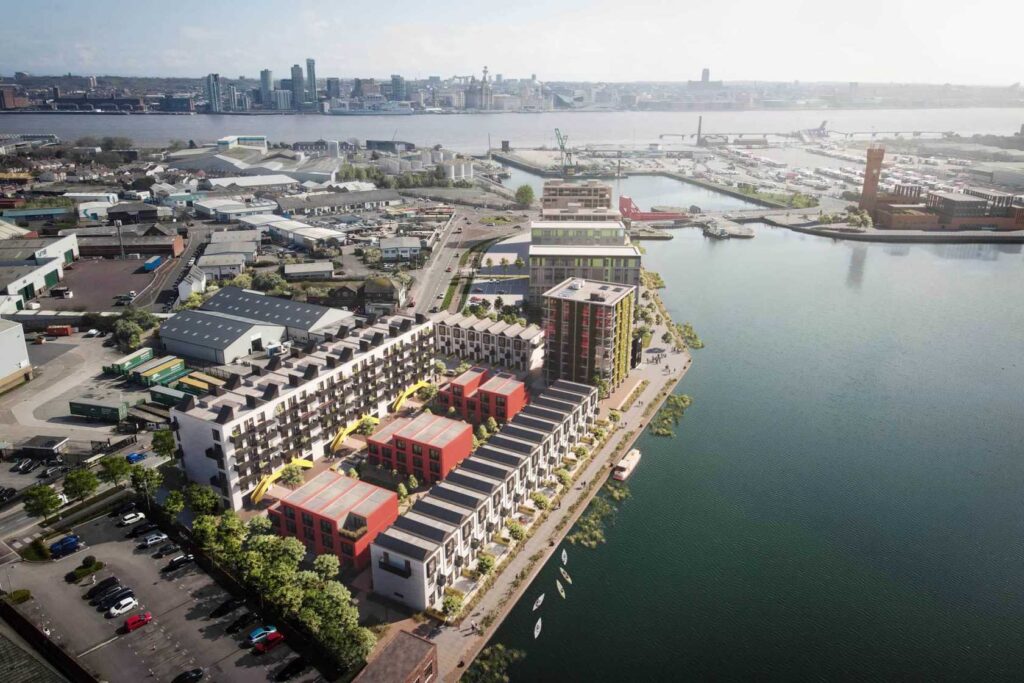 The development, which is likely to improve the general north bank area, turning a brownfield site into an attractive modern space will give the location and the waterfront a facelift. With developments like these – as we've mentioned in previous coverage of the subject – tending to have a knock-on effect on the surrounding area (especially with the job creation set to be central to the Peel L&P project and maritime resurgence predicted as a consequence), we expect to see an increase in demand in the surrounding areas.
We make sure we're up to date on these – and all other developments with Wirral property markets, because we believe the best decisions are always the best informed ones. You can keep up to date with the latest news every week here on our blog.
Energy efficiency grants
Grants of up to £10K are available for the owners and residents of older Wirral properties can check their eligibility for the Green Grants here. With more energy efficient housing one of the main focuses of the current council's plans, this scheme will provide grants for such improvements as insulation, solar panels and more.
The grants will depend on an in-depth survey of the property's needs, as well as the provision of an up-to-date energy performance certificate (EPC) and the resident's household income. Applications are set to be accepted to the 30th of September 2021 and grants must be spent by the end of the year (Friday 31st December).
Not only are energy efficient homes better for the environment, they are also cheaper to run for tenants and, with more and more tenants looking for environmentally friendly property and less expensive utility bills, they are also good for landlords.
While, for the most part, tenants will need to apply for the grants themselves – landlords can, with a tenant's permission, apply for the grants on their behalf. If you'd like some help arranging the various visits and getting the paperwork in order, you can always speak to one of our experts to see how we can help manage the process.
What this means for Wirral landlords
The Wirral has been an incredible investment for landlords for at least a decade, but especially in the last couple of years, and the developments taking place and planned for the near future are likely to have an effect on property portfolios as Wirral becomes a more desirable and populous location.
At Wirral Homes, we believe that the peninsula is not only a fantastic place to live, but also that it's getting better all the time. If you'd like us to be your experts on the local property market, Contact Us today to see what we can do for you.
HomeLet's April 2021 'Rental Index Report' Analysed
With North West rental prices now averaging £791, the region has seen the sixth largest increase in rental costs in the UK and places as the fifth most expensive region to rent. This places the North West firmly in the middle of the pack – but with the end of the pandemic in sight, it will be interesting to see how things progress in the coming months.
What the report shows
The report offers the following five key takeaways:
The average rent in the UK is now at a record high of £996 – the fifth month in a row that the average price has increased.
When London is excluded, the average rent in the UK is now £853, showing an increase of 0.7% on last month, and an increase of 6.2% on last year.
Nine of the twelve regions monitored by HomeLet showed a MOM increase in rental values between March 2021 and April 2021, with the North East seeing the largest increase of 2.4%.
Eleven of the twelve regions monitored by HomeLet showed a YOY increase in rental values between April 2020 and April 2021, with the South West seeing the largest increase at 8.6%.
However, rents in London continue to fall YOY, showing a 5.3% drop between April 2020 and April 2021 – the eleventh decrease in annual variance in subsequent months.
From the perspective of a Wirral landlord or tenant, what will be the most interesting is that – as with reports on the sale and purchase of property, the rental market too sees a shift between the city centre and the suburbs and from the suburbs to satellite towns and rural areas – with the increases almost flipped on their head from pre-pandemic norms.
In addition to being around the middle of the pack when it comes to increases and rental prices, the North West also rates as the second lowest (after the North East) in terms of rental costs to income ratio – meaning that, for the most part, the North West remains an excellent place to rent and work.
A note of caution
The report does, however, the report also offers some words of warning from HomeLet's group CEO Andy Halstead who states:
The tone of much of Halstead's message is somewhat downbeat, but while much of it deals with issues caused by the possible removal of section 21, the above quote is the real issue raised. There are a lot of people and businesses for whom and which the furlough scheme has proven a vital lifeline and, once it is withdrawn, there are likely to be job losses and a shock to the economy.
Unless this problem is addressed at its source by government – with a slower phased withdrawal of furlough or the assurance of backing for small businesses, there will be a knock-on effect on all sectors including the property market.
What this means for Wirral landlords
In short, the present situation makes the need for good landlord insurance – which offers cover for missed payments – even more plain. While we always advise our landlords to make sure they are covered by insurance, there should be a huge push to make sure that properties are covered for the losses that could follow one or more tenants in one or more properties losing their job as a direct effect of the end of furlough.
Need help keeping up with the latest news and changes to market conditions? Contact Us to see how we can help take the stress out of managing your property portfolio.
Are Landlords Growing in Confidence Heading Into Q2 of 2021?
Research by mortgage provider Paragon and BVA BDRC indicates that a larger proportion of landlords are looking to expand their property portfolio than at the same point last year, but with Wirral property commanding significantly higher prices than versus the same period, it's understandable that there are some landlords considering letting one or more properties go.
With two of the North West's largest increases year-on-year (according to Rightmove), it would be surprising if some Wirral landlords weren't looking to sell one or two properties to invest the funds in the rest of their portfolio but, with yields high, the property market represents an interesting dilemma for landlords.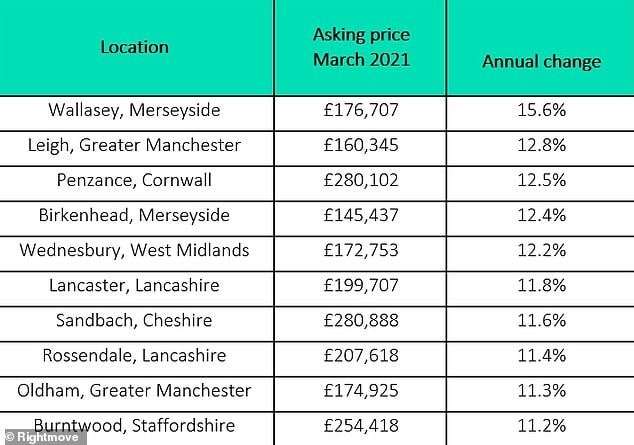 What does the Paragon and BVA BDRC research say?
The raw data doesn't seem to be available anywhere, but the press release states that 'almost 900' landlords were surveyed, with 19% of all respondents stating an intention to invest – of which landlords with larger property portfolios more likely to add to their portfolio (around 30% of landlords with more than 10 properties).
Richard Rowntree, Managing Director for Mortgages at Paragon, stated:
The press release also states that less than a fifth of the landlords surveyed have expressed an intention to sell.
With a good representative sample size, but no information on how the sampling was performed across the various regions of the UK, we can't really determine for definite how accurate the survey is – but it's certainly better than many. As such, we think it represents a pretty good indication of the general feeling in the industry.
What does this mean for Wirral landlords?
Wirral landlords – like those in many of the rural and suburban areas of the UK – have experienced the last year somewhat differently to those in urban and city centre areas. As mentioned, the value of property has increased substantially more than in many other areas of the UK, and yields are higher than average and improving, so it's no wonder some landlords may be in a quandary.
In our opinion, investment in Wirral is a hugely attractive prospect at the moment, and we would advise landlords managing a property portfolio to take this into account when calculating their prospects. The improved value may open up options for refinancing – releasing equity from the increased value of the portfolio in order to expand it. While the same increase in value will have obviously impacted purchase as well as sales prices, for landlords, there is a lot more room for manoeuvre in picking up a 'fixer-upper' if the portfolio will support such a property or properties while they are renovated.
There is a lot of regeneration work being planned in and around some of the historically lesser invested in areas of Wirral – and that could allow savvy investors to reap major rewards in the mid-term for those with a good knowledge of the area.
Want to discuss the possibilities on offer, or looking for a local expert to help you to manage and grow your Wirral property portfolio? Why not Contact Us today to see what we can do to help you get the most out of your portfolio?
May 11th Could See the End of Section 21 Notices
The government's agenda for the next session of parliament will be set out in the Queen's speech, and it is widely rumoured that part of that agenda will include the bill which has been a hot-button topic for both landlords and charities representing renters.
What is the Renter Reform Bill?
Announced in the Queen's Speech on 19th December 2019, the Renter Reform Bill was described as: '[new] measures [which] will be brought forward to protect tenants and to improve building safety.' This was followed by a consultation titled 'A new deal for renting: resetting the balance of rights and responsibilities between landlords and tenants' which included a proposed end to section 21 evictions, but with a strengthening of section 8 eviction processes; and another called 'Tenancy deposit reform: a call for evidence' which looked 'at whether improvements can be made to deposit protection to the benefit of tenants and landlords.' Overall, the bill is intended to improve outcomes for tenants and landlords as well as address issues with shorthold tenancies – with a possible removal of the ability of landlords to grant them in future.
What does this mean for landlords?
For the vast majority of landlords, the bill will be of no great concern as it aims to clamp down on unfair practices and poor conditions. While the possible end of shorthold tenancies and the removal of the section 21 notice has been met with some opposition, the aim is to provide good tenants with the housing security they need to prosper. In addition, there is no mention of any end to rental increases, so landlords can still expect to implement fair rental increases over the course of a tenancy, ensuring that neither party loses out.
What does this mean for tenants?
For tenants, the end of section 21 – the 'no fault' eviction – should be welcome news. While it has been the norm for many tenants to move regularly, this proposal will allow families greater housing security and the reduction in stress and upheaval that can result from having to move house every few years. In addition, charities such as Shelter are pushing for further measures to end unfair practices, stating:
What this means for Wirral
Wirral has been attempting to combat problem landlords for years now, with selective landlord licensing in areas that have been a problem historically, so landlords in the region will be well aware of the expectations that local government has of landlords in terms of the living conditions that tenants should be able to expect, and while it may seem to be better news for tenants than landlords, the proposed changes should be seen as an opportunity to secure long-term tenants that will respect the property and provide a secure rental income for years rather than months.
Final thoughts
At Wirral Homes, we always attempt to provide secure housing for tenants and long term, profitable contracts for our landlords. We believe that it's possible for both parties to be treated fairly and with respect and that this bill will simply legislate the practices of the excellent landlords we work with, and provide the kind of housing security that Wirral tenants need to make the region a better and more successful place for everyone.
Want help negotiating changing legislation – or just looking for a letting agent to help take the stress out of managing a property portfolio? Why not Contact Us to see what we can do for you?
Birkenhead 2040 Framework Consultation Open for Contributions
Confirmed projects are set to be joined by several others in a bid to transform the town, the area is set to become a very different place to live and work. 2040 Framework, which boasts of an intention to offer residents the 'connectivity of city living in harmony with nature' is now welcoming contributions for an initial 8-week consultation period set to end on the 19th of May 2021, with the option to add comments on an interactive map.
Things are heating up with plenty of regeneration projects across Wirral, but there are few as ambitious as the transformation planned for Birkenhead – which council leader Janette Williamson states will be "the most transformational proposals for the town since the 1947 Town Plan". With the Eureka! Mersey, Science and Discovery Centre set to open in 2022, the removal of the town centre flyovers set to begin, and development underway at Wirral Waters, fears that the regeneration could face further delays should be allayed for now.
The 2040 Framework itself is a hugely impressive document with ambitious plans to create a low carbon, nature filled town and a host of new infrastructure, commercial and residential areas.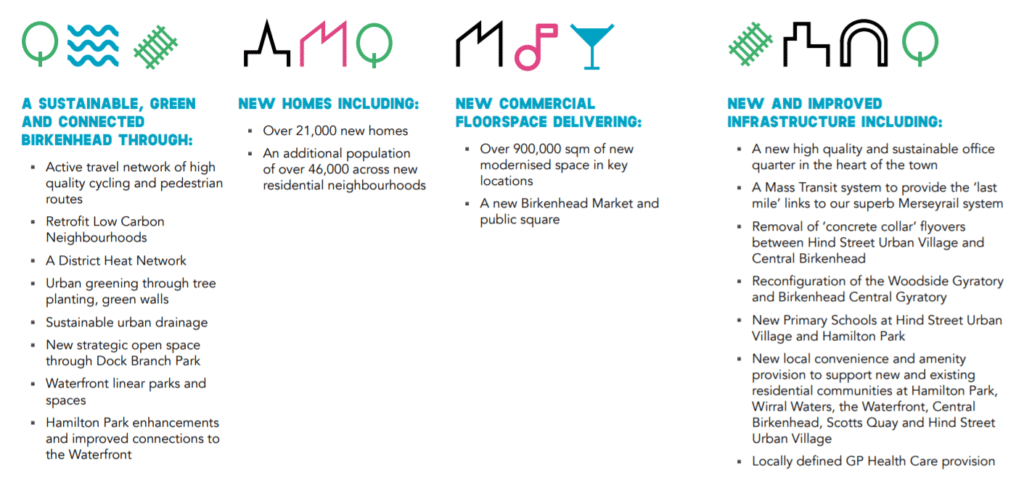 The vision for the Birkenhead of 2040 is laid out in three statements:
Birkenhead has grown into a thriving urban community on the left bank of the river Mersey.
Chosen as home by families and entrepreneurs alike, drawn by the unique and historic waterfront environment and iconic design. A place of creativity, innovation and fun, a place to put down roots.
Birkenhead has the connectivity of city-living but in harmony with nature. A place with room to breathe and space to grow.
With such wide-ranging changes necessary to bring this vision to life – including work on transport links and huge changes to the town to turn it into the low carbon town of the future, it will please a lot of people that have been disappointed by previous plans that a section of the document is dedicated to learning from 'challenges [which have] hampered previous regeneration efforts.' These include:
A new delivery model which the document claims is 'a game-changer for delivery – a dedicated, bespoke approach which can adopt the necessary 20-year time horizon, and assemble the skills required for truly transformational change.'
High quality early delivery which intends to use the developments already in progress to drive further change.
A strong partnership approach to place-making which has seen various partnerships established with Homes England and Liverpool City Region Combined Authority to prepare joint business cases and secure funding.
Investment in low-carbon infrastructure including a district heating system that will benefit old and new residential and commercial areas and a commitment to 'attractive walking and cycling routes throughout the town'.
With residents now free to make comments on the interactive map, there is now the option to bring the community's ideas to the attention of the council by highlighting one of three things:
Asset – somewhere in Birkenhead that I think is beautiful.
Opportunity – somewhere in Birkenhead which we should make more of.
Change – somewhere in Birkenhead that needs to change.
While engagement with the consultation has been sparse, so far, hopefully the people of Birkenhead and Wirral in general will be inspired by the ambitious plans to put forward their ideas and help return Birkenhead to the iconic status it held in the past.
The online home of the consultation can be found here – and we hope that landlords and tenants alike, both of whom will benefit hugely from such plans to restore and improve the beauty and industry of Birkenhead for all.
At Wirral Homes, we like to keep our fingers on the pulse of the local property market – and you can be sure that extend the same commitment to our landlords and tenants. Contact Us today to see whether we can help you to find a home or let one.
What Wirral Landlords Need to Know About New Tax Rules for 2021
Whether you are letting out a single room or a property portfolio, there are changes that will have some impact on how you manage your next set of tax returns. For that reason, we've decided to put together some information to help you prepare for the changes that took effect last week or that require prompt action.
What is a tax year?
Starting from the 6th of April each year and ending on the 5th of April the following year, a 'tax year' is the twelve-month period which is used to calculate an individual's or businesses owed tax amounts. A new tax year also represents the renewal of various tax allowances.
What are the main changes for 2021/22?
The new tax year always brings changes for landlords but, after a difficult year for many, keeping up with various announcements can prove to be tough to do. However, the main things landlords will need to be aware of are as follows:
Capital gains tax allowance
2021 has continued to be a seller's market and, as a result, some landlords have looked to capitalise on substantial increases in the value of property in some areas to raise money to invest elsewhere in their portfolio. The new tax year brings with it a new capital gains tax allowance, and while the rate of capital gains tax is subject to conversations at the governmental level at the moment, present levels for the disposal of residential property remain at 28% for higher rate and 18% for basic rate.
The new tax year will see no changes to the allowance either, with annual exemption remaining £12,300 for an individually owned property (rising to a pooled £24,600 for joint owned properties with a partner).
Making Tax Digital rules
It is the government's stated ambition is to make the UK one of the more digitally advanced tax administrations. The 'Making Tax Digital (MTD)' programme is a core part of that, and makes fundamental changes to how the tax system works.
Landlords with property income above £10,000 annually will need to follow the new MTD rules for Income Tax from the start of their next accounting period after the 6th of April 2023, though
landlords can choose to get ahead of this change by using software to keep business records and send income tax updates to HMRC rather than filling in a self-assessment return.
Mortgage interest tax credit
Following the removal of mortgage interest tax relief in April of 2020, landlords will be looking to familiarise themselves with a new tax credit scheme for the first time this year. The tax credit is the equivalent of 20% of mortgage interest for the year. You can find out more about this 20% relief from Which which has compiled an extensive report on the details and impacts of the change.
Property income allowance
As with the capital gains tax allowance, the £1,000 allowance that landlords are permitted to receive before incurring tax is also renewed as of the 6th of April. Although the amount may not be life-changing, it is always worth ensuring that you are taking advantage of all of the available allowances when calculating your finances for the year – and this allowance also doubles for properties owned jointly with a partner.
Rent a Room scheme
For landlords that earn their money renting furnished accommodation on a long-term basis, the Rent a Room scheme allows untaxed earnings of up to £7,500. This allowance applies to resident landlords, and those running a bed and breakfast or guest house.
However, in this instance, if the income is shared with a partner or someone else, the allowance is halved to £3,750.
At Wirral Homes, we believe it's our responsibility to ensure we're up to date on any legislation that may impact our landlords or tenants – and it's something we take very seriously. If you'd like to talk to us about how we can take the stress out of your property portfolio, or property search, Contact Us today.
Zoopla's March 2021 Property Market Report Digested
Unsurprisingly, the extended stamp duty holiday and news of a replacement scheme has had a big impact on the demand for, and consequently the price of property throughout the UK, with the Wirral seeing the second highest growth after Wales for the year to February.
The main statistic from this month's report is the predicted 1% growth for the year 2021. While the last year has seen huge growth powered by seismic changes to the way we live and work, the end to various support measures combined with an end to lockdown and eventual end of the stamp duty holiday look likely to combine to halt the growth – though not to reverse the trend entirely.
For the time being, however, the report features the growth to February which – for the North West – has reached 5.4% overall.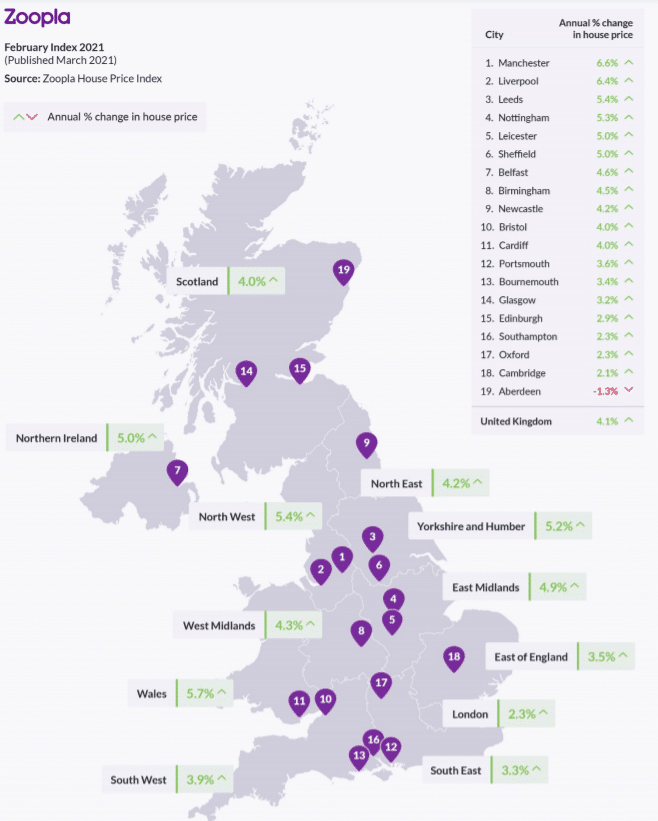 This may be at least partially, the report theorises, due to the proportion of property in the area which falls below the tapered stamp duty threshold that will be in place for much of the rest of the year.
The report puts it as follows:
"As such, we expect continued upwards pressure on pricing in the North and Midlands as demand, which we had expected to be sustained even if the stamp duty holiday ended, is now further encouraged by the continued savings on offer."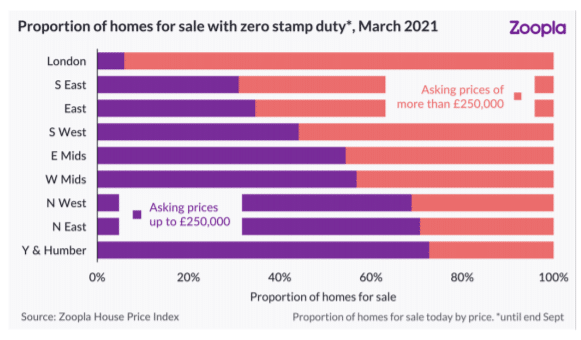 However, the report continues to state that 'the data signals that the 'reassessment of home' among existing homeowners is set to continue, resulting in a search for space – inside or out, or looking to live in a different location.' Gráinne Gilmore, Head of Research at Zoopla summarised as follows:
"The search for space is driving continued demand for family homes, putting more upwards pressure on pricing for houses than for flats. Houses are also selling more quickly."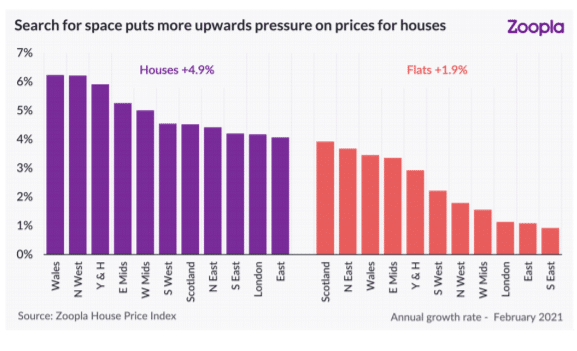 While the forecast for 2021 overall is not as optimistic as could be hoped, the unprecedented growth of property value during what is essentially a slow boiling recession, and the fact that there is growth predicted at all is impressive.
Zoopla sums up the trends from February as follows:
Demand spikes after Budget while new supply still lags
The post-pandemic 'search for space' means average time to sell for houses falls to 42 days, some 20 days less than flats
The 'search for space' is also putting more upwards pressure on price growth for houses, up +4.9% year on year, compared to flats, up +1.9% year on year
Annual price growth at +4.1% in February, up from +1.8% growth a year ago
Manchester, Liverpool, Leeds & Nottingham leading on city price growth, rising at more than 5% year on year
Markets in North well positioned to take advantage of tapered stamp duty extension, with 70%+ of available supply priced at up to £250,000
All this means that landlords in the Wirral area find themselves in a position where growing their portfolio of properties may be expensive. However, using current equity to improve existing properties may represent an ideal opportunity to capitalise on the increased value of their properties and unlock the potential for higher rental values can come as a result.
At Wirral Homes, we feel it's vital to stay up to date with trends both locally and nationally in order to give our landlords the best advice we can. Want to discuss how to maximise the return of your property portfolio? Contact Us today.
Four Years On – What's Happening with New Ferry Regeneration?
With plans to use Compulsory Purchase Orders approved earlier this month set to end an ongoing impasse, and outline permissions granted in September of 2020, the area may be on the verge of seeing some much needed progress – though the completion of the project may still be some years off.
The local council, which has been granted £1.3 Mn to complete purchases of the outstanding properties, has stated that it hopes to find a developer to work with on the regeneration of the three sites as quickly as possible. The statement from Anita Leech, chair of the council's economy, regeneration and Development Committee reads:
"Residents and businesses in New Ferry are quite rightly desperate for this transformation to take place as soon as possible.

"They have made their views known through a number of consultations and have played a significant part in helping shape and design the plans that we are looking to take forward.

"It has been a highly complex process, however, with much of the land needed in private ownership.

"The council has made steady progress, through an investment of more than £1.3 million, on acquiring pockets of land across the three sites and now is the time for us to conclude the purchase of the remaining land.

"This is essential to avoid any delays in appointing a development partner to bring these much-needed regeneration plans to fruition as quickly as possible."
While CPOs are not the way many would have hoped for the process to move on, progress has been needed for the site which many have felt has been neglected by local and national government. With outlines already approved, there are early indications of what the area may look like eventually, but further information and designs likely won't appear until after the council has found a development partner.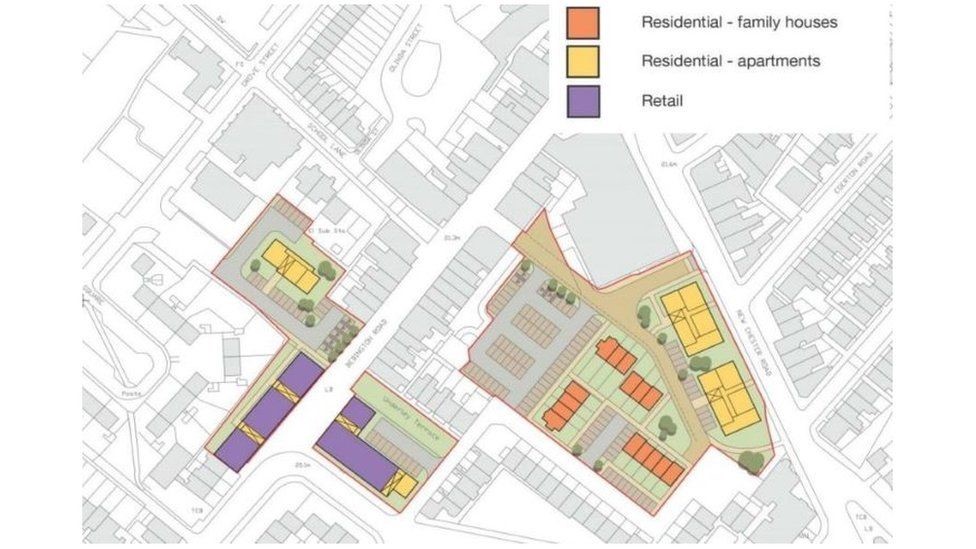 Across the three sites, initial proposals include building 79 new residential units – which includes a mix of two and three-bedroom houses, as well as one and two-bedroom apartments – as well as planning consent for more than 1,000 m2 of retail floorspace.
While the wait continues – at least in the short-term – for observable progress on these new developments, residents have also been pleased to see the return of artist Paul Curtis to the area to take the total number of his murals to 12 over the coming weeks. The artist has stated:
"It took 18 months to get phase one started because some people were against it but thankfully the reception to that has been all positive, and the people who were against it initially are now all for it."
The murals, which have brought a wonderful splash of colour to the area, will see Curtis in his grey Cherry Picker return to New Ferry for the continuation of the project which he hopes can have an impact. Along with the developments on the area affected by the explosion, the murals – he hopes – 'send a message that something is starting to happen now. It has lifted the mood a little bit.'
With money available for the area – in addition to the funds available for the CPOs, there has been a further £3.2 Mn awarded to New Ferry as part of a larger regeneration fund – and the final hurdles seemingly overcome in taking ownership of the three sites for the purposes of regeneration, we can hope that we'll start to see some real progress coming soon – especially as the wider area is set to experience sweeping changes over the coming years.
This has obvious implications for residents and landlords in the area – New Ferry has faced some hard times since the event in 2017, and that has led to it becoming a less attractive place both to rent and let properties. However, both landlords and renters alike can take great encouragement that there appears to be a much-needed sea change on the way.
Looking to take your next steps in the Wirral property market, or need advice from local experts? Contact Us today to see how Wirral Homes can help.
Is the Wirral Set for a Maritime Property Boom?
While there are, of course, confounding factors – including general growth in the UK economy, according to the data available on the UK land registry site, the period of 1994 to 2011 saw property prices outperform inflation by a considerable margin.
Reasons to be cheerful?
As the nation gears up for the end of the strictest lockdowns, there are several things that could prove to be major positives for the Wirral over the coming years – and many of them involve a reinvigoration of the region's relationship with the sea.
From the investment in marine engineering and the building of a Maritime Knowledge Hub to help compliment the nearby Marine Engineering College and help to locally train the next generation of maritime expertise, to the recent announcement around free port status (both of which we've covered previously), the sea may once again prove to be a source of riches for Merseyside – and from the perspective of our audience, could prove to be a boon for the local property market.
This is not only a matter of import and export, however, or even of industry – there are plans which, if well executed, could boost tourism for the riverside, and even a number of environmental projects (including the 2019 decision to stop using pesticides on Hoylake beach which has led to the area becoming a haven for wildlife and praise from renowned naturalist David Attenborough).
All of this is likely to prove beneficial for property owners in the region – but, evidence suggests, the freeport status could supercharge the increasing value of Wirral property.
What is a free port?
Allowing goods to move via the UK without tariffs, freeports aim to boost local economies by increasing their attractiveness to transport companies which need to make stops for refuelling and supply between the exporting and importing nations. This is intended to increase the through flow for these free ports and, therefore, increase employment in everything from the service to engineering sectors. While there is mixed evidence as to the effectiveness of previous freeports, one thing that did improve during the period of 1984 and 2011 (when the Merseyside region was last designated a freeport) was property value.
Wirral property price boom?
While the data available from the land registry only dates back as far as 1994 and therefore only the last 17 years of the freeport's tenure, what can be seen is that the average property value (using sale value) increased at a rate which massively outperformed inflation – with a cumulative 0.6% increase per month average (or 7.2% per year) which exceeded inflation by 4.3%. This, even when prices are adjusted for inflation, equates to a 90% increase in property values during the period.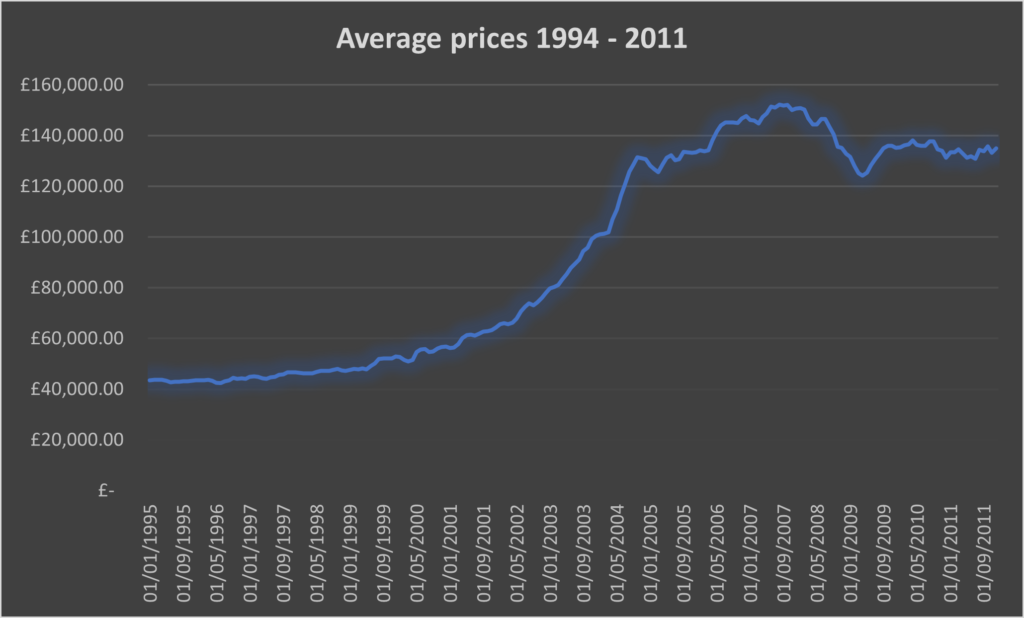 If we take the years between 2012 and 2020 (for which we can attain figures), the performance of the Wirral property market – which averaged a 1.1% above inflation increase (at 3.36% per year) has still grown strongly, but nowhere near as well – even with the 2020 boost brought on by the global pandemic which skews the figures slightly.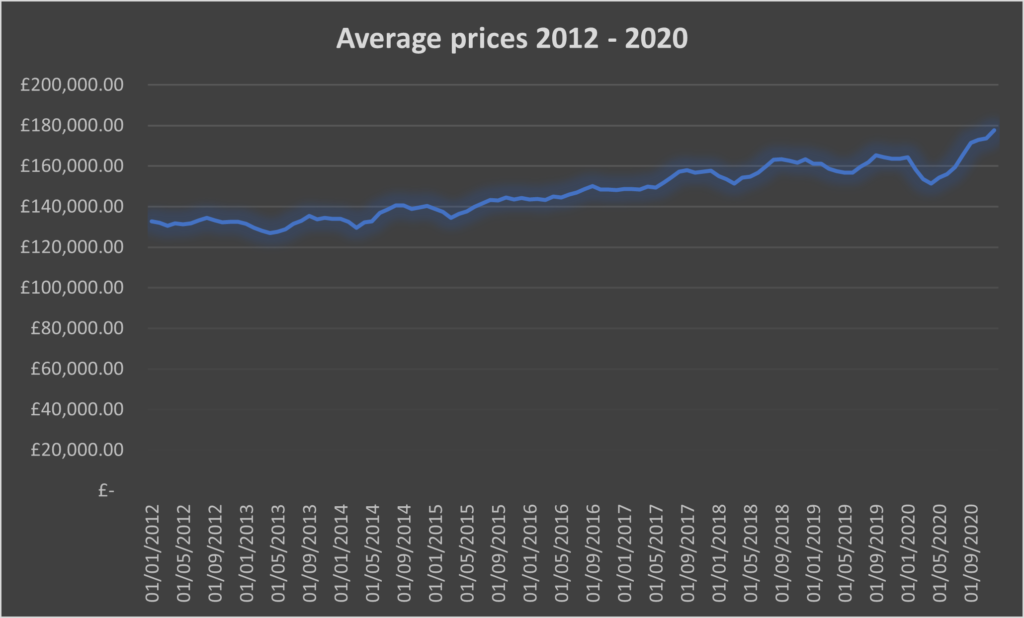 Will this growth be repeated?
While it's impossible to predict the future, the stars seem to aligning for a Wirral maritime renaissance and, combined with a predicted, albeit Brexit hampered, post pandemic economic recovery, the various construction projects and likely decentralisation of many previously office based jobs, the Wirral looks set to experience a huge regeneration over the next decade and that can only mean good things both for the local property market and the local population, which can hopefully look forward to some good times ahead.
Looking to invest in the Wirral property market, but not sure how or where to start? Looking for some help managing your growing property portfolio? Why not Contact Us today? Wirral Homes are your experts on the Wirral.
Wirral Regeneration Takes Next Steps
Although plans in various forms have been circulating for some time, decisions on the removal of two Birkenhead flyovers and a new announcement on Wirral Waters seems to indicate that the region's regeneration is set to see real progress over the next couple of years.
Where is regeneration set to take place?
Following the cancellation of a £30 Mn regeneration plan in 2016, a more ambitious proposal was put forward by Wirral Council. While there have been plenty of false starts, the regeneration of Birkenhead looks set to begin. With projects such as the Urban Splash and Peel L&P project set to begin delivering 350 homes to the East Float area shortly, and the approval of the removal of two flyovers in the Birkenhead Central/Hind Street area along with £8 Mn in funding announced by the Liverpool City Regions Metro Mayor, Steve Rotheram.
Rotheram also added:
When it is finished, this project should help to breathe new life into the area, create hundreds of affordable homes for local people and bring communities closer together.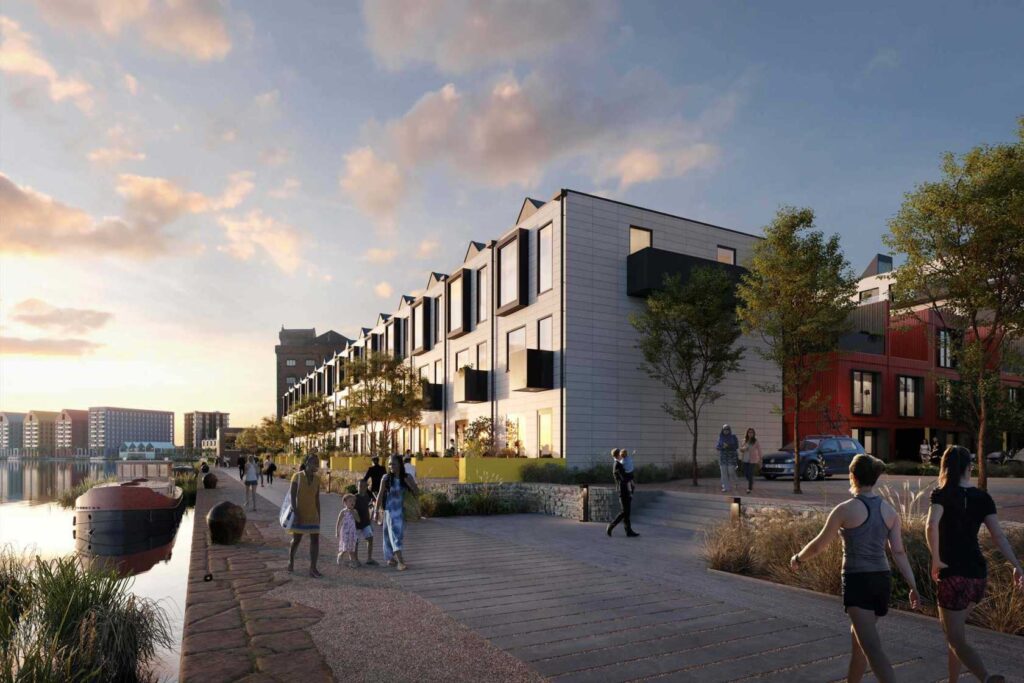 What does the plan involve?
Rather than a single plan for regeneration, the proposals include several developments with a number of different partners. While the East Float project will feature a joint £60 Mn project between Urban Splash and Peel L&P, it is only a part of the wider Peel development of the waterfront, while the Birkenhead Central Gateway project has yet to announce official partners.
However, while we may not know all there is to know about the various regeneration projects, we do know that the Birkenhead Central Gateway project is set to make use of the expanded Hind Street brownfield site in order to create an area of commercial and housing development that will potentially deliver hundreds of new family homes. The Peel L&P project, however, which has been announced and re-announced for what feels like a decade or more, has been busy laying the groundwork for a hugely ambitious 300-acre waterfront redevelopment which is set to begin in earnest between now and 2025 at which point they expect five key locations to be completed.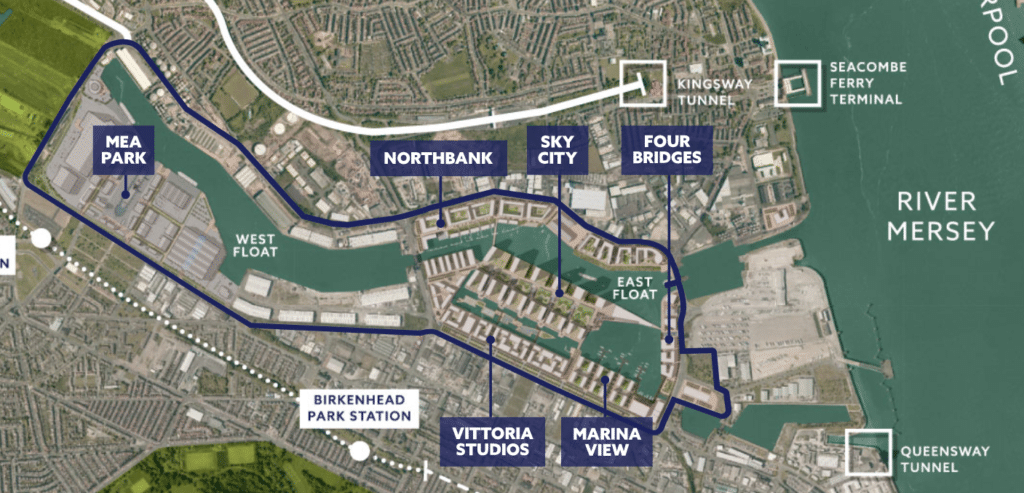 What does this mean for investors in the Wirral's property market?
The Wirral has received a host of exciting news in the last week – with the Liverpool City Region being granted freeport status at the latest budget announcement, the announcement that the Urban Splash and Peel project is to start taking shape this year, and the latest approval for the removal of the Birkenhead flyovers. Along with an extension to the stamp duty, this news should encourage anyone in two minds about investing in the area to take the plunge.
The regeneration plans, which are aiming to markedly improve the look and feel of the Birkenhead and Seacombe area as well as the health and happiness of residents mean that investment should see handsome returns as the changes begin to take place.
2020/21 has proven to be a perfect storm for the improvement of the Wirral property market as a whole, with the pandemic allowing former city dwellers to seek homes further from the city as home working became a permanent option for many as well as Brexit, for all its many possible downsides, appearing to prompt massive investment in the nation's too long overlooked shipping and maritime industries.
All of this contributes to the huge potential that the Wirral and specifically, in this case, for lettings in Birkenhead and Seacombe areas have to provide fantastic returns – as the local area experiences a boom in industry, tourism and commerce over the next five years.
Interested in taking your next steps in the Wirral property market? Why not Contact Us to see how we can help?
Zoopla's Latest UK Rental Market Report Digested
Zoopla terms the dropping city rental prices 'The City Halo Effect' as commuter towns make up for lost central revenue. One offered example given in the report was Birmingham which saw a 3.4% drop while surrounding Bromsgrove, Sandwell and Wolverhampton rose by an average of 5.3%.
As we've pointed out in our trends piece and previous coverage of recent housing market reports, there are both pandemic and more general factors underlying the changes taking place in the rental market. While rental demand has increased outside of London, the general rental stock has diminished – leading to shorter periods between lets.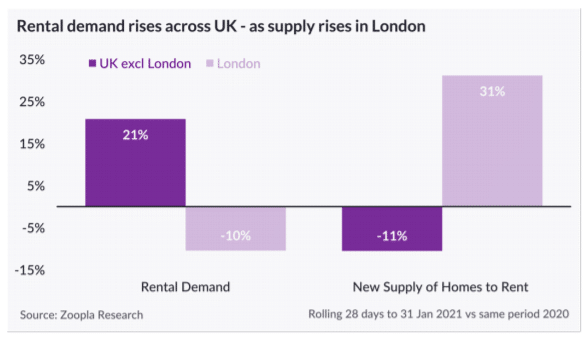 While this is clearly troubling news for landlords in the nation's capital, landlords in the rural and commuter towns of the Wirral will be pleased to note that there are falling periods between lets, a rise in demand for property and a resultant increase in rental value as renters compete for the available property.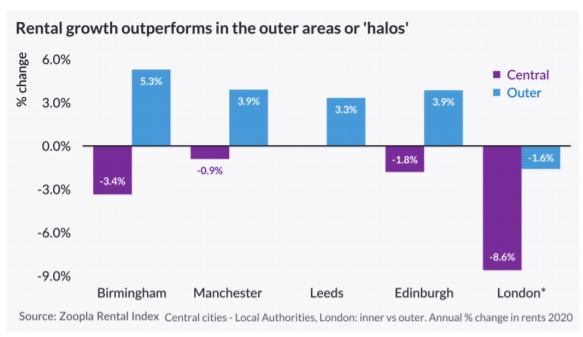 What consensus seems to have been reached, both in this and several other reports commissioned over the last 12 months, is that tenants are looking to increase the amount of space they have at their disposal both in and out of doors and houses with additional rooms for home working and with gardens have seen a huge spike in interest – above and beyond even the general growth in these 'halo' areas.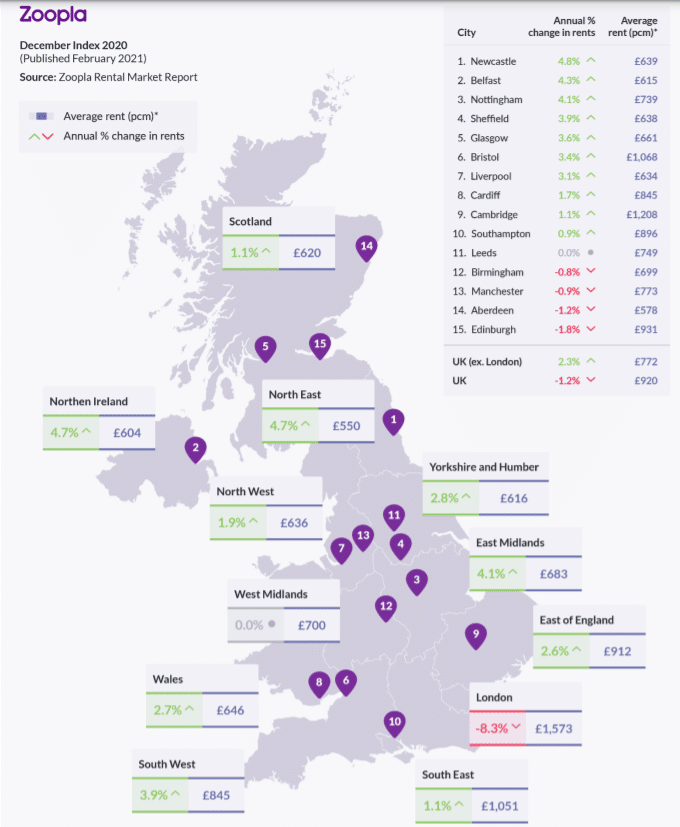 Another facet of the increased rental demand mentioned in the Zoopla report is the withdrawal of many high-risk and first-time-buyer mortgages available on the market which will likely result in a boost to the rental market until some of these products return – though with the economic outlook for the UK still uncertain for at least the remainder of 2021, it is likely to be a slow process.
What this Means for Wirral Landlords
In short, the latest Zoopla report is an optimistic one for landlords with property portfolios with a large rural or commuter town element – the shift that many industries have made to more flexible work and work from home has meant that property in the Wirral is worth more and in greater demand from tenants.
However, while there is competition for properties, there is also a weight of expectation coming from the populations moving out from their city centre apartments and houses. The reasons they're looking for properties in places like the Wirral, rather than in Liverpool, Manchester and Chester is that they want a well presented and spacious garden, they want rooms which can be easily adapted into a home office, and they want to know what their commute will be on those occasions when they need to head in to the office.
For that reason, landlords should be ensuring that their gardens are in prime condition ready for their close-up, and that the descriptions that accompany their properties on listing sites are written with the requirements of a new breed of renter in mind while still catering to the existing local market. You'll also need to be on top of the local transport connections, as renters new to the area from nearby cities are likely to have a lot of questions!
Whether you're new to the business of letting property, or have been involved in letting for years, the last eighteen months will have thrown up some unique problems and opportunities. Why not Contact Us today to see how our experts can help you adapt to a rapidly changing landscape.
February 2021 Market Reports Digested
In order to ensure that we're offering the best advice and the most up-to-date information to both tenants and landlords, we stay up to date – but in the interest of transparency, we're going to try and make sure you can be too.
Headline changes for the North West
The main figures of import for landlords and tenants are, no doubt, those of most interest to our audience, so we'll deal with those first.
Annual change in house prices
Rightmove – 7% (3.3% UK Average)
Zoopla – 5.4% increase (4.3% UK average)
Annual change in rental prices
Rightmove – none given
Zoopla – 1.8% (-0.5% UK average)
In essence, this is reflective of a host of trends – some of which we pointed out in our 2021 trends post – including the race to beat the return of stamp duty and the increased popularity of commuter towns and villages as working from home, home schooling and other Covid-19 changes have altered people's priorities around housing.

However, with the end to the stamp duty holiday approaching quickly and economic instability looming on the horizon, it remains to be seen what the government will do to prevent a housing crash – with some experts predicting an extension to the holiday will be announced in an effort to stave of such an event while the country deals with the economic uncertainty surrounding Brexit.
So, while it's likely we could see a shift in the desirability of the sub-£250,000 market if the holiday is ended, we may see a slow-down and overall price fall until either an announcement is made or the holiday ends. Either way, this is unlikely to impact rental values which have been pushed up by other forces and may have a more prolonged upward trajectory until the rental market settles post-vaccine roll-out.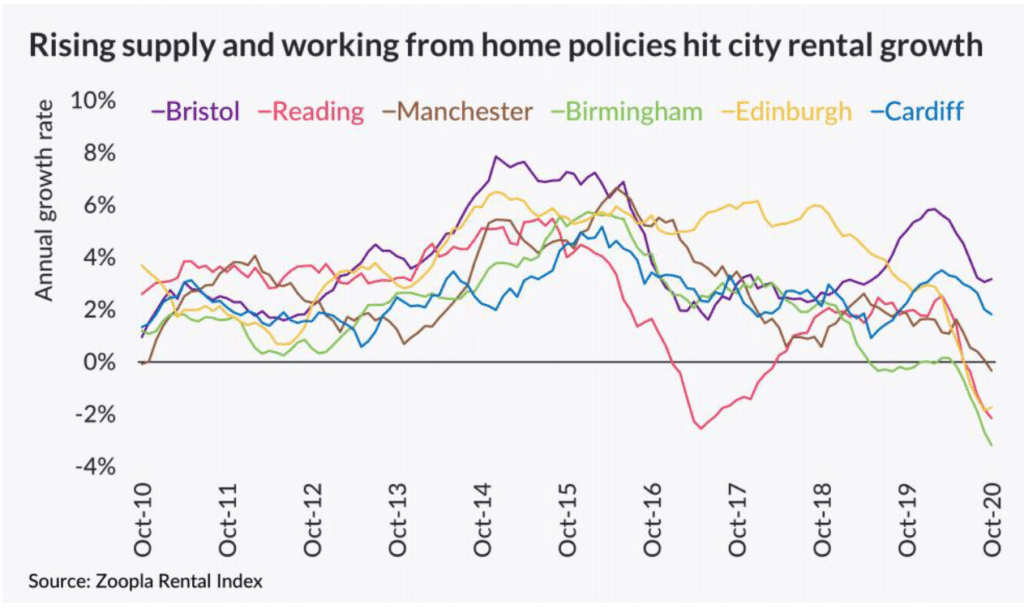 Interesting statistics
A northern surge?
According to Zoopla, there was a surge of more than 6% across areas of the north which they suspect is, at least in part, due to the perceived affordability of property in the north combined with the decentralisation of some types of employment.
A city slump?
However, despite the increasing value of property in the north, the cities of the north are still seeing drops in rental value as the same circumstances that are driving the house prices up make city centre living – and the connected lack of space – less desirable.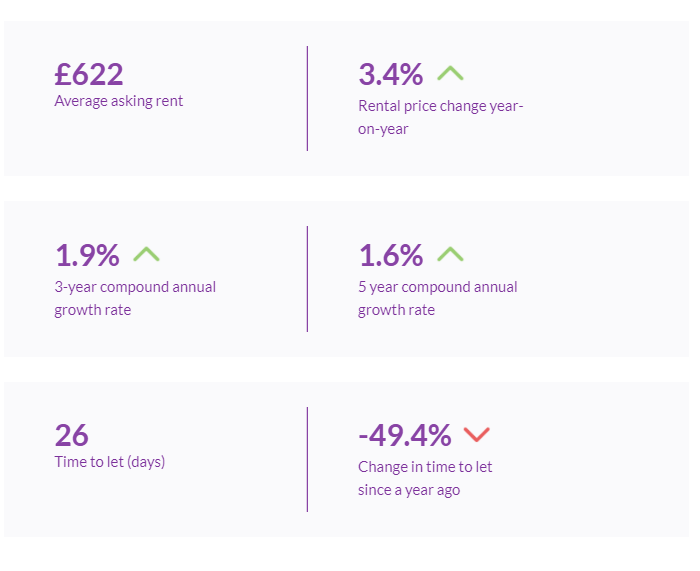 There is a full treatment of the rental market expected soon from Zoopla, so we'll have a closer look then if we can, but the message from both the Zoopla and Rightmove data seems to be one of cautious optimism. With a debate on extending the stamp duty holiday ending in a deferral to the chancellor's spring budget (not a definitive dismissal), there is a potential for the present housing boom to continue into the summer.
Unfortunately, as with so much this year, we won't have answers to many of our questions until the summer (or March 3rd in the case of the stamp duty holiday). As such, the approach of Zoopla and Rightmove to defer to cautious optimism appears to be the sensible one.
Need your property valued, potential rental value estimated or want to discuss the state of the property market with one of our experts? Why not Contact Us today?
Landlords Using new 'Model Tenancy Agreement' Will No Longer be Able to Blanket Ban Tenant Pet Ownership
While the present rules won't end pet-free letting, Andrew Rosindell MP is determined to see the rules become law – so landlords will need to familiarise themselves with the new rules as soon as possible, or that they are working with agents that are.
It has been almost standard practice for decades for landlords to place a blanket ban on pets – in fact, government research found that only 7% of private landlords advertise properties as pet friendly, leading housing minister Christopher Pincher to state that:
"It can't be right that only a tiny fraction of landlords advertise pet friendly properties and in some cases people have had to give up their beloved pets in order to find somewhere to live."
What does this mean for landlords?
While there is no rule that completely forbids landlords from keeping their properties pet free, the new guidance does mean that landlords must supply a valid reason for refusing pets within 28 days of a written request from a tenant. The guidance in the updated 'Model Tenancy Agreement' is as follows:
"Clause C3.5 prohibits a landlord from exercising a blanket ban on pets. A responsible pet owner will be aware of their responsibilities in making best efforts to ensure their pet does not cause a nuisance to neighbouring households or undue damage to the Property. A landlord should take steps to accommodate written requests from responsible tenants with pets. They should only turn down a request in writing within a 28 day period if there is good reason to do so, such as large pets in smaller properties or flats, or otherwise properties where having a pet could be impractical. Landlord consent is therefore the default position unless otherwise specified in writing by a landlord. If consent is given on the condition that additional deposit is paid by the tenant, the total deposit must not breach the deposit cap introduced under the Tenant Fees Act 2019 and must be protected in an authorised tenancy deposit scheme."
As can be seen in the above section, there are provisions for landlords to ensure that their investment is taken care of through increased deposit amounts (within the standard deposit cap), as well as grounds for reasonable objection – in cases where they believe the pet would cause undue nuisance for neighbours, or is too large for the property, for example. However, the sentence to be aware of here is that 'consent is therefore the default position unless otherwise specified in writing by a landlord'. This means that landlords wishing to maintain a property as a pet free let will need to ensure that they have a good reason and are prompt with their responses.
This does not prevent a landlord seeking to hold tenants financially accountable for damage caused by their tenant's pets – and it may, therefore, be in the interests of landlords to stipulate that tenants with pets will face deductions to cover the cost of deep cleaning a property to ensure that it can still be let if the next tenant were to have pet allergies.
While there have been no changes to the underlying legislation – meaning that, should you draft your own legal documents, you can still ban tenants from owning pets, this does look like a first rather than final step in the process, so it may be that landlords will need to consider how they would respond to a legal change and begin to act as though the law has changed instead of having to react later on.
Are you currently using the Mode Tenancy Agreement and want help to update the document going forward, or looking for other legal advice? Our team of experts can help. Contact Us today to see what we can do for you.
Wirral.co.uk is Live – Home of Your Experts on the Wirral
Our challenge? To create a website that would serve both landlords and prospective tenants – enabling both to learn all they may need about the Wirral and to pair them with their perfect match to help make for happy, long-term tenancies. We think we may have done it!
Built from the knowledge we've accrued throughout our years of experience in the lettings industry, Wirral.co.uk is a hub not only for the promotion of the property we have available, but also of our industry and local knowledge, with a breakdown of property prices and possible yields, a comprehensive list of and description of our many services and in-depth location guides to help tenant and landlord alike discover the Wirral.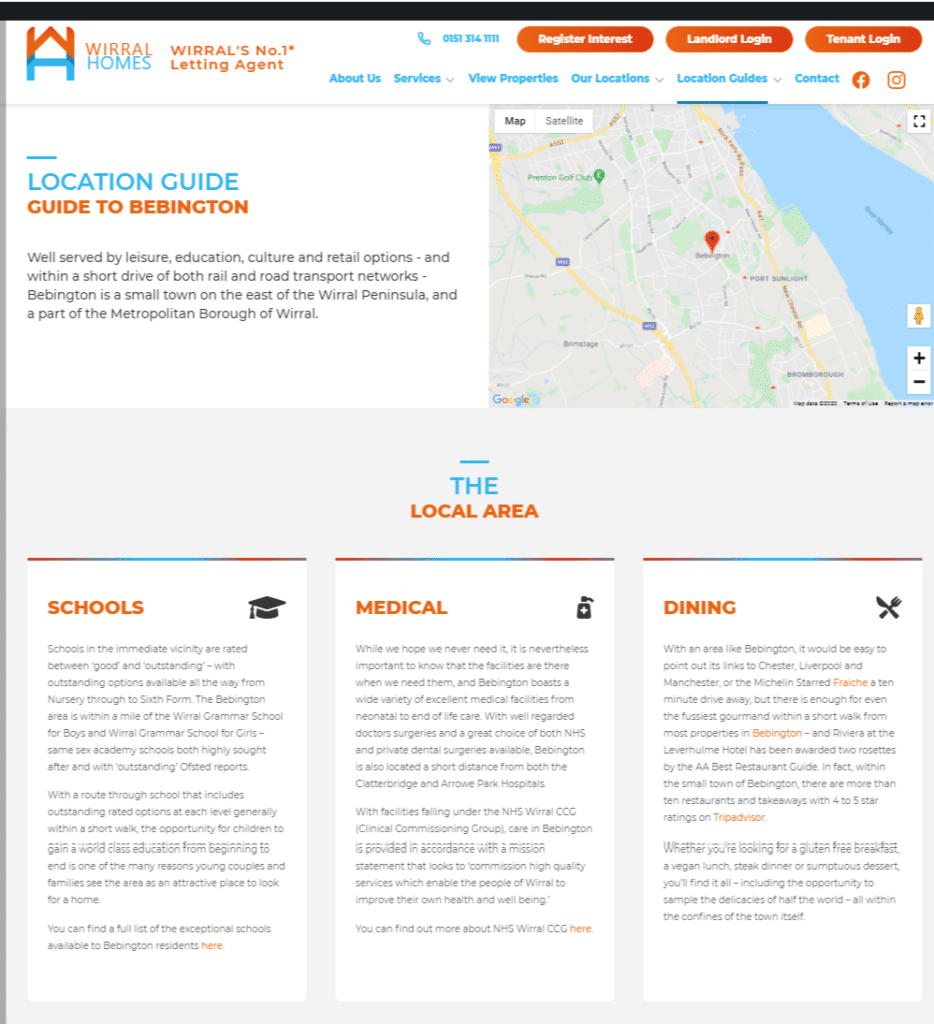 We have attempted to include a little of everything – while Zoopla is a fantastic outlet for us, especially with our premium package allowing for increased exposure, it primarily acts as a search engine for those people who know what they want. While there is an art in ensuring that your property captures their attention, prospective tenants that aren't sure need that little bit more help – and that's why we've put together more than 40'000 words of in-depth local knowledge on the main areas of the Wirral. We know we can sell your property to a tenant, but now we can sell the Wirral, too.
As we enter a new year, we're expecting big things from 2021 – and we hope you'll sign up for our newsletter to keep up to date on what it brings.
We're really proud of how we've managed to distil our years of experience into the new site – but we're not done! We want to hear from you if you think we've missed something that you desperately need. Whether you want to offer some feedback, or would like to harness our expert knowledge, Contact Us today!
House Prices in the UK Up by More Than £13000
The Guardian, among other news outlets, carried reports today which highlight the 2020 boom in property prices as a direct consequence of the global pandemic.
Covid-19 sparked a "race for space" among householders fleeing cities and searching out bigger homes. A tentative recovery in the market after lockdown ended morphed into a raging boom after the chancellor cut stamp duty in England and Northern Ireland until 31 March 2021. Wales and Scotland followed suit, although the cuts were not as generous. In England and Northern Ireland, buyers have been able to save £10,000 on a £400,000 property and £15,000 on one costing £500,000.

Patrick Collinson – The Guardian, 20th December 2020
This shift in how we feel about our homes – which has led many to prioritise space over convenience – is also, likely, linked to the rise in work from home, with employees able to risk leaving the big city for larger properties elsewhere. This has also led to a massive increase in sales and rises above the 7.6% average in commuter towns.
Getting away from the hustle and bustle has proven so popular in fact, that 'detached', 'rural' and 'secluded' have risen to become the fourth, fifth and sixth most searched for terms.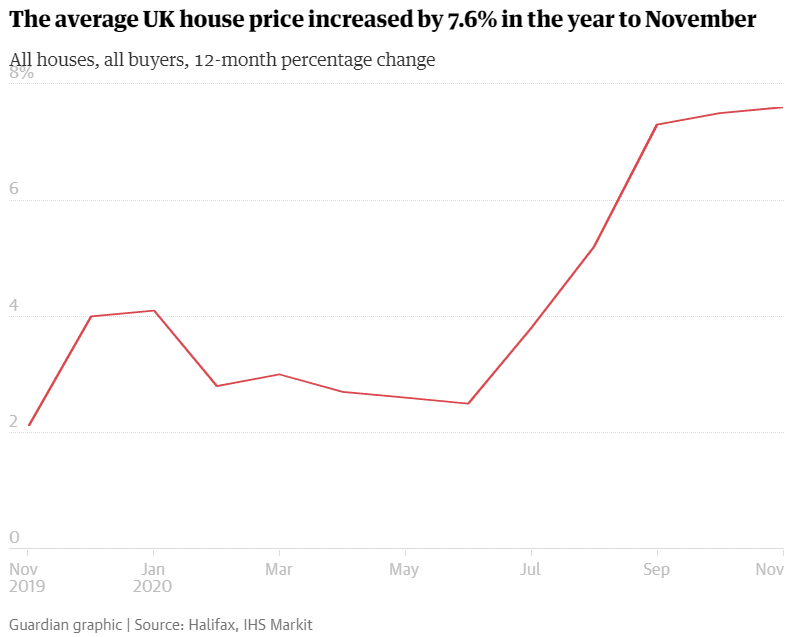 Also adding to these trends has been a similar boom in buy-to-let sales. According to a separate report carried by The Guardian on the 14th of December, landlords made up 15% of all property sales in November – no doubt as a result of the soon to end stamp duty holiday.
With the stamp duty holiday set to end on the 31st March 2021, however, there may be more in the pipeline – though missing the March deadline could see landlords paying an additional thousand pounds if their sales are delayed past the cut off.
With plenty of people still listing their properties for sale despite the Christmas holiday, there are still bargains to be had and prizes to be won for savvy investors, however, provided they are able to get their deals completed quickly!
Find out how 2020 may have impacted your property portfolio – and what you need to do to maximise its potential. Contact Us today!
Wirral Letting Agents by Social Media Following
It may not be the most important part of a tenant's discovery process when looking for a new place to call home, but traditional letting agencies are behind the times if they don't understand that social media needs to be taken seriously.
When it comes to finding a property, tenants begin their search online – and that means letting agents need to be as visible as possible both on search engine results pages and on social media. That's why Wirral Homes has spent its time building an audience that can help you find your property's next tenant.
One of the things our experienced team has worked on since Wirral Homes was created is building our following on Facebook – a visual platform that we have found works well for property. The results are as follows:
| Rank | Letting Agent | Facebook Followers |
| --- | --- | --- |
| 1 | Wirral Homes | 1888 |
| 2 | Hunters | 1375 |
| 3 | Move Residential | 1179 |
| 4 | Hewitt Adams | 1194 |
| 5 | Jones and Chapman | 902 |
| 6 | BFL | 694 |
| 7 | Clive Watkin | 614 |
| 8 | Martin & Co | 318 |
| 9 | Northwood Wirral | 260 |
| 10 | Market Street Homes | 204 |
While we are not naïve enough to believe that a letting agents work is done when they top a table of social media followers, we use this to illustrate the change of approach to social media that Wirral Homes represents. Our lives are increasingly lived online – especially throughout the last year – and the lettings industry has remained, in large parts, restrained by a traditional approach.
While a board outside the house and an advert on sites like Zoopla are incredibly important, there is huge untapped potential in social media for letting agents – and that is potential we intend to tap. How many times have you seen something interesting online and tagged a friend? Who would be the first to know if you were moving and what you were looking for in a new property? A social media following does not end with the number given, it's a network of the friends of each follower – each a potential recommendation for one of the properties we're letting at the time.
By focusing on building a social media presence while we built this website, we were not seeking to replace traditional approaches, but looking to supplement them. In ensuring we achieve maximum exposure of the property portfolios we manage, we also minimise the time properties spend vacant – and that, in the end, is one of the letting agent's most important jobs.
For more information on how we're approaching letting, or to speak to us about the services we offer, Contact Us today!