Zoopla's Latest UK Rental Market Report Digested
Zoopla terms the dropping city rental prices 'The City Halo Effect' as commuter towns make up for lost central revenue. One offered example given in the report was Birmingham which saw a 3.4% drop while surrounding Bromsgrove, Sandwell and Wolverhampton rose by an average of 5.3%.
As we've pointed out in our trends piece and previous coverage of recent housing market reports, there are both pandemic and more general factors underlying the changes taking place in the rental market. While rental demand has increased outside of London, the general rental stock has diminished – leading to shorter periods between lets.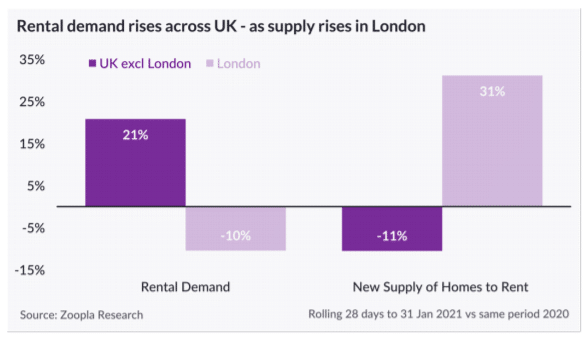 While this is clearly troubling news for landlords in the nation's capital, landlords in the rural and commuter towns of the Wirral will be pleased to note that there are falling periods between lets, a rise in demand for property and a resultant increase in rental value as renters compete for the available property.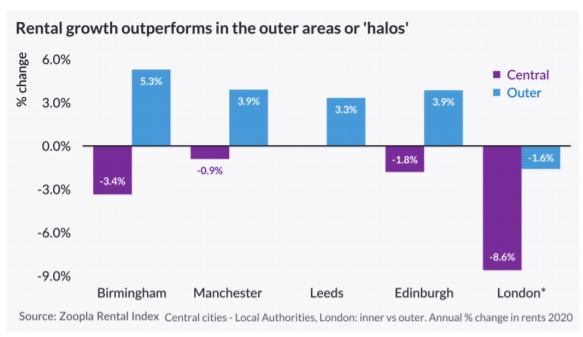 What consensus seems to have been reached, both in this and several other reports commissioned over the last 12 months, is that tenants are looking to increase the amount of space they have at their disposal both in and out of doors and houses with additional rooms for home working and with gardens have seen a huge spike in interest – above and beyond even the general growth in these 'halo' areas.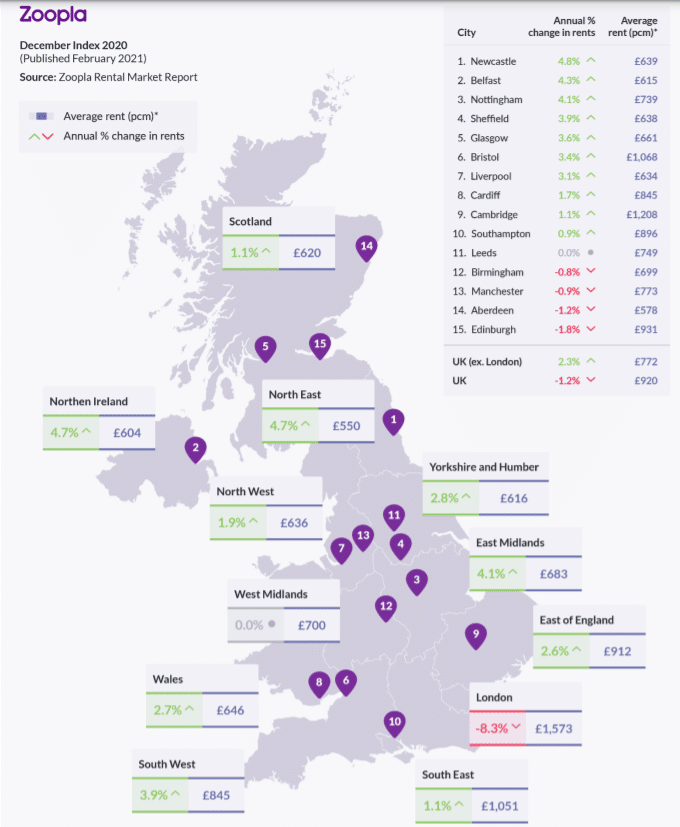 Another facet of the increased rental demand mentioned in the Zoopla report is the withdrawal of many high-risk and first-time-buyer mortgages available on the market which will likely result in a boost to the rental market until some of these products return – though with the economic outlook for the UK still uncertain for at least the remainder of 2021, it is likely to be a slow process.
What this Means for Wirral Landlords
In short, the latest Zoopla report is an optimistic one for landlords with property portfolios with a large rural or commuter town element – the shift that many industries have made to more flexible work and work from home has meant that property in the Wirral is worth more and in greater demand from tenants.
However, while there is competition for properties, there is also a weight of expectation coming from the populations moving out from their city centre apartments and houses. The reasons they're looking for properties in places like the Wirral, rather than in Liverpool, Manchester and Chester is that they want a well presented and spacious garden, they want rooms which can be easily adapted into a home office, and they want to know what their commute will be on those occasions when they need to head in to the office.
For that reason, landlords should be ensuring that their gardens are in prime condition ready for their close-up, and that the descriptions that accompany their properties on listing sites are written with the requirements of a new breed of renter in mind while still catering to the existing local market. You'll also need to be on top of the local transport connections, as renters new to the area from nearby cities are likely to have a lot of questions!
Whether you're new to the business of letting property, or have been involved in letting for years, the last eighteen months will have thrown up some unique problems and opportunities. Why not Contact Us today to see how our experts can help you adapt to a rapidly changing landscape.
February 2021 Market Reports Digested
In order to ensure that we're offering the best advice and the most up-to-date information to both tenants and landlords, we stay up to date – but in the interest of transparency, we're going to try and make sure you can be too.
Headline changes for the North West
The main figures of import for landlords and tenants are, no doubt, those of most interest to our audience, so we'll deal with those first.
Annual change in house prices
Rightmove – 7% (3.3% UK Average)
Zoopla – 5.4% increase (4.3% UK average)
Annual change in rental prices
Rightmove – none given
Zoopla – 1.8% (-0.5% UK average)
In essence, this is reflective of a host of trends – some of which we pointed out in our 2021 trends post – including the race to beat the return of stamp duty and the increased popularity of commuter towns and villages as working from home, home schooling and other Covid-19 changes have altered people's priorities around housing.

However, with the end to the stamp duty holiday approaching quickly and economic instability looming on the horizon, it remains to be seen what the government will do to prevent a housing crash – with some experts predicting an extension to the holiday will be announced in an effort to stave of such an event while the country deals with the economic uncertainty surrounding Brexit.
So, while it's likely we could see a shift in the desirability of the sub-£250,000 market if the holiday is ended, we may see a slow-down and overall price fall until either an announcement is made or the holiday ends. Either way, this is unlikely to impact rental values which have been pushed up by other forces and may have a more prolonged upward trajectory until the rental market settles post-vaccine roll-out.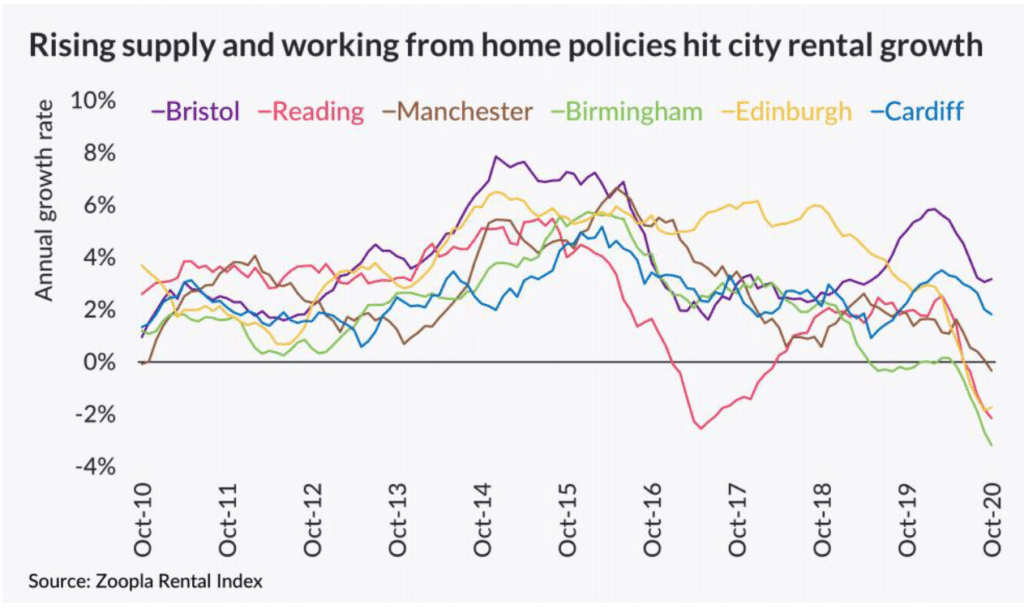 Interesting statistics
A northern surge?
According to Zoopla, there was a surge of more than 6% across areas of the north which they suspect is, at least in part, due to the perceived affordability of property in the north combined with the decentralisation of some types of employment.
A city slump?
However, despite the increasing value of property in the north, the cities of the north are still seeing drops in rental value as the same circumstances that are driving the house prices up make city centre living – and the connected lack of space – less desirable.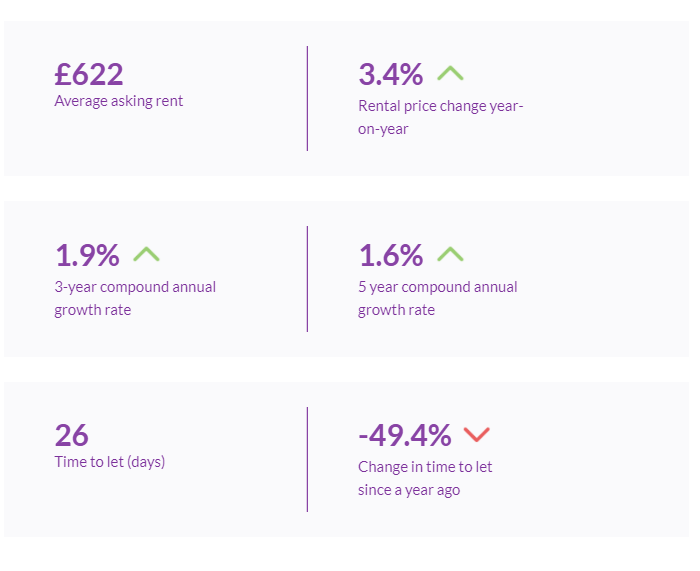 There is a full treatment of the rental market expected soon from Zoopla, so we'll have a closer look then if we can, but the message from both the Zoopla and Rightmove data seems to be one of cautious optimism. With a debate on extending the stamp duty holiday ending in a deferral to the chancellor's spring budget (not a definitive dismissal), there is a potential for the present housing boom to continue into the summer.
Unfortunately, as with so much this year, we won't have answers to many of our questions until the summer (or March 3rd in the case of the stamp duty holiday). As such, the approach of Zoopla and Rightmove to defer to cautious optimism appears to be the sensible one.
Need your property valued, potential rental value estimated or want to discuss the state of the property market with one of our experts? Why not Contact Us today?
Landlords Using new 'Model Tenancy Agreement' Will No Longer be Able to Blanket Ban Tenant Pet Ownership
While the present rules won't end pet-free letting, Andrew Rosindell MP is determined to see the rules become law – so landlords will need to familiarise themselves with the new rules as soon as possible, or that they are working with agents that are.
It has been almost standard practice for decades for landlords to place a blanket ban on pets – in fact, government research found that only 7% of private landlords advertise properties as pet friendly, leading housing minister Christopher Pincher to state that:
"It can't be right that only a tiny fraction of landlords advertise pet friendly properties and in some cases people have had to give up their beloved pets in order to find somewhere to live."
What does this mean for landlords?
While there is no rule that completely forbids landlords from keeping their properties pet free, the new guidance does mean that landlords must supply a valid reason for refusing pets within 28 days of a written request from a tenant. The guidance in the updated 'Model Tenancy Agreement' is as follows:
"Clause C3.5 prohibits a landlord from exercising a blanket ban on pets. A responsible pet owner will be aware of their responsibilities in making best efforts to ensure their pet does not cause a nuisance to neighbouring households or undue damage to the Property. A landlord should take steps to accommodate written requests from responsible tenants with pets. They should only turn down a request in writing within a 28 day period if there is good reason to do so, such as large pets in smaller properties or flats, or otherwise properties where having a pet could be impractical. Landlord consent is therefore the default position unless otherwise specified in writing by a landlord. If consent is given on the condition that additional deposit is paid by the tenant, the total deposit must not breach the deposit cap introduced under the Tenant Fees Act 2019 and must be protected in an authorised tenancy deposit scheme."
As can be seen in the above section, there are provisions for landlords to ensure that their investment is taken care of through increased deposit amounts (within the standard deposit cap), as well as grounds for reasonable objection – in cases where they believe the pet would cause undue nuisance for neighbours, or is too large for the property, for example. However, the sentence to be aware of here is that 'consent is therefore the default position unless otherwise specified in writing by a landlord'. This means that landlords wishing to maintain a property as a pet free let will need to ensure that they have a good reason and are prompt with their responses.
This does not prevent a landlord seeking to hold tenants financially accountable for damage caused by their tenant's pets – and it may, therefore, be in the interests of landlords to stipulate that tenants with pets will face deductions to cover the cost of deep cleaning a property to ensure that it can still be let if the next tenant were to have pet allergies.
While there have been no changes to the underlying legislation – meaning that, should you draft your own legal documents, you can still ban tenants from owning pets, this does look like a first rather than final step in the process, so it may be that landlords will need to consider how they would respond to a legal change and begin to act as though the law has changed instead of having to react later on.
Are you currently using the Mode Tenancy Agreement and want help to update the document going forward, or looking for other legal advice? Our team of experts can help. Contact Us today to see what we can do for you.
Wirral.co.uk is Live – Home of Your Experts on the Wirral
Our challenge? To create a website that would serve both landlords and prospective tenants – enabling both to learn all they may need about the Wirral and to pair them with their perfect match to help make for happy, long-term tenancies. We think we may have done it!
Built from the knowledge we've accrued throughout our years of experience in the lettings industry, Wirral.co.uk is a hub not only for the promotion of the property we have available, but also of our industry and local knowledge, with a breakdown of property prices and possible yields, a comprehensive list of and description of our many services and in-depth location guides to help tenant and landlord alike discover the Wirral.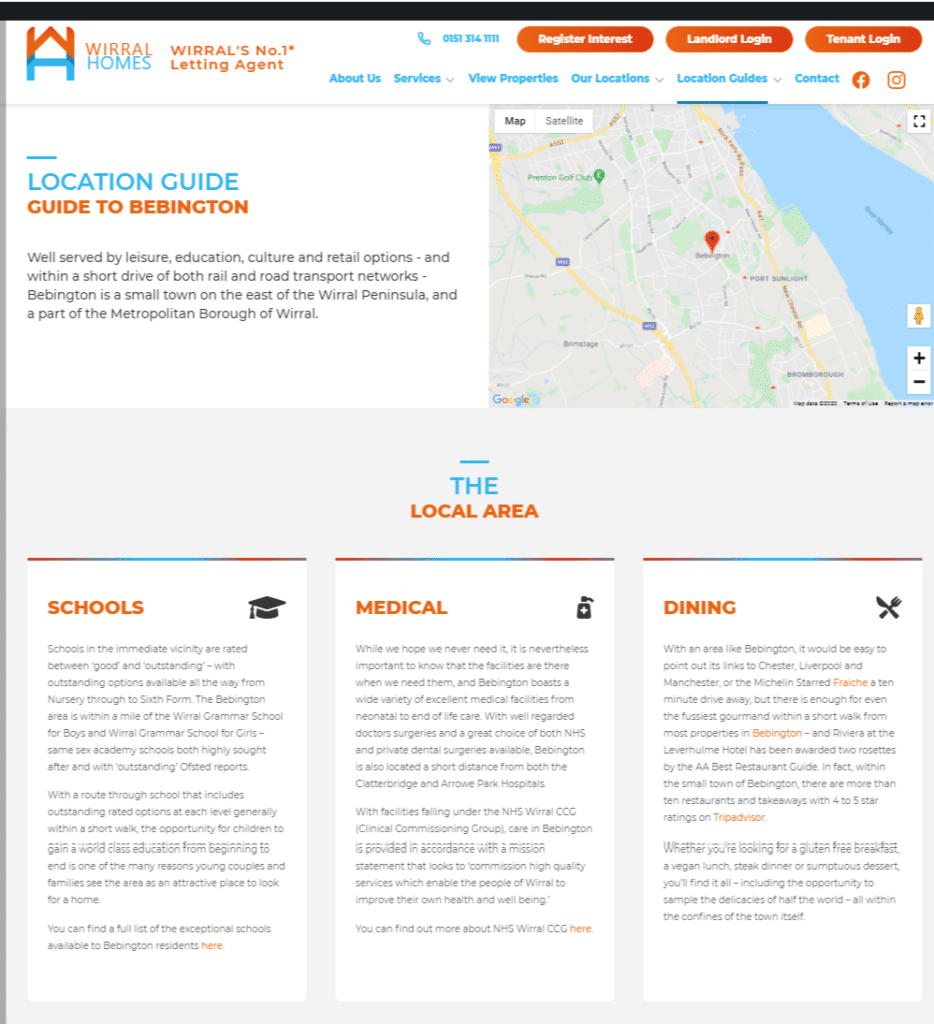 We have attempted to include a little of everything – while Zoopla is a fantastic outlet for us, especially with our premium package allowing for increased exposure, it primarily acts as a search engine for those people who know what they want. While there is an art in ensuring that your property captures their attention, prospective tenants that aren't sure need that little bit more help – and that's why we've put together more than 40'000 words of in-depth local knowledge on the main areas of the Wirral. We know we can sell your property to a tenant, but now we can sell the Wirral, too.
As we enter a new year, we're expecting big things from 2021 – and we hope you'll sign up for our newsletter to keep up to date on what it brings.
We're really proud of how we've managed to distil our years of experience into the new site – but we're not done! We want to hear from you if you think we've missed something that you desperately need. Whether you want to offer some feedback, or would like to harness our expert knowledge, Contact Us today!
House Prices in the UK Up by More Than £13000
The Guardian, among other news outlets, carried reports today which highlight the 2020 boom in property prices as a direct consequence of the global pandemic.
Covid-19 sparked a "race for space" among householders fleeing cities and searching out bigger homes. A tentative recovery in the market after lockdown ended morphed into a raging boom after the chancellor cut stamp duty in England and Northern Ireland until 31 March 2021. Wales and Scotland followed suit, although the cuts were not as generous. In England and Northern Ireland, buyers have been able to save £10,000 on a £400,000 property and £15,000 on one costing £500,000.

Patrick Collinson – The Guardian, 20th December 2020
This shift in how we feel about our homes – which has led many to prioritise space over convenience – is also, likely, linked to the rise in work from home, with employees able to risk leaving the big city for larger properties elsewhere. This has also led to a massive increase in sales and rises above the 7.6% average in commuter towns.
Getting away from the hustle and bustle has proven so popular in fact, that 'detached', 'rural' and 'secluded' have risen to become the fourth, fifth and sixth most searched for terms.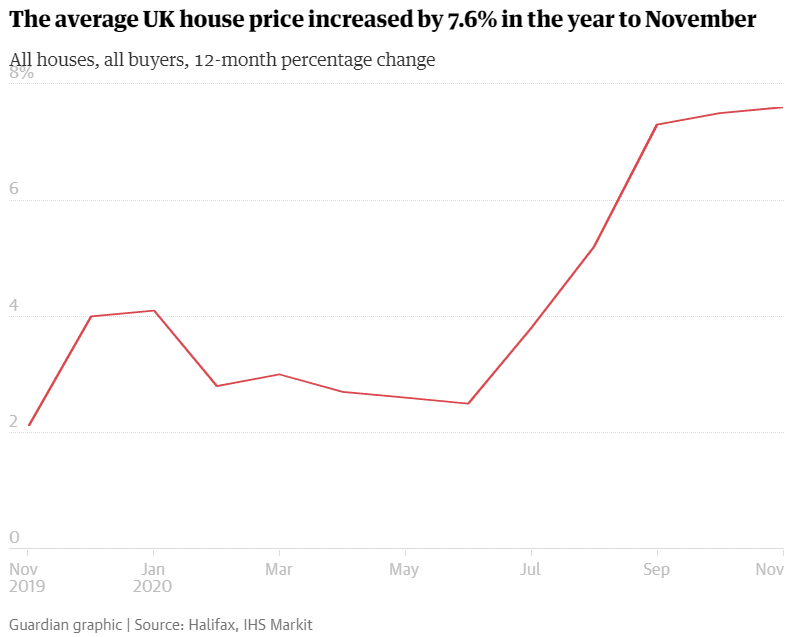 Also adding to these trends has been a similar boom in buy-to-let sales. According to a separate report carried by The Guardian on the 14th of December, landlords made up 15% of all property sales in November – no doubt as a result of the soon to end stamp duty holiday.
With the stamp duty holiday set to end on the 31st March 2021, however, there may be more in the pipeline – though missing the March deadline could see landlords paying an additional thousand pounds if their sales are delayed past the cut off.
With plenty of people still listing their properties for sale despite the Christmas holiday, there are still bargains to be had and prizes to be won for savvy investors, however, provided they are able to get their deals completed quickly!
Find out how 2020 may have impacted your property portfolio – and what you need to do to maximise its potential. Contact Us today!
Wirral Letting Agents by Social Media Following
It may not be the most important part of a tenant's discovery process when looking for a new place to call home, but traditional letting agencies are behind the times if they don't understand that social media needs to be taken seriously.
When it comes to finding a property, tenants begin their search online – and that means letting agents need to be as visible as possible both on search engine results pages and on social media. That's why Wirral Homes has spent its time building an audience that can help you find your property's next tenant.
One of the things our experienced team has worked on since Wirral Homes was created is building our following on Facebook – a visual platform that we have found works well for property. The results are as follows:
| Rank | Letting Agent | Facebook Followers |
| --- | --- | --- |
| 1 | Wirral Homes | 1888 |
| 2 | Hunters | 1375 |
| 3 | Move Residential | 1179 |
| 4 | Hewitt Adams | 1194 |
| 5 | Jones and Chapman | 902 |
| 6 | BFL | 694 |
| 7 | Clive Watkin | 614 |
| 8 | Martin & Co | 318 |
| 9 | Northwood Wirral | 260 |
| 10 | Market Street Homes | 204 |
While we are not naïve enough to believe that a letting agents work is done when they top a table of social media followers, we use this to illustrate the change of approach to social media that Wirral Homes represents. Our lives are increasingly lived online – especially throughout the last year – and the lettings industry has remained, in large parts, restrained by a traditional approach.
While a board outside the house and an advert on sites like Zoopla are incredibly important, there is huge untapped potential in social media for letting agents – and that is potential we intend to tap. How many times have you seen something interesting online and tagged a friend? Who would be the first to know if you were moving and what you were looking for in a new property? A social media following does not end with the number given, it's a network of the friends of each follower – each a potential recommendation for one of the properties we're letting at the time.
By focusing on building a social media presence while we built this website, we were not seeking to replace traditional approaches, but looking to supplement them. In ensuring we achieve maximum exposure of the property portfolios we manage, we also minimise the time properties spend vacant – and that, in the end, is one of the letting agent's most important jobs.
For more information on how we're approaching letting, or to speak to us about the services we offer, Contact Us today!