The Best Ways to Reach New EPC Standards and Improve Property Value
With stricter guidelines requiring all rental properties to reach a rating of C or above by 2025, and stricter guidance likely in the years after, one method of offsetting the cost of the required work is to boost the value of your portfolio using eco improvements.
According to a government consultation in 2021, almost two thirds of private rental stock had an EPC rating of D or below, meaning that many landlords face estimated costs of between £17,00 and £27,000 to raise the efficiency rating of their properties to the minimum allowable standard. As a result, it will involve some smart work from landlords to mitigate bills it could take two or three years to cover.
What the report says
The report is largely targeted at the owner-occupier market, but the majority of the eco-improvements remain valid for landlords. The section of the report in question lists the average "perceived value increase UK homebuyers would attribute to each of the eco improvements" following a "nationwide survey [of] 2,000 UK-based homeowners and residents".
We've taken this a step further by sourcing the approximate average cost of each of these improvements and their potential EPC impact to allow a better overall judgement of the improvements a landlord could make prior to the tightening regulations. What should be noted, however, is that there needs to be work undertaken by central government to update how scores are calculated – as a recent article from Which? states – EPC ratings currently favour gas heating as the unit cost of gas has historically been lower, something which has closed since the lifting of price caps.
The below table excludes the garden improvement, appliance replacement and electric charging point improvements mentioned in the report as they don't impact EPC ratings.
| Improvement | Value Increase | Approx. Cost | Benefit (minus) | Potential EPC Impact |
| --- | --- | --- | --- | --- |
| Solar panels | £13,512 | £3,000 – £8,000 | £5,000 – £10,000 | Can add up to 15 points – the equivalent of moving from an E to a D rating. |
| Wind turbine | £12,941 | £7,000 – £10,000 | £2,000 – £5,000 | Can add upwards of 10 points depending on size. |
| Triple glazing | £12,788 | £2,000 – £7,000 | £5,000 – £10,000 | Can add between 5 and 10 points – the equivalent of moving from a mid E to a low D rating. |
| Underfloor heating | £12,290 | £4,000 – £10,000 | £2,000 – £7,000 | Negligible. |
| Ground source heat pump | £12,251 | £13,000-£35,000 | (£1,000) – (£23,000) | Can be negative due to current imbalance between gas and electricity point allocation. |
| Double glazing | £12,005 | £3,000 – £8,000 | £4,000 – £9,000 | As with triple glazing, may add between 5 and 10 points. |
| Extra insulation, like cavity wall insulation | £11,764 | £6,000 – £10,000 | £2,000 – £6,000 | Depending on existing insulation, addition of cavity and loft insulation can add up to 30 points. |
| Biomass boiler | £11,756 | £5,000 – £12,000 | £0 – £7,000 | While being more eco-friendly than many oil or LPG boilers that are used in their place, EPC reports are behind the times where biomass is concerned, meaning it could lead to a reduced score. |
| Air source heat pump | £11,670 | £6,000 – £12,000 | £0 – £6,000 | Despite being anywhere between 8% and 70% cheaper to run than electric, gas and oil alternatives, outdated scoring systems currently make this efficient heat source a negative for EPC purposes. |
| Solar water heating | £11,646 | £3000 – £6000 | £6,000 – £9,000 | Will improve EPC score by between 3 and 6 points for bands E and above. |
| Green/living roof | £11,477 | £7500 – £13000 | (£1,000) – £4,000 | Will often represent a similar increase to loft insulation and, therefore, an uplift of up to 20 points. |
| Draught proofing | £11,151 | £200 – £1200 | £10,000 – £11,000 | While we think the uplift in value is likely an artefact of a poorly phrased survey question, draught proofing can add a point to your EPC score. A change of lighting (bulbs etc.) can provide another cheap to achieve point. |
As we can see from this, the biggest gains are likely to be the addition of renewable energy sources, triple glazing and insulation – all of which combined would cost a maximum of £35,000, could improve property value by up to £50,000 and improve the EPC score of a property by up to 65 points, the equivalent of an E – A improvement.
EPC point tiers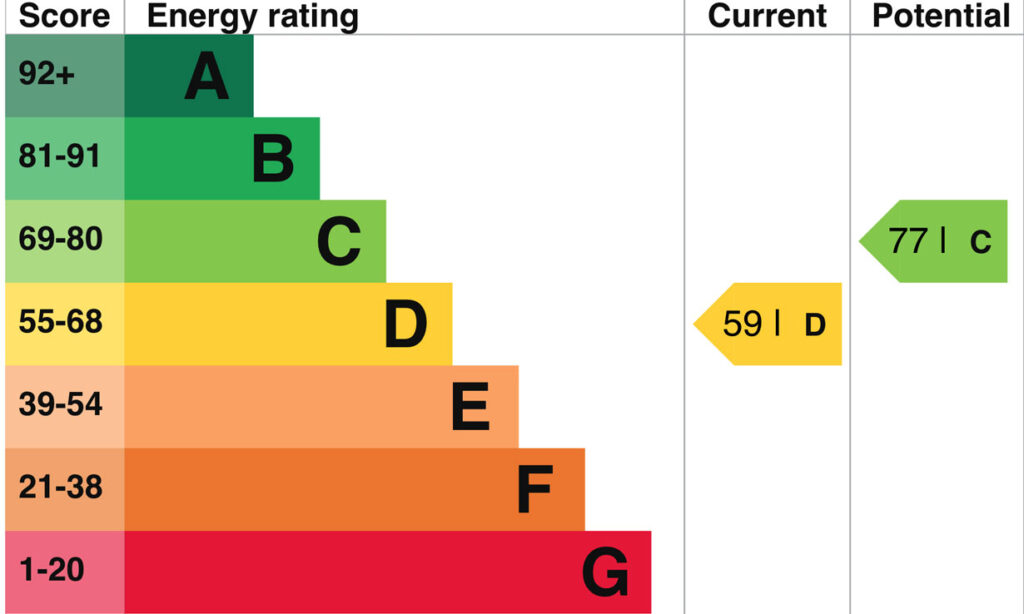 What this means for Wirral landlords
While it's unlikely that value improvements would be directly cumulative, it is similarly unlikely that most landlords would need to perform all upgrades to achieve the maximum 30 points they'd need to go from a low C to a low E. As such, the best approach is likely to be to have the property reviewed (unless you've already done so in the last few years) and to pick and choose the improvements most likely to deliver a return on investment and deliver the required points increase.
One thing to remember, in addition to the EPC uplift of such improvements, is the possible increase in rental yield that an efficient property can provide. For the next few years, landlords that can act quickly will be offering huge savings in energy bills versus similar properties on the market, and that can come with a premium that will help to recover the costs.
If you'd like some help to keep up to date with changing legislation and regulation, you can Contact Us to see what we can do to help take the stress out of managing your portfolio.
5 Things for Landlords to Look Out for in 2022
2022 will see further legislation on a host of issues important to landlords and tenants alike – and no doubt some which may only impact one or the other, so we've put together a list of a few things we believe will be important to keep your eyes on over the coming year.
1. Energy Efficiency
With new tenancies requiring an EPC rating of at least a D from April 2022, landlords will need to spend the early part of the year ensuring that their properties are up to scratch. With plenty of issues caused by confusion and mismanagement at a governmental level (including the collapse of the Green Homes Grants), however, there are plenty of calls for more help for landlords. Propertymark CEO Nathan Emerson stated:
While there's not much landlords can do beyond writing to their MPs to address the situation at present, calls for further help, or at least more time, may be bolstered by the ongoing pandemic.
2. Changes to legal advice for tenants
With the consultation set to end on the 20th of January, the next year will likely see the introduction of new 'on-the-day' legal advice for tenants facing eviction. The changes – which we covered earlier this month – aim to reduce the need for disputes to reach the point of eviction by ensuring that tenants receive timely and appropriate legal advice from early in the process.
While the wheels of government turn slowly, these changes are a fair way along the road to introduction, meaning that tenants and landlords should ensure that they are keeping up to date with changes. Hopefully this will lead to positive outcomes for both landlords and tenants nationwide by reducing the number of disputes that reach a point of critical failure resulting in eviction.
3. Updated guidance on alarms
Announced in November, guidance on where alarms must be placed in rental properties is set to change following consultation. Though the government has yet to publish its promised guidance, it's likely to come in the first quarter or 2022 – and with councils set to receive new powers to ensure compliance, it will be necessary for landlords to keep up-to-date with the process to avoid any penalties that could result.
The new regulations, as far as we know at present, will not require landlords to go too far beyond best practice guidance, but will see an increased burden of responsibility to ensure that alarms are kept in working order or replaced when this is not possible.
4. Interest rate rises
It may be time to lock in an interest rate, it seems, as the Bank of England seeks to address inflation by planning to raise interest rates between one and three times in the early part of 2022. Inflation, which negatively impacts the buying power of UK citizens, but importantly also reduces the value of debt, is historically linked to either cost-push (increasing cost of business) or demand-pull (more money being spent than usual). During the pandemic and ongoing problems with Brexit, both situations are true at once – making for an increased upward pressure.
Rather than address issues with supply and increasing minimum wage (minimum wage increases, while being an upward pressure on inflation, has been proven by government research to have a small impact with a 10% increase in minimum wage expected to lead to a 0.02 to 0.11% increase in the price of goods) which could address both sides of the equation, the Bank of England will look to restrict the flow of money by increasing the overall value of debt. This, along with a rise in national insurance rather than progressive tax initiatives, will more severely impact low- and middle-income households – meaning that landlords should both look for a move to a fixed rate mortgage and potentially for rent insurance in case the changes lead to another recession and the issues that can cause the rental market.
5. Renters' Reform Bill
While the true impact of the long awaited 'Renters' Reform Bill' will likely be felt in 2023, the initial report will allow landlords to begin planning for when the changes are implemented. With a large number of changes expected for 2023/24, any progress that landlords can make in addressing the proposed changes in 2022 will allow them to focus their attention on the other issues on the horizon (such as the making tax digital deadline). The likely changes include:
The end of Section 21 evictions, replaced by more comprehensive Section 8 guidance
The introduction of 'lifetime deposits' for tenants to reduce costs associated with moving between rental properties
Opening the database of rogue landlords and letting agents to the public to improve transparency
2022 still sees landlords facing the uncertainties of Brexit and the pandemic, but there are also more predictable issues that landlords will need to prepare for in the new year. If you'd like some help navigating them, then you can Contact Us for expert advice.
Landlord's Guide to Certifications
With so much to worry about, from marketing to maintenance, there's often an information overload that can happen to new landlords, so we've put together this guide (and a growing series of free resources) to help you navigate the various responsibilities and obligations.
What certifications do landlords need?
The property sector has been increasingly regulated since the introduction of the Housing Act 1988 which made important changes to the rental system – including a change to all tenancies from January 1989 being either assured, or assured shorthold – this has progressed over the years to include a number of certificates and documents that a landlord needs in order to safely (for both parties) let a property. This includes:
Electrical safety certificate
Energy Performance Certificate (EPC)
Fire safety measures
Gas safety certificate
Landlord insurance
Legionella risk assessment
Proof of deposit protection
Electrical safety certificates
Some are legal requirements, others just best practice, but there are a number of different electrical certificates that landlords should look into.
Electrical Visual Inspection
While not yet a legal necessity, annual inspection of a property's electrics is best practice for the modern landlord, and is used to determine if a property is in compliance with BS7671 electrical safety standards. A visual electrical inspection and should form part of the end of any tenancy as a minimum.
Portable Appliance Testing
On occasion, where a property is subject to licensing, landlords will need to have additional portable appliance testing (PAT), but investment in an annual test of these appliance is advisable to minimise risks for both landlord and tenant – and can be performed at the same time as the visual electrical inspection.
Electrical Installation Condition Report
By law, all tenants are entitled to a copy of a property's EICR before they occupy the property, and a copy of the report must be passed to the qualified person who completes the next report, while local housing authorities must be supplied with a copy within seven days of a request.
Landlords found in breach of their duty in this respect can be fined up to £30,000, making it potentially very expensive for landlords that fail to comply.
Who conducts these tests?
These tests should always be conducted by a trained professional. While there is no similar scheme to Gas Safe for electricians, members of organisations such as NICEIC and ELECSA are able to self-certify their work and are, therefore, one of the better options for situations such as this which require proof of safety.
Energy Performance Certificate (EPC)
In order to let a property, it must meet the minimum energy efficiency standard (currently 'E'). In addition, it is a requirement for landlords to supply a copy of the report (including the recommendations) to prospective tenants; landlords also face a fine of up to £200 per advert if they fail to include the property's energy rating.
Who conducts these tests?
EPCs can only be issued by an accredited domestic energy assessor, these can be found (for England, Wales and Northern Ireland) using the government portal, for landlords in Scotland, there is a separate service.
Fire safety measures
While there is no specific fire safety certificate, there are a host of rules that must be followed by landlords when looking to let a property. These include:
Providing smoke alarms on each storey, and a carbon monoxide alarm in any room with a solid fuel burning appliance
Keeping fire escape routes clear at all times (and ensuring tenants do the same)
All furniture and furnishings supplied must be fire safe
Make sure that fire alarms and extinguishers are provided in any property classed as HMO (house in multiple occupation)
Who conducts these tests?
Unfortunately, there is no governing body or assessor that can assure your compliance with fire safety, instead it is the landlord's responsibility to ensure that they are doing whatever they can to prevent fires. The London Fire Brigade does, however, have a useful guide to help landlords tick all of the necessary boxes.
Gas safety certificate
It is a legal requirement for landlords to ensure that all gas appliances conform with Part J, of the Building Regulations which must be assessed and issued a Building Regulations Compliance Certificate. Commonly referred to as a CP12, a landlord's gas safety certificate is a document which must be provided to tenants by law (breeches of which are punishable by six months prison or a six thousand pound fine).
In addition to the initial certification (a copy of which should be kept for two years), an annual check-up should be conducted with a copy of the certificate supplied to the tenant within 28 days of the inspection.
Who conducts these tests?
Your gas safety certificate will need to be issued by a Gas Safe registered engineer. Gas Safe Register, which replaced CORGI in 2009 as the UKs gas registration body, operates a searchable online database of registered engineers, many of which will be able to offer the certification as a service.
Legionella risk assessment
Required at least bi-annually, a legionella risk assessment checks to see whether there is any risk to your water supply from the bacteria – which causes the potentially fatal legionnaires disease – to ensure that tenants are free from risk and that landlords don't have to be worried about the possibility of being held legally accountable for any consequent problems.
Who conducts these tests?
While there is no legal requirement to have a professional undertake the assessment, the potential consequences of getting things wrong should cause landlords to think twice about testing themselves. However, as this is not illegal, landlords that believe they know the water-system well enough can find further information on the Health and Safety Executive website.
Proof of deposit protection
If you are letting a property using an assured shorthold agreement, you will need to place the deposit with one of three deposit protection schemes (we also have a guide covering inventory and deposit management) and your tenants are within their rights to request proof that this has been done – in fact, it is the landlords legal responsibility to provide this evidence within 30 days of receiving the deposit.
Who provides this document?
Once you have chosen which of the three companies you will be using to keep the deposit for the duration of the tenancy, they will be able to provide you with the written evidence to supply to your tenant.
Final thoughts
While there's a lot to consider when looking to manage a property, it is not impossible with a little research and effort. However, there are clear and often severe consequences for not complying with the various legal requirements and, for that reason, we always advise that you make absolutely certain that your certifications and documents are up to date and that you've covered all bases before you look to let your property.
Want help managing the various accreditations and certificates you'll need to help let your property? Contact Us to speak to one of expert advisors and see what we can do to help take the stress out of managing your property portfolio.
Landlord's Guide to Marketing a Property
All the way up to the early 2000s, a landlord could expect an advert in the local newspaper to deliver an appropriate tenant, but as their reach and readership declined, so too did their utility as a marketing channel for landlords. That leaves some new and established landlords with a lengthy learning curve to effectively market their rental property.
What is rental property marketing?
Rental property marketing is a combination of a number of skills and techniques, the main aim of which is to reduce the amount of time a rental property sits vacant by getting it in front of the right audience. This can include, but is not limited to:
Use of social media and paid social media advertising
Uploading the property to sites such as Zoopla
In order to know how and where to market the property, however, there are important steps you need to take which we'll tackle one by one.
Knowing your market
Understanding what tenants in the area want
Calculating your potential yield
Advertising your property
Knowing your market
The first step to successfully marketing a rental property is knowing your market – not just the general area or city, but the ins-and-outs of the location of your property. In order to sell any product or service, it's important to know as much as you can about it, and renting a property is no different. For that reason, you'll need to consider the following:
The local area – that means nearby schools, amenities, travel links and anything else about the location you could expect a tenant would want to know.
Local availability – this is the vacant housing stock in the area; you can check this out online over a couple of weeks to see both the number of vacant properties that appear and the time it takes for them to find a tenant.
The comparative finish of your property – although we always advise landlords to finish properties to a high standard, it is also advisable to know how your property compares to the competition as this should factor in to the rent you look to charge.
The economic status of the area – this includes the employment percentages (whether you'll be letting in an area with large populations of unemployed people or students should also factor in to your rental price) and general levels of income for the area.
Location specific costs – that includes things such as landlord insurance premiums, ground rent for leasehold properties, council tax and anything else either you or the tenant can expect to pay.
Your distance from the property (and how much you want to be involved) – while letting a property near to you is not always possible, being nearby is always easier if you want to be involved in the day-to-day needs of your tenants (in terms of repairs, servicing etc.)
Understanding what local tenants want
There are some commonalities with all people looking for accommodation and it's important to know how many of those boxes your rental property ticks. Consider the following:
Location – as previously, it's important to know what is in the local area. How far away is the nearest city centre? How close is the local university campus? Tenants will want to know they can reach their place of employment or their lectures in a reasonable time.
Cost – what are comparative properties charging in the area? Tenants will always want value for money, so knowing where your property sits on a local scale will help.
Parking – is there parking for one or multiple vehicles? Is it off-road? With around 50% of adults in the UK having a driving license (75% in the UK), parking is an important consideration.
Gardens and open spaces – especially following the pandemic, open spaces are a high priority for tenants and buyers alike, so even if you have a small space, ensure you're making the most of it.
Using gross yield to calculate rental value
This is a fairly simple calculation in theory, you divide the average rental value by your property value – and that's a useful indication of the gross yield you can expect for your property. You can also use the gross yield for an area to calculate a base rate for setting the rent for your property. There are plenty of places that have already done the calculations for you (we have most of the Wirral covered), but the raw data is also available from places like Home.co.uk and Zoopla.
While it's not an exact science, and you will need to consider your monthly mortgage repayments, insurance, fees, repairs and maintenance and other property costs to ensure the rent you set will cover your outgoings, this calculation will give you an idea of where your property sits in the local market and allow you to set a competitive rent to ensure the best rates of occupancy.
Advertising your property
This can be tricky for new landlords – there are costs and platforms that will need to be navigated. The largest property portals, like Rightmove and Zoopla for example, do not deal directly with individual landlords, so you'll need to pay for a third-party platform to add your property to one or both of them. Prices for these platforms cost between £30 and £150 and vary quite widely in what they offer in terms of the portals they deal with and the duration that an ad will be placed for.
Portals
In addition to deciding on which platform to use for this purpose, there are a few other things to consider:
Images: you'll want to include at least one photo of each room (including hallways/landings etc.) and the front and rear of the property and more if possible. If you don't want to use a professional photographer, then you should at least take every effort to make it look like you did. Get the lighting right and make sure the rooms are set up to show them off.
Description: like advertising any other project, your job is to sell the property with the description – so use your research of the local area, talk up the positive attributes of your property's location, finish and features, try to sell the life your tenant could live in the property.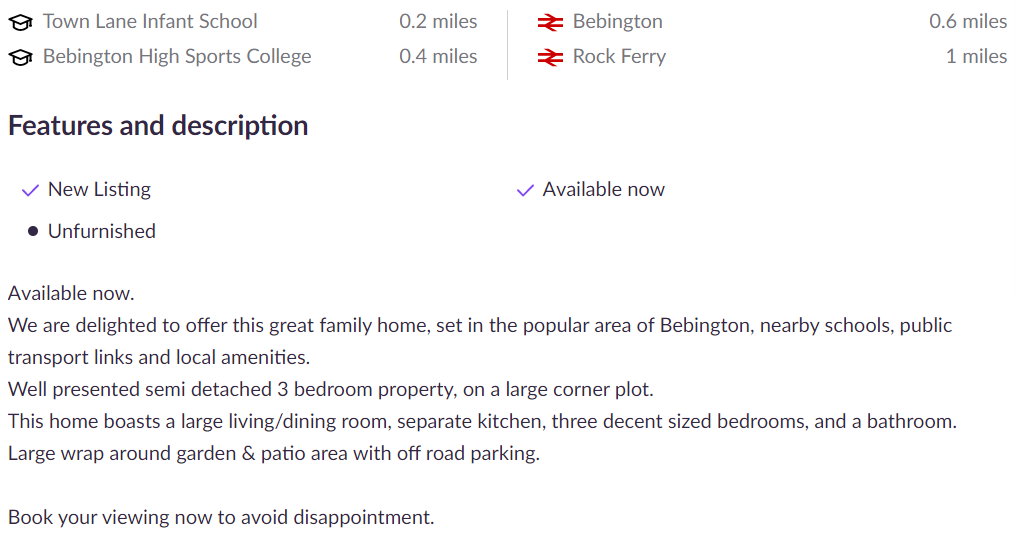 Social media
In addition to portals, there's social media – both organic and paid. For a lot of people, social media sites have replaced newspapers and news sites as the primary news source. That has the combined effect of making ads in local newspapers less expensive, but also of making social media an important channel for marketing rental properties.
Organic social media
While you might share your posts about your rental properties from your main profile, you'll want to set up a designated account from which to post information about your properties. Not only does this keep your business and personal life separate, it keeps a clear timeline which allows prospective tenants to see the properties quickly without scrolling through posts which might be irrelevant.
Paid social media
This could be a guide in itself, but the important things to consider here are budget and audience control – it's very easy to spend a lot of money on social media advertising without the proper targeting in place. The research you did on your local area will again come in handy here – you'll know the demographic of the local area.
Most social platforms will allow you to target demographics specifically – based on age, interests and many other criteria. In addition, you should look to geofence the area in which your ad will appear – this means adding a 'miles from postcode' element to your ad targeting to prevent the ad being shown to irrelevant audiences nationally or further afield which will quickly eat through your budget.
Final thoughts
Although we've tried to offer enough information to get you going, marketing your own property can be a tough ask, so we'd encourage anyone looking to do so to look to one of the many landlord message boards for advice before making the commitment (and don't wait until you have a vacant property to start thinking about it!).
Needing (or wanting) to market your property will often mean that you've decided to take the project on in full – so think about the other aspects you might have overlooked, like reference checks, contracts, deposit schemes, epc, gas safe and other certifications you need to legally let a property. Marketing is one of the trickier aspects of letting a property, but it's far from the only one, so don't open yourself up to legal problems by neglecting the rest.
Need a little help marketing your property, or looking for someone to ease the pressure of managing your property portfolio? Contact Us to see how we can help you take the stress out of letting your properties.
A Landlord's Guide to Inventory & Deposit Management
If there's one thing that's likely to sour an otherwise great relationship, it's the end of a tenancy and the assessment of inventory and any possible deductions from a deposit. Years of positive interaction can be destroyed by misunderstandings or misconceptions, so we're hopefully going to solve some of those problems here.
What is Inventory & Deposit Management?
While inventory management and deposit management are two separate things, at Wirral Homes, we consider them to be so interconnected that we combine our service to include both – a deposit is there to secure a landlord's property and inventory against damage during the course of a tenancy agreement, so it makes sense to treat the management of inventory and of a tenant's deposit as one thing with two aspects.
As such, we ensure that inventory is properly documented and assessed at the beginning and end of a tenancy and that the deposit is secured in a registered scheme and that both the interests of the landlord and tenant are served to the best of our abilities.
For a landlord looking to deal with such things for themselves, however, you would need to take each one separately.
How to Properly Manage Your Inventory as a Landlord
Whether you provide a furnished or unfurnished property, there will still be 'inventory' which should be reviewed before and after a tenancy. This includes making a record of things such as (but not limited to):
Cracks or other indications of wear in the bathroom furniture (tiles, sinks, bathtubs etc.)
Damage or faults with kitchen furniture such as cupboard doors, taps etc. (sticking or broken hinges, drips etc.)
The state of curtains and carpets, for example – are there any holes, marks or discolouration?
Furnished properties need to have the condition of all furniture noted. Including even the smallest rips in fabric or scratches on a coffee table
The presence of and state of electrical and gas appliances – including their last test date and even the condition of the sockets they may be plugged in to
Are there any chips, seal damage or other deterioration in the doors and windows?
Again, this list is far from exhaustive, and a full inventory report can take some time to properly compile. However, a well conducted review of inventory (with the tenant present if at all possible, or by an impartial third party if not), which is then distributed to all stakeholders, can prevent any costly and stressful disputes at the end of a tenancy.
The important thing here is clarity and transparency. By ensuring that the tenant is aware that the inventory is their responsibility and that they are satisfied that damage to the inventory beyond the level of reasonable wear and tear will also be their responsibility, you can foster an open and honest relationship at the outset and prevent problems in the long-term.
How to Properly Manage a Deposit as a Landlord
As there's a legal requirement for deposits to be secured with a government approved deposit registration scheme inside of a 30-day period from the tenant moving in and the deposit being received, it is always advised that a landlord should be well acquainted with the process in advance of letting a property in order to avoid possible penalties.
Available deposit protection schemes:
These schemes can operate in one of two ways – either they can hold the deposit for free, which is known as a 'custodial' scheme, or you or your letting agent can hold the deposit and pay the scheme a fee to insure it, this is known as an 'insured' scheme.
The purpose of these is to provide both the tenant and landlord with a level of assurance that the deposit will be treated fairly and that disputes can be resolved impartially, it also has the benefit of making it more difficult for problem landlords to withhold a tenant's deposit without good cause.
What can a landlord deduct from a deposit?
The deposit should, at all times, be considered the tenant's money – provided this is kept in mind, it's difficult to go too far wrong. As for deductions, the word to consider in all applicable legal information is always 'reasonable'.
As such, the following could be considered reasonable deductions at the end of a tenancy (though, similarly, this is not an exhaustive list).
Cleaning costs (to the standard at the beginning of the tenancy, if the tenant will not do so themselves)
Damage (again, this requires the 'reasonable' proviso – if the bed is broken, but was used prior to the tenancy, then a new bed is unreasonable, but a replacement of the same condition would not be)
Garden maintenance (to restore the garden to pre-tenancy level)
Missing items (again, the condition of the missing item at the beginning of the tenancy should be considered)
Unapproved changes to the property (redecoration, cat flaps etc.)
Unpaid rent
Unpaid utility bills (where the landlord suffers a direct loss)
Why Inventory & Deposit Management is Important
As mentioned throughout, the main reasons for the importance of proper inventory and deposit management are to maintain relationships and reduce the stress felt by all parties at the end of a tenancy. However, a secondary result is in reputation management – a tenant will always tell their friends and family about a poor experience, but when all efforts are taken to ensure fair treatment, you may find that a former tenant can be the perfect ambassador, willing to recommend you as a landlord – and word of mouth is still incredibly important even in the digital age.
Need some help to take the stress out of managing your property portfolio? Why not Contact Us today to see how we can help?
Does Your Property Require a Selective Landlord License?
While the additional paperwork required to let properties in selective licensing zones may put some people off investing, there is something to be said for purchasing a potential bargain in an area specifically reserved for landlords who, like you, genuinely want to let out great property in great condition and expect a great return.
What is Selective Landlord Licensing?
Introduced following The Housing Act of 2004, landlord licenses are sometimes required by local authorities for properties within a set area(s). The purpose of this selective licensing is to allow councils to monitor and improve the condition of local, private sector housing. Councils operating the licensing practice do so in order to put a stop to landlords renting their properties in an unacceptable conditions.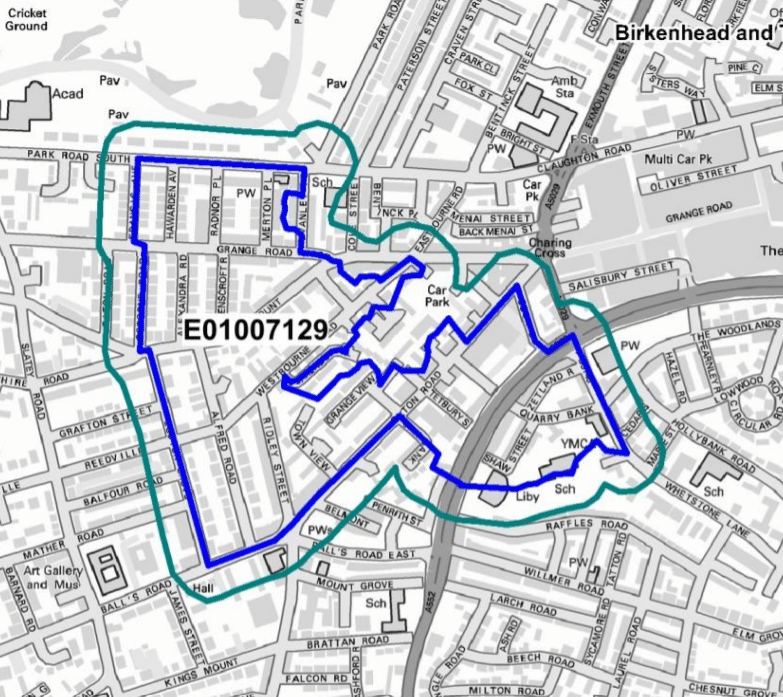 Birkenhead South
Despite its excellent location and nearby amenities, housing stock in the area highlighted by the boundaries of the selective licensing area had been deteriorating until the introduction of selective licensing. Now, as the area regenerates, landlords prepared to apply for and abide by the rules of the license will no doubt be pleased by the performance of their investment.
Property Numbers
Street
Postcode
Post Town
1-24
All
Alexandra Road
CH43 4XX
Prenton
1-40
All
Alfred Road
CH43 4XX, CH43 4TX
Prenton
12-24
Evens
Balls Road
CH43 5RE
Prenton
1-8
All
Belmont Road
CH43 4TR
Prenton
298-300
Evens
Borough Road
CH41 2RB, CH41 2UW
Birkenhead
3-39
Odds
Euston Grove
CH43 4TY, CH43 4TZ
Prenton
1-19
Odds
Francis Avenue
CH43 4XL
Prenton
1-65
Odds
Grange Mount
CH43 4XN
Prenton
4-58
Evens
Grange Mount
CH43 4XW
Prenton
1-14 Thomas Court
All
Grange Mount
CH43 4XU
Prenton
75-125
Odds
GrangeRoad West
CH43 4XB, CH43 4XF
Prenton
90-140
Evens
GrangeRoad West
CH43 4XF, CH43 4XG, CH43 4XQ
Prenton
1-28
All
Grange View
CH43 4TN, CH43 4TL
Prenton
1-20
All
Hawarden Avenue
CH43 4XJ
Prenton
1-8
All
Henthorne Street
CH43 4TA
Prenton
1-21
All
Merton Place
CH43 4XD
Prenton
1-27
Odds
Osborne Road
CH43 4XT
Prenton
13-67
Odds
Oxton Road
CH41 2QQ, CH41 2TL
Birkenhead
44-150A
Evens
Oxton Road
CH41 2TP, CH41 2TW
Birkenhead
7-61
Odds
Park Road South
CH43 4UN, CH43 4UW
Prenton
1-23
Odds
Quarry Bank
CH43 4XX
Birkenhead
1-22
All
Radnor Place
CH43 4XH
Prenton
1-20
All
Ravenscroft Road
CH43 4XY
Prenton
1-45A
All
Ridley Street
CH43 4TT
Prenton
2-32
All
Shaw Street
CH41 2XE
Birkenhead
1-33
All
The Lindens, Alfred Road
CH43 4YH
Prenton
2-3
All
Tetbury Street
CH41 2XP
Birkenhead
1-11
All
Town View
CH43 4YE
Prenton
1-3
Odds
Town View Mews
CH43 4YD
Prenton
The Spire
All
Westbourne Road
CH43 4TG
Prenton
12-98
All
Westbourne Road
CH43 4JE, CH43 4TF, CH43 4TG, CH43 4TQ
Prenton
32-42
Evens
Whetstone Lane
CH41 2TF
Birkenhead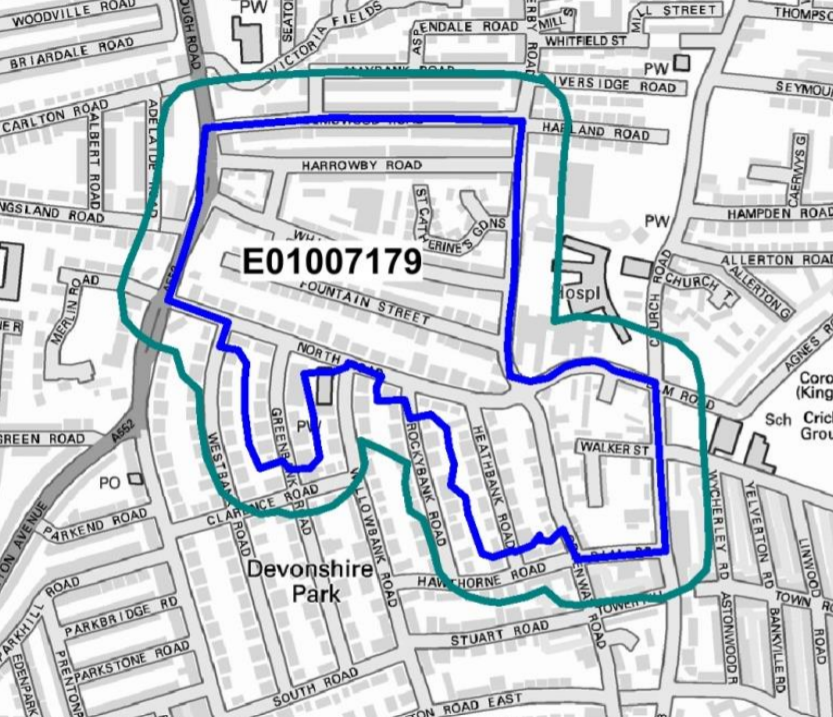 Egerton North
Within walking distance of Prenton Park, and in an area with easy access to good schools, great parks and other essentials, the Egerton North selective licensing area was only short of landlords that cared as much about the area as the local residents – something which has helped to begin the regeneration of the area since licensing was introduced.
Property Numbers
Street
Postcode
Post Town
575A-605
Odds
Borough Road
CH42 0HD
Birkenhead
60-88
Evens
Church Road
CH42 0LH
Birkenhead
70-124
Evens
Derby Road
CH42 7HD
Birkenhead
18-28
Evens
Elm Road
CH42 0LX
Birkenhead
3-149
Odds
Elmswood Road
CH42 7HN, CH42 7HW
Birkenhead
1-89
All
Fountain Street
CH42 7JD, CH42 7JH
Birkenhead
2-23
All
Greenbank Road
CH42 7JS
Birkenhead
1-57A
All
Greenway Road
CH42 0ND, CH42 0NG
Birkenhead
4-156
All
Harrowby Road
CH42 7HU, CH42 7HS
Birkenhead
1-25
All
Harrowby Road South
CH42 7HY
Birkenhead
1-28
All
Heathbank Road
CH42 7LD
Birkenhead
2-66
All
North Road
CH42 7JE, CH42 7JG
Birkenhead
1-43
All
St. Catherines Gardens
CH42 7JJ
Birkenhead
1-7A
All
Walker Mews
CH42 0NH
Birkenhead
17-31
Odds
Walker Place
CH42 0LZ
Birkenhead
4-10A
Evens
Walker Street
CH42 0LY
Birkenhead
1-19 Walker Heights
Evens
Walker Street
CH42 0LY
Birkenhead
1-128
All
Whitford Road
CH42 7HZ, CH42 7JA
Birkenhead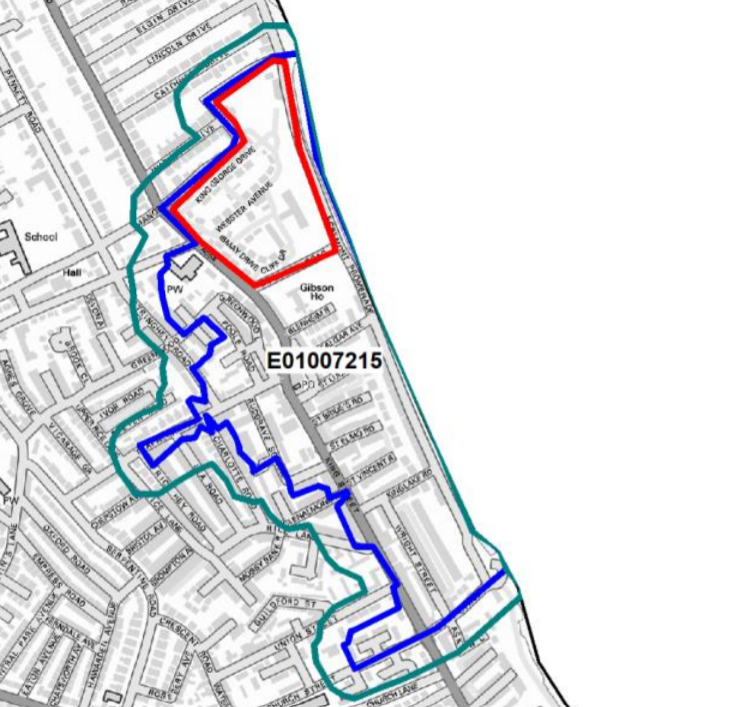 Egremont Promenade South
The Egremont Promenade South selective licensing zone includes the characterful red brick houses familiar to the area and neighbours some of the best performing areas on the Wirral. However, while poor maintenance and other housing stock issues have led to the introduction of the selective licensing, prospective investors will find fantastic value for money and great potential.
Property Numbers
Street
Postcode
Post Town
4-24
Evens
Blenheim Road
CH44 8BR
Wallasey
1-23
All
Church Gardens
CH44 8HF
Wallasey
2-48
All
Egremont Promenade
CH44 8BG, CH44 8BQ
Wallasey
Avenue Cottage
All
Greenwood Lane
CH44 1DQ
Wallasey
1-5 York Cottages
All
Greenwood Lane
CH44 1DQ
Wallasey
2-132
Evens
King Street
CH44 8AN, CH44 8AU, CH44 8AW
Wallasey
1-129 (exc. 73)
Odds
King Street
CH44 0BY, CH44 0BZ, CH44 8AT
Wallasey
1-19
All
Kinglake Road
CH44 8BS
Wallasey
1-21
All
Marsden
CH44 1EA
Wallasey
1-9
Odds
Poole Road
CH44 1EB
Wallasey
2-42
Evens
Poole Road
CH44 1ED
Wallasey
2-42
Evens
Pooley Close
CH44 0FA
Wallasey
2
All
Rice Lane
CH44 0AF
Wallasey
3-19
Odds
Rudgrave Place
CH44 0EJ
Wallasey
2-8
Evens
Rudgrave Place
CH44 0EJ
Wallasey
2-36
Evens
Rudgrave Square
CH44 0FD, CH44 0EL
Wallasey
13-51
Odds
Rudgrave Square
CH44 0EL
Wallasey
1-16
All
Seabank Avenue
CH44 1EH
Wallasey
2-18
Even
Seabank Road
CH44 8BA, CH44 8BB
Wallasey
3-45
Odds
Seabank Road
CH44 0EE, CH44 8BA
Wallasey
1-32
All
St. Brides Road
CH44 8BN
Wallasey
1-21
All
St. Columbas Close
CH44 8EY
Wallasey
1-29
All
St. Elmo Road
CH44 8BL
Wallasey
2-24
All
St. Lucia Road
CH44 8BW
Wallasey
1-28
All
St. Vincent Road
CH44 8BJ
Wallasey
3-17
Odds
Tobin Street
CH44 8DF
Wallasey
1-21
All
Trafalgar Avenue
CH44 8BP
Wallasey
6-26
Evens
Trafalgar Road
CH44 0EA
Wallasey
11-73
Odds
Trafalgar Road
CH44 0DZ
Wallasey
1-66
Odds
Wright Place
CH44 8BD, CH44 8BE
Wallasey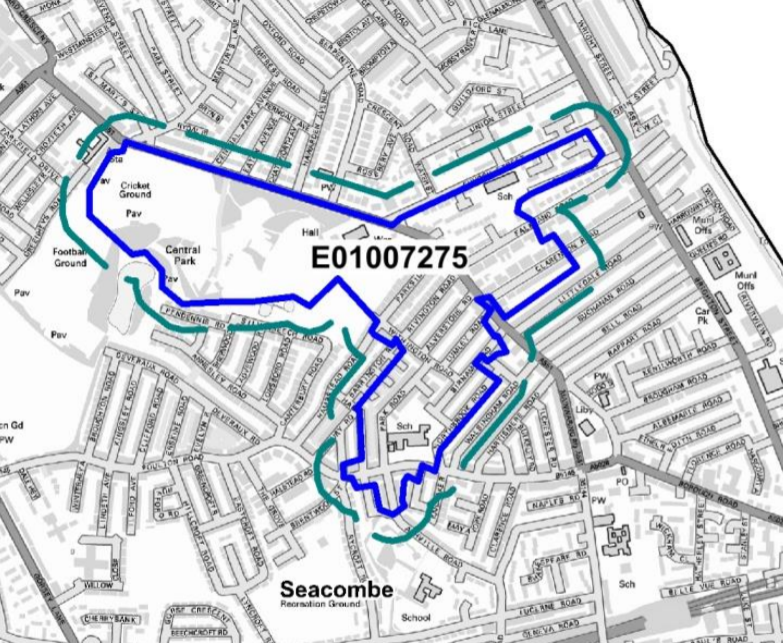 Egremont South
Between Seacombe, Liscard and and Wallasey, the Egremont South selective licensing area also includes Central Park and is within a reasonable walk from the ferry terminal for commuters to Liverpool. The area has huge potential and is beginning to realise it thanks to landlords willing to go the extra mile to improve the local housing stock.
Property Numbers
Street
Postcode
Post Town
1-42
All
Alverstone Road
CH44 9AA
Wallasey
2-56
Evens
Birnam Road
CH44 9AX, CH44 9AY
Wallasey
1-15
All
Church Close
CH44 8HG
Wallasey
21-219
Odds
Church Street
CH44 8AF, CH44 8AG
Wallasey
1-11
All
Churchmeadow Close
CH44 8HQ
Wallasey
33-75
Odds
Clarendon Road
CH44 8EJ
Wallasey
44-90
Evens
Clarendon Road
CH44 8EP
Wallasey
1-16
All
Dalehurst Close
CH44 8AE
Wallasey
2A
All
Drayton Road
CH44 9EQ
Wallasey
1-11
All
Elmbank Street
CH44 9BG
Wallasey
49-87
Odds
Falkland Road
CH44 8EW
Wallasey
128-158
Evens
Falkland Road
CH44 8ER
Wallasey
1-12
All
Gorsebank Street
CH44 9BQ
Wallasey
2-50
Evens
Halville Road
CH44 9AZ
Wallasey
67-107
Odds
Liscard Road
CH44 8AE
Wallasey
62A-84
Evens
Liscard Road
CH44 8AA
Wallasey
South Lodge
All
Liscard Road
CH44 0BS
Wallasey
1-38
All
Lumley Road
CH44 9AB
Wallasey
1-77
All
Northbrook Road
CH44 9AP, CH44 9AR
Wallasey
1-9
All
Oakbank Street
CH44 9BE
Wallasey
1-8
All
Park Avenue
CH44 9DZ
Wallasey
1-77
All
Park Road
CH44 9EA, CH44 9EB
Wallasey
1-46
All
Parkside
CH44 9AH, CH44 9AJ
Wallasey
117-153
Odds
Poulton Road
CH44 9DF
Wallasey
102-122
Evens
Poulton Road
CH44 9DJ
Wallasey
1-17
All
Redfield Close
CH44 8HY
Wallasey
2-44
All
Rivington Road
CH44 9AN, CH44 9AW
Wallasey
1-22
All
Trentham Road
CH44 9EG
Wallasey
1-22
All
Withington Road
CH44 9BH
Wallasey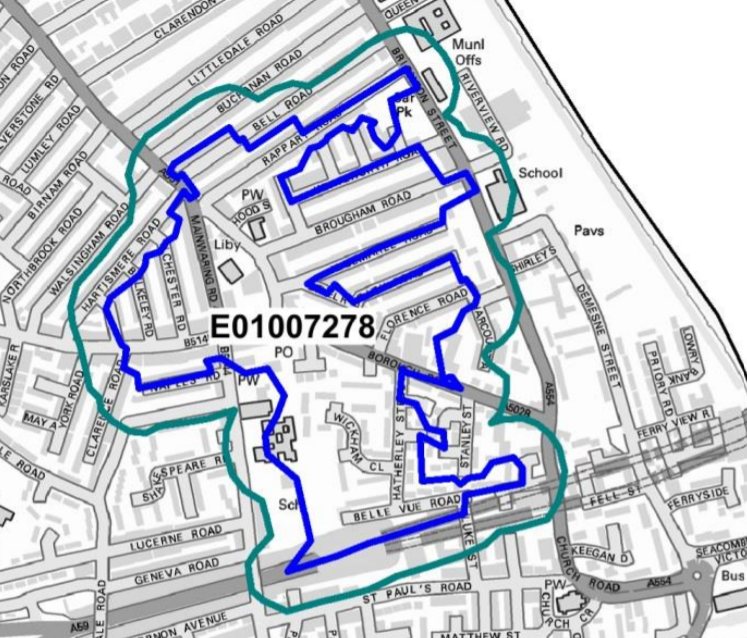 Seacombe Library
The Seacombe Library selective licensing area is one which offers great transport connections, situated near the A59 and with rail connections to Liverpool and Chester nearby – as well as the ferry terminal. With the help of selective licensing, the area could quickly become a highly desirable place to rent and to own property.
Property Numbers
Street
Postcode
Post Town
4-14
Evens
Addington Street
CH44 9DS
Wallasey
2-68
Evens
Albemarle Road
CH44 6LX
Wallasey
71-103
Odds
Bell Road
CH44 8DP
Wallasey
78-108
Evens
Bell Road
CH44 8DP
Wallasey
8-64
Evens
Belle Vue Road
CH44 6JY
Wallasey
136-192
All
Borough Road
CH44 6NH, CH44 6NE
Wallasey
2-77
All
Brougham Road
CH44 6PW, CH44 6PN
Wallasey
2-24
All
Bulkeley Road
CH44 9DR
Wallasey
1
All
Clarence Road
CH44 9ES
Wallasey
1-49
Odds
Edith Road
CH44 6LG
Wallasey
1-17
Odds
Ethel Road
CH44 6LR
Wallasey
2
All
Ethel Road
CH44 6LR
Wallasey
1-46
All
Florence Road
CH44 6LE, CH44 6LF
Wallasey
1-10
All
Gladstone Road
CH44 6JZ
Wallasey
1-19
Odds
Glenburn Road
CH44 6PY
Wallasey
6-57
All
Hatherley Street
CH44 6RA
Wallasey
1-13
Odds
Hood Street
CH44 6LS
Wallasey
2-36
All
Ilchester Road
CH44 9DP
Wallasey
1-63
Odds
Kenilworth Road
CH44 6QG
Wallasey
2-42A
Evens
Liscard Road
CH44 6LN, CH44 6LW
Wallasey
3-37
Odds
Liscard Road
CH44 6LT
Wallasey
1-45
All
Mainwaring Road
CH44 9DN, CH44 9DW
Wallasey
4-38
Evens
Naples Road
CH44 7HL
Wallasey
1-73
Odds
Poulton Road
CH44 6LB, CH44 9DD
Wallasey
22-58
Evens
Poulton Road
CH44 9DQ
Wallasey
1-71
Odds
Rappart Road
CH44 6QD
Wallasey
54-106
Evens
Rappart Road
CH44 6QF
Wallasey
1-5
Odds
Wesley Grove
CH44 6QB
Wallasey
1-61
All
Wickham Close
CH44 6RD, CH44 6RB
Wallasey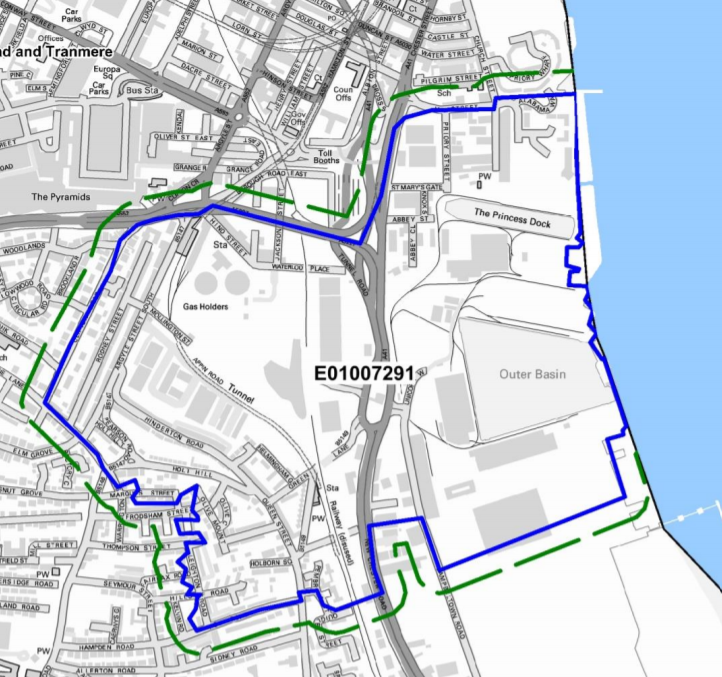 Tranmere Lairds
The Tranmere Lairds selective licensing zone is next door to central Birkenhead centre, has excellent transport links and features properties of multiple sizes and huge potential. With the Tranmere area selected to help improve the local housing options, there is huge potential for landlord's willing to help out to make great returns.
Property Numbers
Street
Postcode
Post Town
2-178
All
Argyle Street South
CH41 9BX, CH41 9BY, CH41 9BZ, CH41 9DA
Birkenhead
Central Station House
35
Borough Road
CH41 2XS
Birkenhead
1A-53
Odds
Clifton Road
CH41 2SE, CH41 2SF
Birkenhead
1-8 Clifton Court
All
Clifton Road
CH41 2SE
Birkenhead
9-16 Venture Court
All
Clifton Road
CH41 2SE
Birkenhead
1-7
All
Fairview
CH41 9EH
Birkenhead
16-28
Evens
Frodsham Street
CH41 9DN
Birkenhead
1-18
All
Green Lane
CH41 9AG
Birkenhead
1-23
All
Helmingham Grove
CH41 9EY
Birkenhead
1-5
All
Hillside Close
CH41 9HU
Birkenhead
34-60
All
Hillside Road
CH41 9EQ, CH41 9ER
Birkenhead
1-11
All
Hinderton Close
CH41 9HE
Birkenhead
2-165
All
Hinderton Road
CH41 9AA, CH41 9AB, CH41 9AD, CH41 9AE, CH41 9AF
Birkenhead
1-38
All
Holborn Hill
CH41 9DJ
Birkenhead
1-86
All
Holt Hill
CH41 9DG,CH41 9DH, CH41 9DQ
Birkenhead
3-23
Odds
Holt Hill Terrace
CH42 5LB
Birkenhead
12-82
Evens
Holt Road
CH41 9ES
Birkenhead
2-40
Evens
Leighton Road
CH41 9DZ
Birkenhead
5-55
Odds
Leighton Road
CH41 9DU
Birkenhead
1-31
All
Marquis Street
CH41 9DU
Birkenhead
2-48
Evens
Old Chester Road
CH41 9AU
Birkenhead
45-69
Odds
Old Chester Road
CH41 9AW
Birkenhead
Station House
1
Old Chester Road
CH41 9AN
Birkenhead
1-12
All
Olive Crescent
CH41 9DR
Birkenhead
8-48
Evens
Olive Mount
CH41 9DP
Birkenhead
31-37
Odds
Olive Mount
CH41 9DL
Birkenhead
The Willows
39
Olive Mount
CH41 9DP
Birkenhead
1-2
All
Pearson Road
CH42 5LA
Birkenhead
1-64
All
Pembroke Court
CH41 9BJ
Birkenhead
1-49
39
Queen Street
CH41 9AS
Birkenhead
1-73 Vincent Naughton Court
All
Rodney Street
CH41 2ZA
Birkenhead
19-182
All
Rodney Street
CH41 2RG, CH41 2RN, CH41 2RQ, CH41 2SB, CH41 2SD
Birkenhead
4 Cromwell Row
All
Warrington Street
CH41 9AL
Birkenhead
1-2 Marquis Mews
All
Warrington Street
CH41 9AP
Birkenhead
1-19 Mersey View
All
Warrington Street
CH41 9AR
Birkenhead
1-8 Priory View
All
Warrington Street
CH41 9AX
Birkenhead
1-19 River View
All
Warrington Street
CH41 9AQ
Birkenhead
1-10
All
Westbury Street
CH41 9DT
Birkenhead
101-135 Vincent Naughton Court
Odds
Whetstone Lane
CH41 2TE, CH41 9DE
Birkenhead
Whether you've found your potential investment in one of the special licensing areas, it's well worth noting that – despite the additional paperwork – these zones are in place specifically to improve the housing on offer. For that reason, the inconvenience initially should be hugely outweighed by the gains possible if all landlords in the area look to do their part in making a difference to the local community.
Need help attaining a selective landlord license? Why not speak to one of our experts? Contact Us today.
Property Portfolio Management Guide
By carefully managing a property portfolio, or contracting the services of a property portfolio management company to do so for you, a landlord can improve profitability. This is achieved not only through portfolio expansion, but also by improving rental yields, increasing capital growth, minimising vacancy time and overheads.
What is property portfolio management?
Property portfolio management, as you would imagine, is more than a single thing – it's a set of tasks which, if performed regularly and well, can improve the profitability of any property portfolio. These tasks include, but are not limited to:
Expansion
Whether it's via a landlord injecting money into his portfolio, or through leveraging the equity of existing properties to land a bargain, expansion is a key method of improving profitability for owners of property portfolios. By spreading investment either across a range of property markets, locations or classes, a diversification of the portfolio through expansion can help to minimise risks and improve overall performance.
Review and Optimisation
Regular review of property portfolios can help landlords take advantage of cost-saving options, identify areas of maintenance, refurbishment or improvement that could improve desirability, add value and improve rental yields. While time consuming, such regular reviews – at least at the end of every tenancy – can help ensure that each property is performing as well as it can while identifying and tackling any problems leaving a property performing less well than it should.
Property Management
In addition to the big picture view, there is also the everyday maintenance and management of individual properties such as:
Emergency support for tenants
Health and safety obligations
Marketing the property
Monthly financial statements
Refurbishment and improvement
Rent collection and debt collection
Tenant referencing
Obviously, the difficulty of these tasks grows exponentially as your property portfolio grows and can quickly outstrip the capacity of a single person to manage them.
How to manage a property portfolio
As the number of tasks grows quickly with each additional property, there has been a boom in the availability of portfolio management software. For a landlord wanting to manage their portfolio themselves, the best option may be to invest in one of these digital applications. With prices ranging from free to around £400 per year, it's well worth considering the implications of trusting software with sensitive data and due diligence should be undertaken to ensure that any software used is safe.
Most software will tend to offer help with:
Accounting and property expense management
Contact & Supplier Management
Expenses recording (including repeat expenses)
Income tax liability reporting
Legal Document storage
Mortgage & loan management
Online document storage
Property details storage
Tax reports
Tenant & rent management
Tenant details storage
What you will no doubt notice here is that much of the assistance offered by such programs is organisational, so don't expect miracles if you've decided to undertake your own portfolio management – however, in most cases, it will beat the numerous spreadsheets you'll need to achieve the same organisation boost otherwise.
You can find an introduction to some of the more popular management platforms here.
Should you manage your own property portfolio?
This will depend upon how much time you have to devote to management. As stated, despite misconceptions to the contrary, a properly managed property portfolio is far from passive income. You will need to conduct regular reviews, negotiations, marketing tasks and more – even if your properties require no work and the perfect tenants happen to knock on your door, there are plenty of legal obligations and certificates which will expire and need to be renewed.
That's not to say that a personally managed portfolio is an impossibility – it is perfectly achievable for a portfolio of one or two rental properties to be managed part time or in addition to a full-time job, but once a portfolio grows too far beyond this, landlords will need to face up to a decision between taking on the management full time, or enlisting the services of a letting agent.
If you'd like to discuss your options with one of our experts, or have reached the point at which a letting agent is likely your best choice to maximise profitability in the long-term, Contact Us today.
The Pros and Cons of Using a Letting Agent
From cutting down on wasted time to providing valuable connections with trusted third parties, a good letting agent is an asset, but are there more pros than cons for you? That's something only you can decide – but we hope we can help with that decision, too.
We'll get to the pros and cons in a moment, but before we do, we've put together a quick list to help you decide whether you should even be considering either self-management or a letting agent. We find that these five things are often enough to help landlords decide whether either option is viable for them to even consider researching further.
Should you consider a letting agent?
| | |
| --- | --- |
| You should consider managing your property if… | You should consider a letting agent if… |
| You have the time to deal with your tenant's queries, problems and disputes up to and including eviction. | You would prefer someone else is available to answer tenant queries and resolve problems up to and including eviction. |
| You have a register of professionals (electricians, plumbers, cleaners etc.) that can assist when required. | You need access to qualified and trusted professionals that can help resolve problems with your property. |
| You are up to date and can remain up-to-date on the latest rules and regulations that affect landlords. | You would rather somebody else was responsible for keeping up-to-date and keeping your property up-to-date with regulations. |
| You have been a landlord previously and are aware of the various pressures and responsibilities it involves. | You are new to being a landlord and require professional assistance while you get up to speed with requirements. |
| You are letting property near where you live, allowing you to conduct viewings and inspections. | You are letting property a distance from your own that would make in person attendance inconvenient. |
The next thing for a landlord to do if they have decided that a letting agent may be an option for them is to ask the following four questions of a few different letting agents to ensure that they would be working from the best possible list of options.
The next thing for a landlord to do if they have decided that a letting agent may be an option for them is to ask the following four questions of a few different letting agents to ensure that they would be working from the best possible list of options.
Four important questions to ask your letting agent
Do they have access to an appropriate client money protection scheme?
How do they find their tenants, and what does their referencing process entail?
How would your property be maintained, and by which companies?
Can they provide a clear list of all of their services and charges on a single page?
The pros and cons of using a letting agent
| | |
| --- | --- |
| Pros | Cons |
| The vetting that agents are able to undertake is often more thorough than a landlord acting alone, and referencing procedures attract reliable tenants. | Letting agents – and the pros opposite – come at a price. While managing your own properties is free, there will typically be a percentage charged by letting agents to manage your property for you. |
| Administration of the secure deposit protection scheme is taken care of without you having to worry. | If there are problems with your property – from legal filings to evicting a tenant from a property, it will mean extra administration, paperwork and possibly cost for the landlord. |
| Agents are able to deal with the paperwork generated by your property and ensure records are kept properly and up to date. | Many letting agents, if they arrange repair work on your behalf, may charge an arranging fee on top of the actual repair costs – while this is often nominal, it is something that should be considered. |
| Rent for your property is collected (and chased for) on your behalf. | Some letting agents may apply additional charges to third party services – this can include things like organising Energy Performance Certificates, Gas Safety Certificates and legal documentation. While this is not always the case, it can be worth asking whether these charges will be made and how much they will be. |
| Letting agents will deal with day-to-day management and maintenance issues – often without the landlord needing to be involved. | |
| As experts in both their field and their local areas, letting agents can often achieve a higher rent. | |
| Letting agents have to be up-to-date with current legislation affecting landlords and can ensure your properties operate in accordance with them. | |
| In case of disputes and complaints, you have an objective, impartial mediator between you and your tenants. | |
| Letting agents are experienced in mediation and can often prevent drawn out and expensive disputes. | |
| In the event that eviction is required, letting agents know the correct legal procedures. | |
| Letting agents can reduce workload and stress of letting a property. | |
| Some letting agents can offer legal, insurance and tax advisory services. | |
The long and short of much of the decision-making process in this area is going to be the value you place on your time. If you are looking at becoming a full-time landlord, or are sufficiently well connected to minimise the impact that being a landlord will have on your time, then a letting agency may not be required. If, however, you will be letting a property as a secondary endeavour and hoping for passive income, then you will definitely need to consider an agent.
The average letting agent will earn the money they cost, the best letting agents are an asset to your property, and will deliver value in the rental price they can achieve, the savings they can make in maintenance and repair and in the time and stress reduction they will provide you. Want to know more about engaging a letting agent, or to ask us some questions? Contact Us today!
7 Things to Be on The Look Out for in 2021
There are a number of things to be on the lookout for in the coming year – some we can't do anything about, such as the pandemic and Brexit, but there are some we can, and that's where we need to keep on top of things.
Stamp Duty Holiday
While there may be additional measures put in place to counter economic issues, the present stamp duty holiday is set to end, meaning that all landlords hoping to take advantage of the current 3% flat rate (in England, on purchases up to £500,000) need to ensure that their purchases are completed prior to the March 31st cut off.
End to Mortgage Holidays
If the latest lockdown – which increasingly looks set to last until at least March – is likely to cause issues with your payments, or those of your tenants, then you have until March 31st to apply for a mortgage holiday:
Those that haven't taken a payment holiday can apply for deferrals of up to six months.
Those that have a first deferral in place, or that resumed payments after one deferral, can apply for another which will take them to the six-month limit.
Those that have already had six months of deferrals are not eligible for further payment holidays.
Deposit Protection Schemes
There will be new rules for deposit protection from April 2021. With possible fines up to £30,000 for landlords and agents failing to join one of the six approved schemes which hold funds in accounts registered with the Financial Conduct Authority, landlords will need to ensure they take this particular change extremely seriously.
End of 'no reason' eviction
While consultation began on section 21 notices back in 2019, there is likely to be an outcome one way or the other on the ability for landlords to end 'rolling tenancies' with no reason required and a two month notice period. Although the Renters' Reform Bill has been held up indefinitely by the pandemic, the vaccine rollout could see the bill make some progress in 2021 – the bill also includes the possibility of a moveable 'lifetime deposit' which would follow tenants from one property to the next in place of security deposits and the opening up of the rogue landlord database to the public.
Overseas Surcharge
An additional 2% surcharge will need to be paid on purchases by overseas investors from April of 2021 (in addition to the regular by-to-let surcharge). Any non-UK residents – those who have spent fewer than 183 days resident in the UK in the year prior or in the after the purchase – will be required to pay this additional charge on all purchases.
Right to Rent Uncertainty
Current rules on the requirements for landlords regarding the 'right to rent' are set to expire on the 30th of June 2021 with no clear guidance as to what will replace them. While we can hope that the new requirements will be made clear soon, the only thing landlords can do in the meantime is continue to check that tenants have the right to live in the UK using valid passports and ID cards until that happens.
Electrical Safety Rules
From the 1st of April existing tenancies will also be subject to the new guidance on electrical safety – with all properties needing their electrical installations inspected at least every five years and tenants provided with a copy of the report within 28 days of completion. While new tenancies have been subject to the terms since July 2020, landlords will need to ensure that all of their existing tenancies are in line with the rules by the end of March.
2021 is still shrouded somewhat by the joint uncertainties of Covid-19 and Brexit, but there are definite hurdles that landlords will need to be aware of throughout the year – and if you'd like some help navigating them, then you can Contact Us for expert advice.
Landlord Legal Requirements – What You Need To Know
With the rental market booming, there are a lot of new landlords taking their first steps in the business – so we've put together a beginner's guide to help out.
Gas Safety Certificate
A valid Gas Safety Certificate must be obtained for all rented residential accommodation. A copy of the Gas Safety Certificate (CP12) must be provided to the tenants at the outset of the tenancy. Failure to do so may prohibit service of the prescribed Section 21 notice should it be required. If no certificate is provided, a County Court may argue that a landlord cannot file a Section 21 notice while the tenancy continues to exist. In addition to the initial certificate, annual check ups must be performed, and tenants must receive the replacement certificate within 28 days. Wirral Homes can arrange a Gas Safety Certificate on a landlord's behalf if requested.
Electrical Installation Condition Report (EICR)
Landlords hoping to rent out a property in England are required to have an electrical inspection conducted prior to the commencement of a tenancy. This report on the condition of the property is known as an EICR and must be performed by a qualified person. Pre-existing tenancies will need to have an EICR performed before the 1st of April 2021 and, from that point on, ECIRs need to be issued to a tenant prior to their moving in. We recommend that landlords obtain a new ECIR at the beginning of each tenancy (although visual inspections may suffice) and Wirral Homes can organise an EICR or visual inspection on your behalf.
Energy Performance Certificate (EPC)
Any property which is to be let requires a valid EPC. These certificates are valid for a period of 10 years, and the property needs to be reassessed for a new certificate. We recommend that, if you have made any energy efficiency improvements to the property, a new EPC should be sought to reflect the new standard of performance. In addition to this, landlords of properties with an EPC rating of F or G may not be able to let their properties. If you require an EPC but aren't sure where to start, let us handle it for you.
Smoke Alarms & Carbon Monoxide Detectors
There is a legal requirement for smoke alarms to be provided on every floor of a rental property, and a carbon monoxide alarm in every room with a solid fuel source.
Documentation: Tenant's Deposit with Deposit Protection Scheme
The tenant's deposit must be protected under one of the three approved tenancy deposit schemes. The prescribed documentation regarding this deposit must be given to the tenant within 30 days of a landlord receiving the funds. Security deposits are also limited to the equivalent to 5 weeks of rental value – something we can manage through our partner scheme.
Landlord License (if required)
In order to rent your property, you may need a landlord license from the local authorities. This is dependent on the property's location. You can contact your local council for more information and, if you need help or advice you can rely on our inhouse legal department.
ICO Registered: Data Protection Compliance
Landlords must comply with General Data Protection Regulations by registering with the ICO. A privacy notice must be provided to tenants which outlines why the landlord is entitled to use the personal information provided by tenants, guarantors, referees, etc.
Legionella Assessment
Health and safety legislation requires that risk assessments for the legionella bacteria which can cause Legionnaires disease are taken. The assessments must identify and assess potential sources of exposure, and steps taken to prevent/control any risk that is identified – and for landlord's that need help, Wirral Homes works with trusted professionals that can carry out the required inspections.
Right to Rent Guide
Upon starting a new tenancy, tenants must be provided an up to date copy of How to rent: the checklist for renting in England. Failure to do so will result in not being able to serve a valid Section 21 notice in England. Under the 'Right to rent' legislation landlords must ensure their tenants are not illegal immigrants and are consequently permitted to rent in this country. More details on this subject can be found on the governments website.
Furniture Fire Resistance Compliance
All furniture provided by the landlord must be fire resistant. The furniture must meet the fire resistance requirements laid out for furniture and furnishings in the Fire Safety Regulations Act of 1988.
Electrical Appliances
There is no requirement for annual checks (as with gas appliances) but the Electrical Equipment Safety Regulations state that landlords must ensure that all electrical equipment and systems are safe, and maintained in a safe condition during the tenancy.
Coronavirus Government Measures
Landlords are required to adhere to the updated government guidelines regarding the Covid-19 outbreak. These measures cover a whole range of requirements from minimising health risks to assessing financial support.
Duty of Care
Rental properties must be fit for human habitation and in a good state of repair. Landlords have a duty of care to their tenants and failure to adhere to this obligation can lead to punishments.
While we've tried to be as thorough as possible, it bears noting that this blog is for information purposes only, and is not an exhaustive list. As we are not intending this guide to constitute legal or advice, or to be a legally binding document, we recommend you seek legal or professional advice before entering into any kind of tenancy agreement – and if you need help with this, you can Contact Us and our in-house legal team will do everything they can.